Seeking Balance // Alvin's 3-Series F30 on ATS
A balanced life is a sufficient life. You can't be having too much of anything, and it's the same at the opposite end of the scale. 'Just right' should be the amount of seasonings on your food for it to taste delicious, 'just right' should be the fitment of your suits to look gorgeous. What about cars? What's the 'just right' amount for transports? BMW might have found the answer.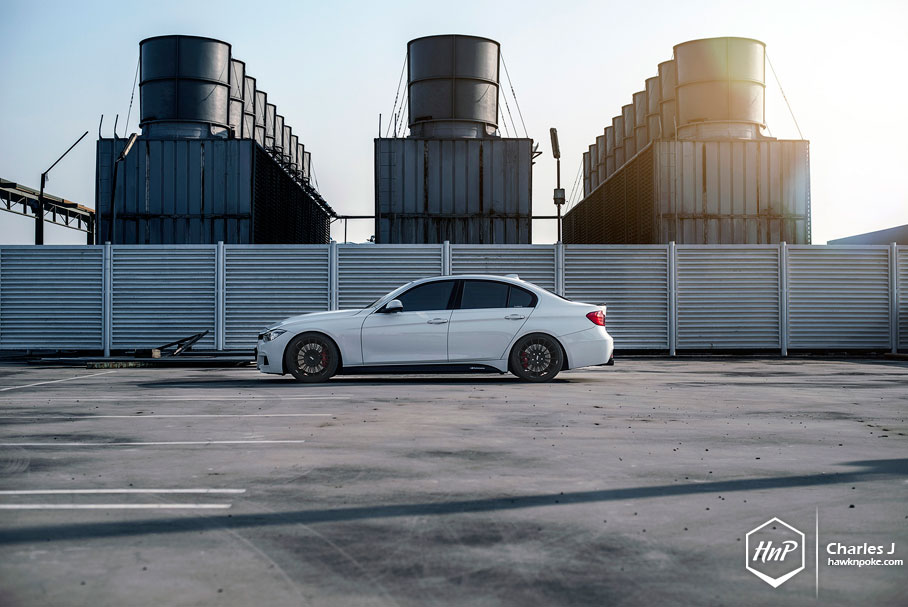 Wanting to go for a family cross-country trip? A two-seater coupe shouldn't have been the right car, unless your kids would love to play hide-and-seek in the trunk. Wanting to speed around the track? An MPV shouldn't have been the right car, unless you'd love to roll around corners like a cat on roller blades. You see, for decades car manufacturers have been seeking the 'just right' formula to tackle these everyday problems that we all face. For the cross-country trips BMW has developed its X5 and the occasional track days it has the M3 GTS. But what about some of us, the daily executives?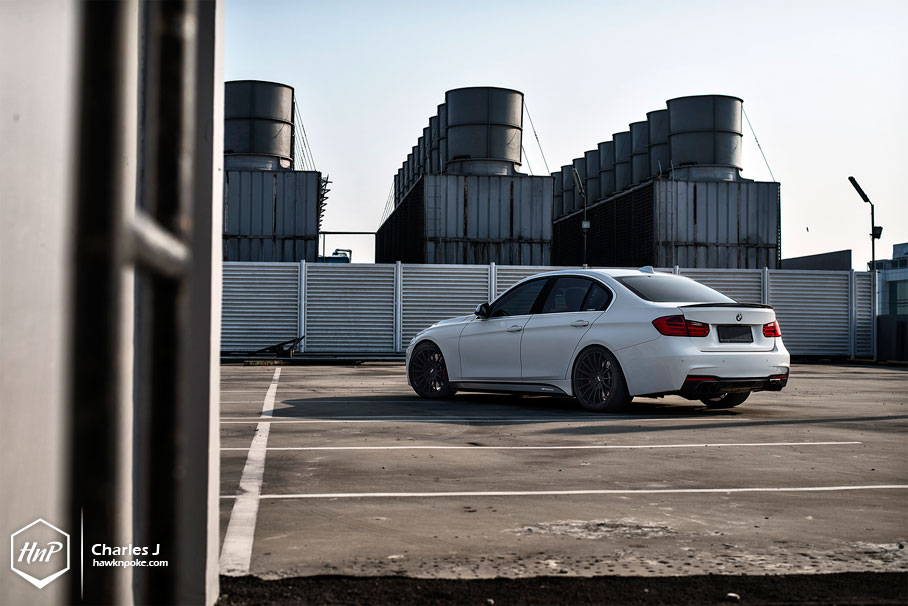 The F30 3-series is BMW's latest answer. Their 'just right' formula for those seeking a four-door saloon with plenty of sporty aura. Straight off the factory it's been equipped with more-than-enough amount of aggressive bodylines. Never before a 3-Series looked so aggressive. For Alvin, owner of today's F30, these are the perfect reasons to once-again fulfill his passion for 3-Series.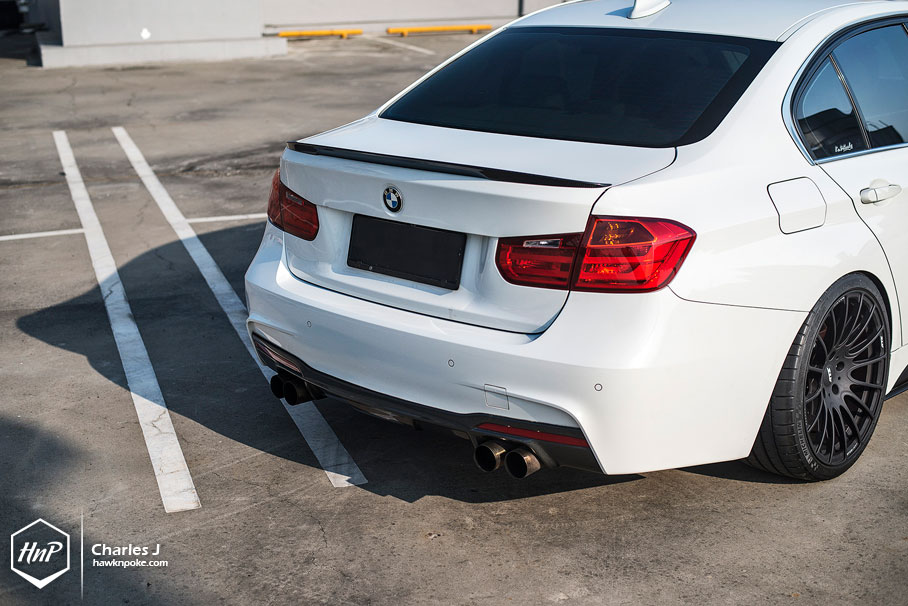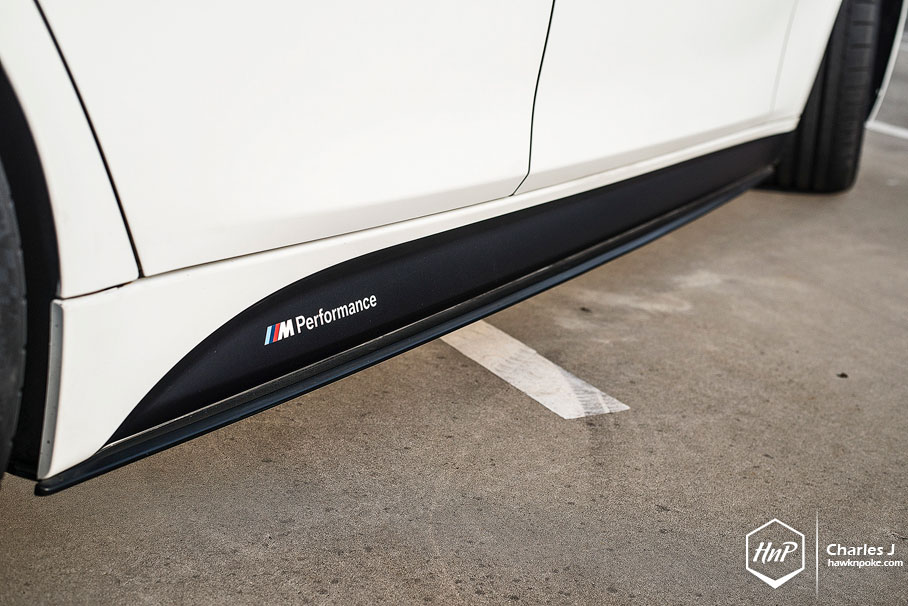 With experiences from modding several BMW models under his belt, namely E46, E92 M3, E39, and F10, this F30 soon followed the same path. He's always loved the combination of OEM and aftermarket parts. Starting with a slew of M Performance parts he initialized everything, from aero kits, black kidney grill, Alcantara steering wheel, to many more. Going as far as replacing the brakes with M Performance big brake kit!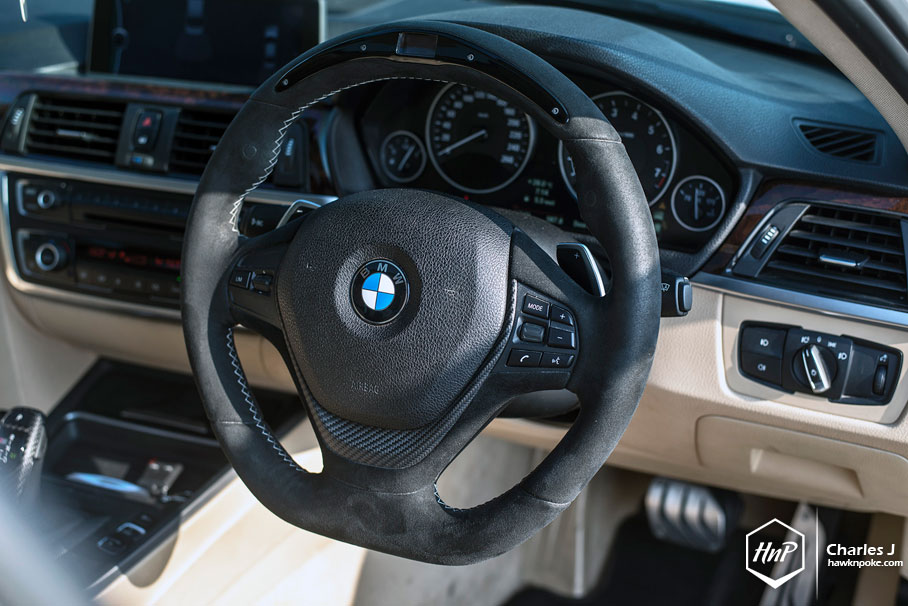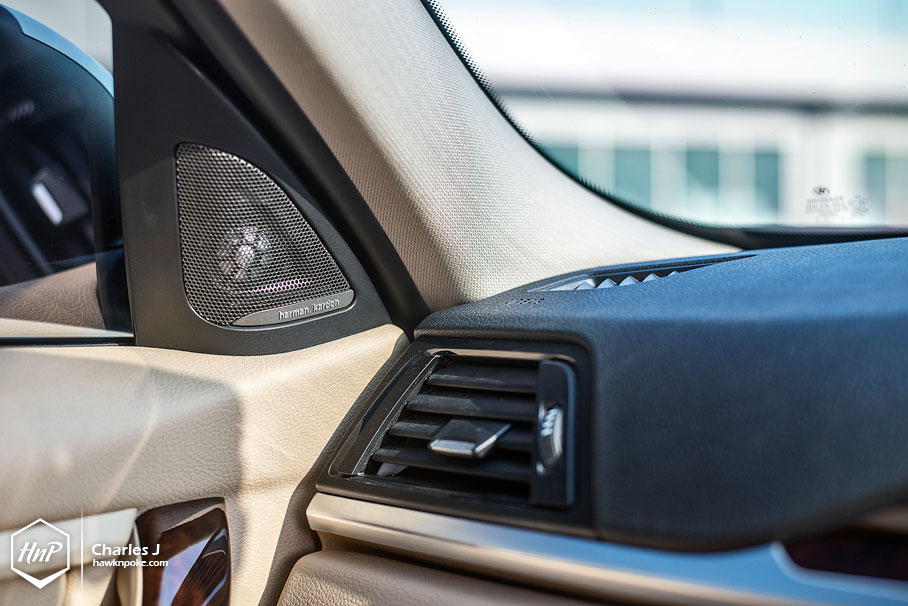 Moving onto his favourite part, Alvin picked these 19-inch ATS Superlight Forged wheels for their balanced weight and strength properties. With widths measuring 8.5″ front and 9.5″ rear, they're the perfect setup for a daily driver. Coated in Polished Black color, these gems have complimented the F30's white x black carbon looks very nicely. KW DDC Plug & Play coilover has also been installed to prep the F30 for spirited drives, while KW Hydraulic Lift System has been supporting the car whenever it needs to go over larger-than-average speedbumps.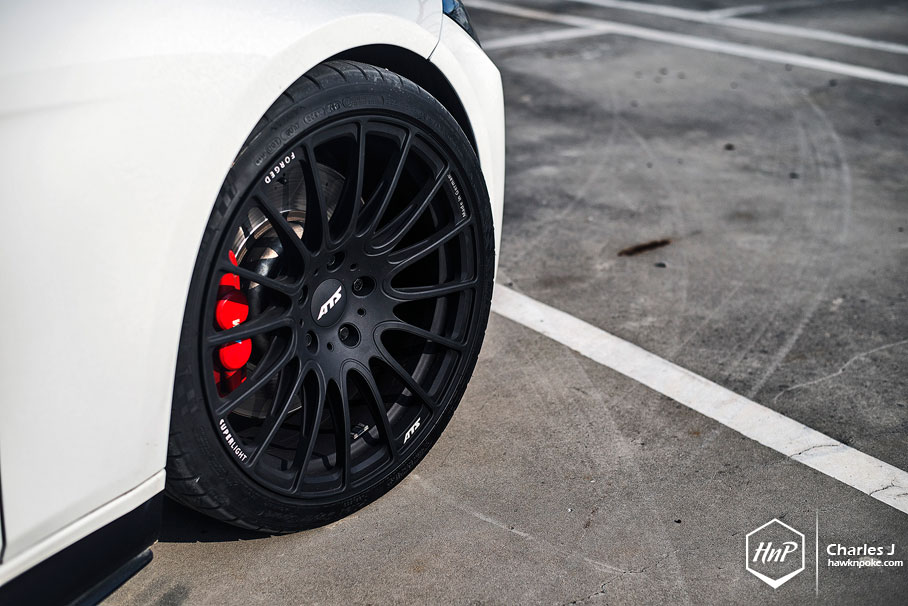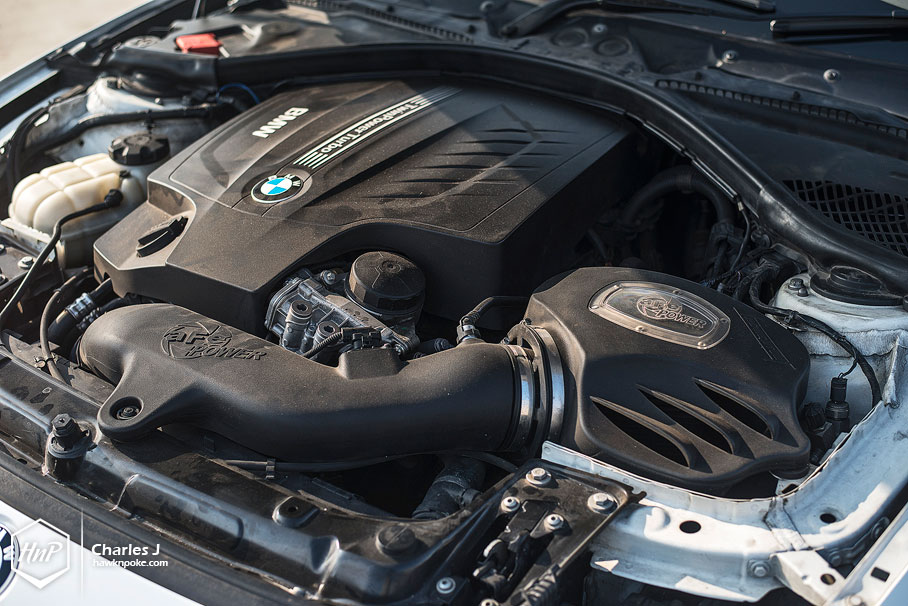 Performance-wise, a balance of performance and usability has also been achieved. Relying on bolt-on parts, Alvin has successfully increased the output of his F30 without compromising much on reliability nor low-speed livability. Meisterschaft GTC exhaust system, along with its downpipe and Burger Motorsports JB4 Stage 2 tune has essentially brought the F30 into a much livelier league.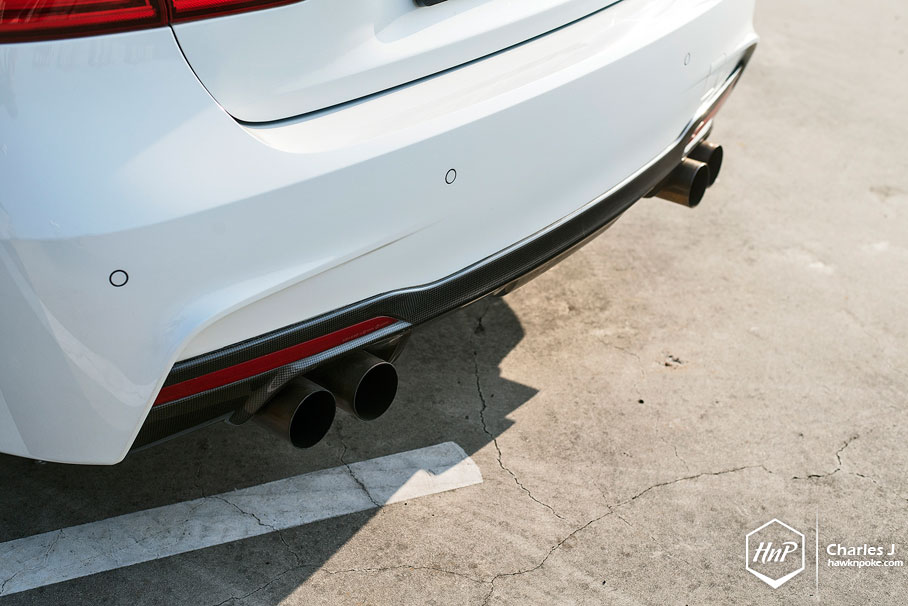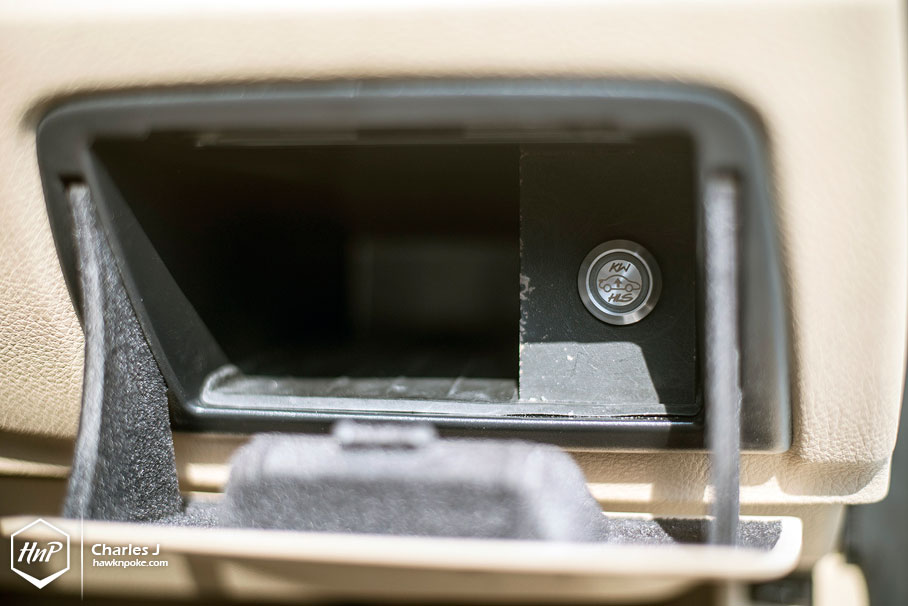 Modification Specs
EXTERIOR
M Performance black kidney grills
M Sport aero kit
M Performance carbon rear spoiler
M Performance rocker panel
3D Design carbon diffuser
INTERIOR
M Performance carbon selector lever
M Performance carbon gear selector
M Performance stainless steel pedals
M Performance Alcantara steering wheel with carbon trim and race display
WHEELS ETC
ATS Superlight Forged 19″x8.5-9.5
Michelin Pilot Super Sport 235/35/19 265/30/19
M Performance big brake kit
KW DDC Plug & Play coilovers
KW HLS 2
ENGINE ETC
Meisterschaft GTC full exhaust system
Meisterschaft downpipe
Burger Motorsports JB4 Stage 2
Burger Motorsports 15mm spacers
ER charge pipe
Recommended Oil
TOP 1 Synthetic Oil (Certified by BMW)
Additional Infos
Photography by:
Charles J
Mobile: +6287886807762
Email: jhons.charles@gmail.com