Almost Melancholic // Frido's 1-Series on AC Schnitzer
"A way of standing or being placed – Stance." Fender-to-lip fitment, humongous-width wheels, aggressive camber, stretched tires, minuscule ground clearance, and righteous offsets are the terms that need to be assessed when you are seeking after the perfect 'stance'. However, there are also plenty of infamous side-effects to such a movement, namely ruptured oil pans, scraped fenders and undercarriage, cracked lips, and so on. Indeed, such aggressive-fitment movement has been deemed controversial by a plenty, with endless numbers of negative comments regarding the ruination of functionalities. Has today's 1-er been compromised?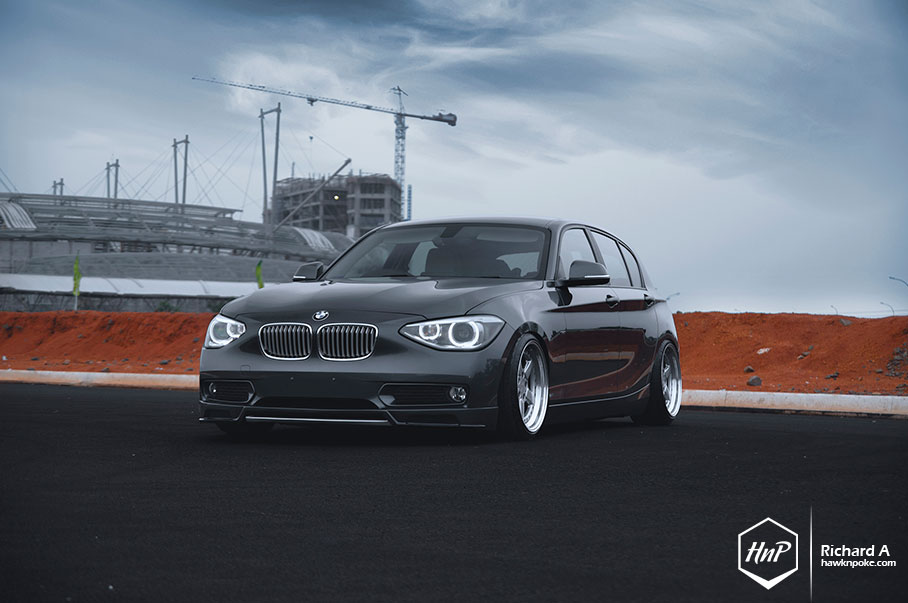 Nevertheless, the popularity of such 'stance' movement is something to be reckoned with. It has spread like a virus, even deep down into remote Indonesian islands. Unavoidably, different regions throughout the world has also developed their own definitions of the 'perfect stance'. It's own flavour. For example, in Japan they're going all-out with massive cambers and wheels-widhts, while those in Europe are still expressing themselves under more assertive methods.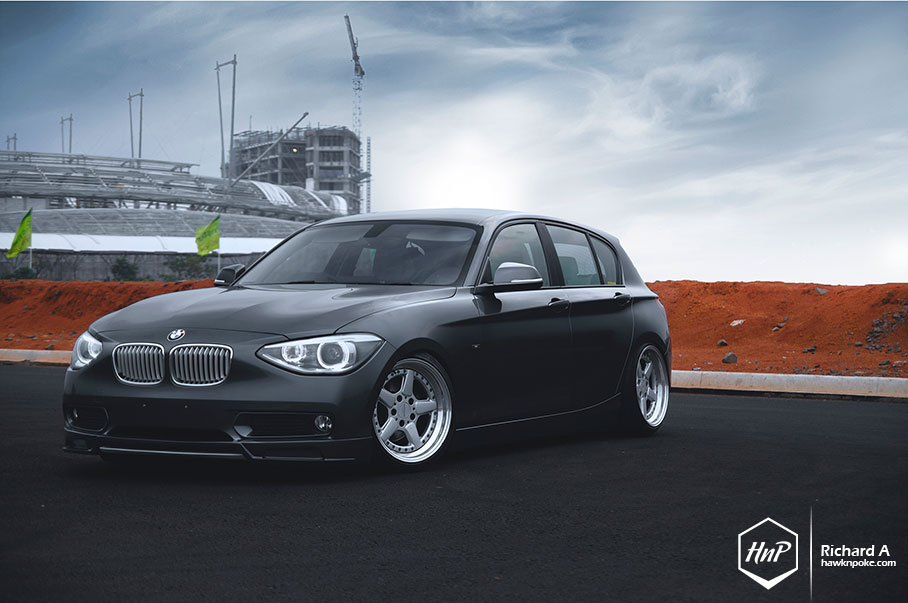 The European stance movement focuses on simplicity; monochromatic stickers, breath-taking paints, cleanliness, and accentuated body-lines are the name of the game. And there's a certain charisma that European cars possess when the stance is at its tipping-point; one that no other has. A combination of luxury, class and freakish-creativity. An interesting mix for sure. This is exactly what's been pursued by Frido the owner of today's 1-Series, depicted by his two-month-old F20 hatchback.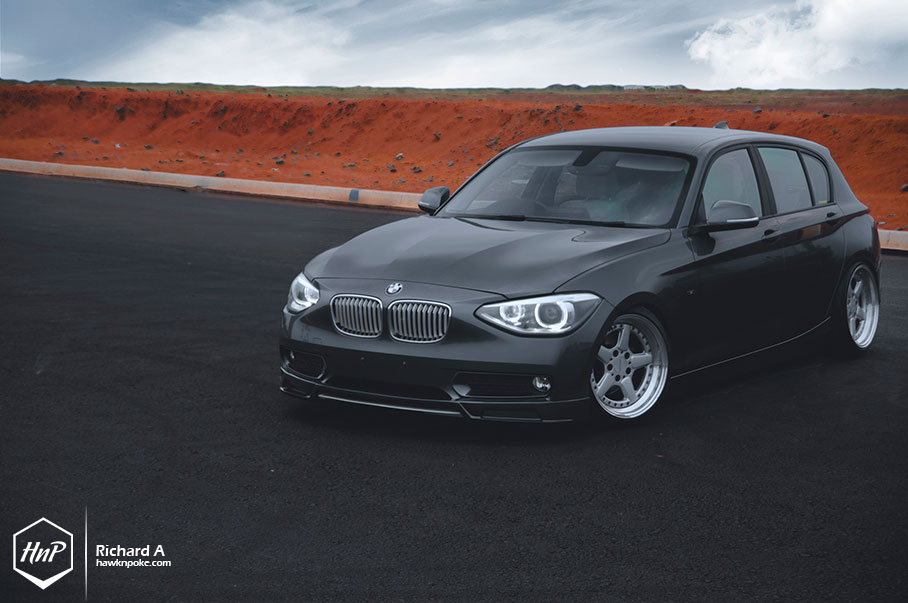 The 1-Series is an interesting offering from BMW, to say the least. Its goal is to provide people with the qualities of a BMW in a compact form, without sacrificing its trademarked luxury image. This second-gen 1-Series was first launched in 2011 Geneva Motor Show and undoubtedly infamous for its 'Angry Bird' front-end. Quirky, yet classy. Aggressive, yet laid back. A seriously ill combination when paired with such a proper 'stance'.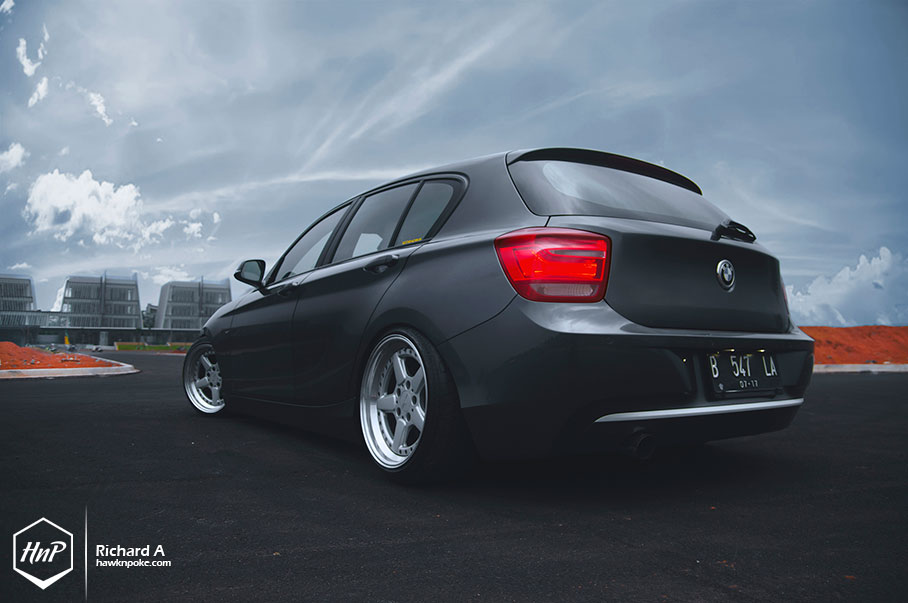 It is not by any means an easy task to transform a European hatchback into a neck-twisting ride. What Frido has done though, is incredible, since not a lot of people here in Indonesia would want to turn their newer-gen European rides into a 'stance-oriented machine'. However, having been a car enthusiast since his early ages and having a huge passion towards the aggressive-fitment game, Frido can't help but to put his creative imaginations into a reality.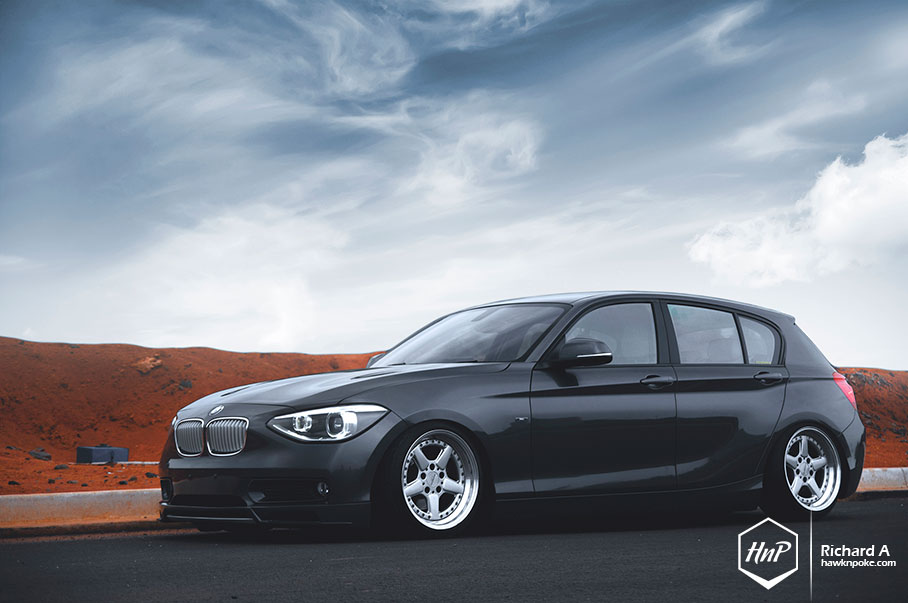 The aggressive-fitment has been achieved by installing 17″ AC Schnitzer Type II measuring 8.5″ front and 10″ rear in widths, complemented by a custom lowering setup. To describe it shortly, such a setup is 'just right'; easy on the eyes and still saving the fenders from being turned into bacons.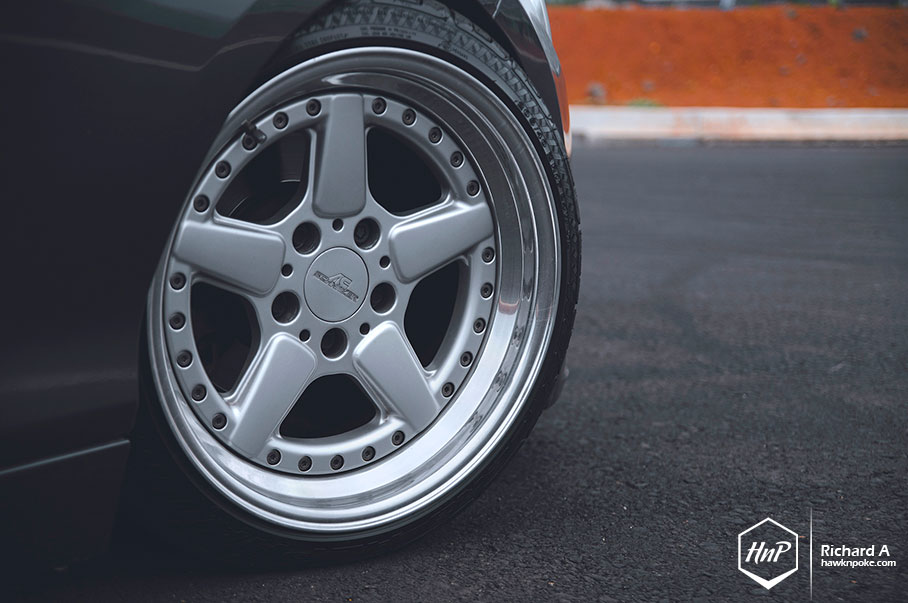 Exterior-wise, the list is not quite as long as other European HnP builds out there. Frido installed a simple AC Schnitzer add-on, which has further accentuated the simplicity-rule of European stance movement. I have to agree with Frido's less-is-more approach here.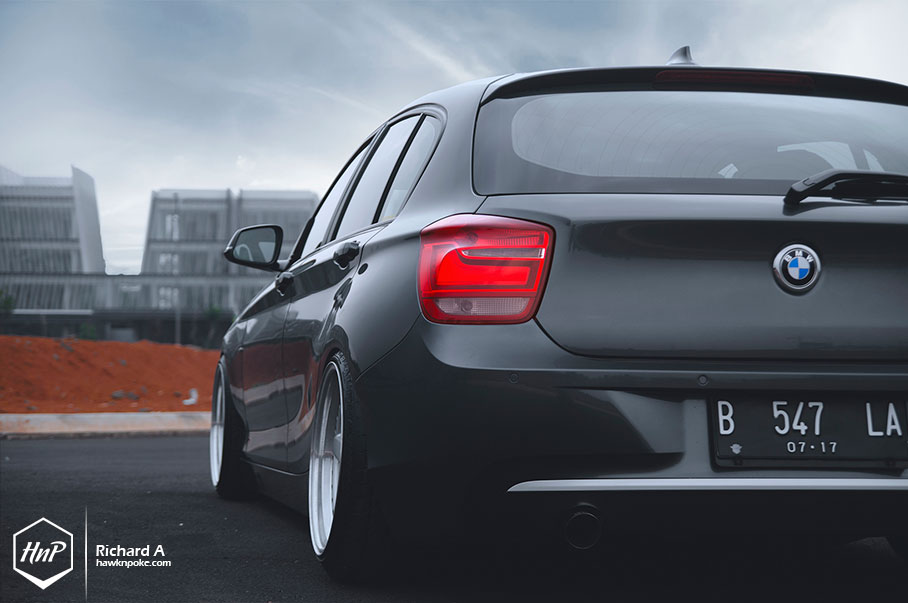 Performance-wise, Frido decided to go with Eisenmann exhaust system. Providing a lot more 'oomph' and 'rumbles' through every throttle flicks. Further amplifying the excitements in driving his 1-er daily.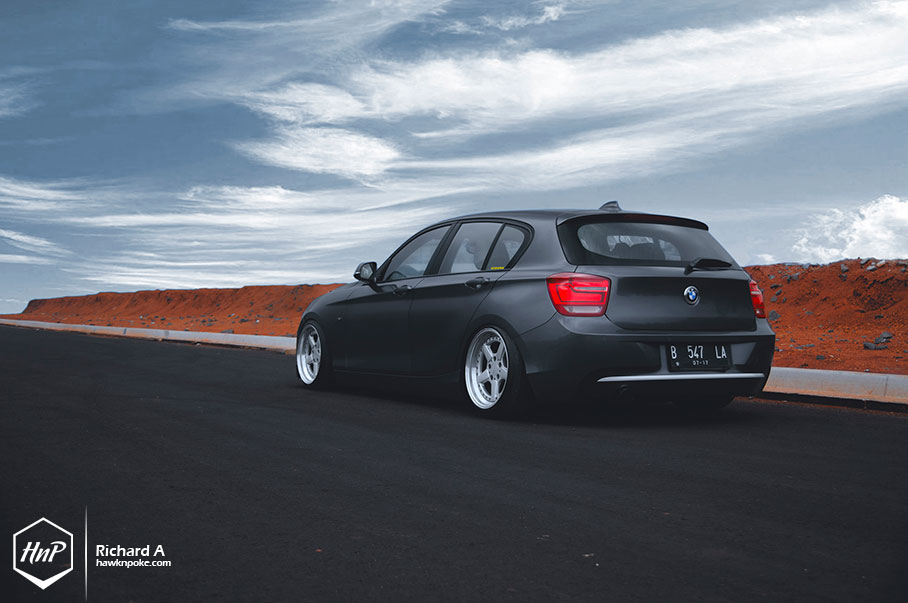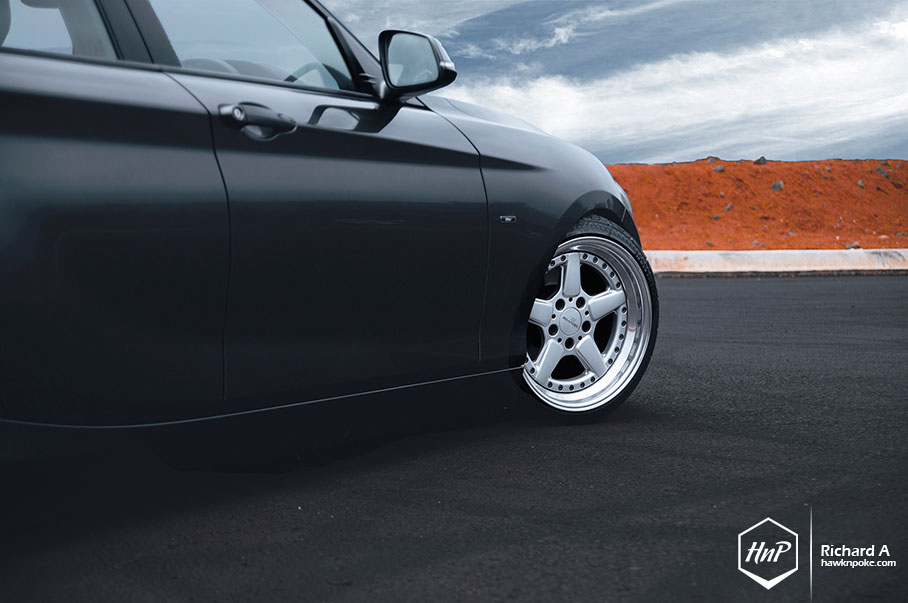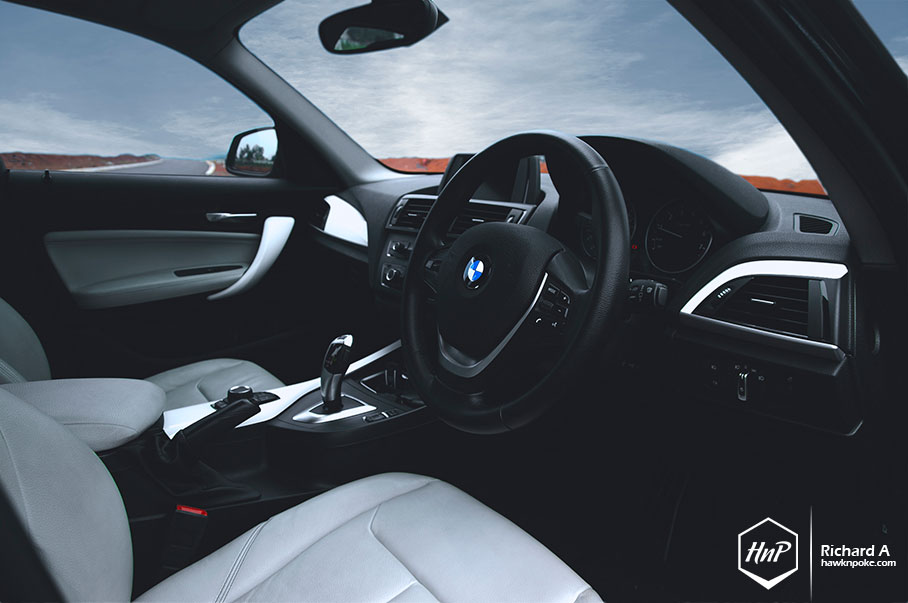 Follow @richardandrianto for more breath-taking automotive captures!
Modification Specs
AC Schnitzer front add-on
Eisenmann exhaust
BMW Urban Line interior
AC Schnitzer Type II by Ronal 17″x8.5-10
Accelera alpha 205/40 215/40
Custom lowering
Additional Infos
Photography by:
Richard A
Instagram: @richardandrianto
Email: richard.andrianto@gmail.com