Clean Cut // Yuga's Skyline R33 GTS-T on OZ Pegasus
Say the word 'Skyline' and immediately a vivid R34 GT-R comes up in your mind. Yes, a bayside blue one, isn't it? The kind of poster car that a lot of us growing in the Gran Turismo and Fast Furious era will surely be able to relate to. Next in line attached to the 'Skyline' name in our minds perhaps would be the R32. A black one this time; thanks to its major roles in the Initial D anime series. R34, R32; these two have become the iconic Skylines of the decades. Now, where does that leave the middle-number, the R33? Illegal in most countries and not having any particular cult to attach to, the R33 has undeniably become one of the most understated Skylines out there.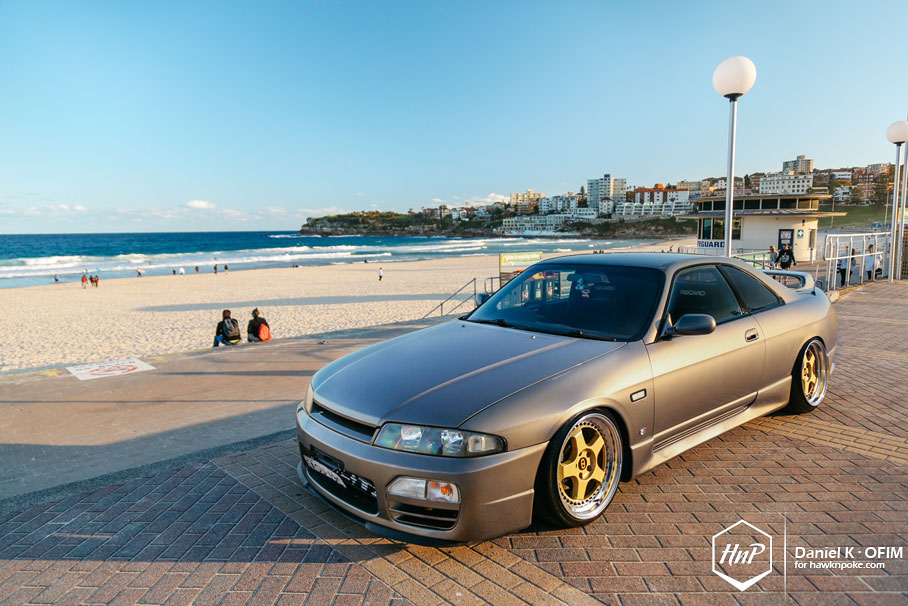 Meet Yuga, a fellow Indonesian living in Sydney, and his R33 GTS-T. Having previously modded several Euro rides back home (notably MK4 Golf and B7 Audi A4, both aggressively fitted), Yuga decided to take a fresh breath of air with this JDM build for his Sydney stay. Breaking hard-earned savings from his fish butchery job, this once-silver R33 landed onto Yuga's custody couple of years ago.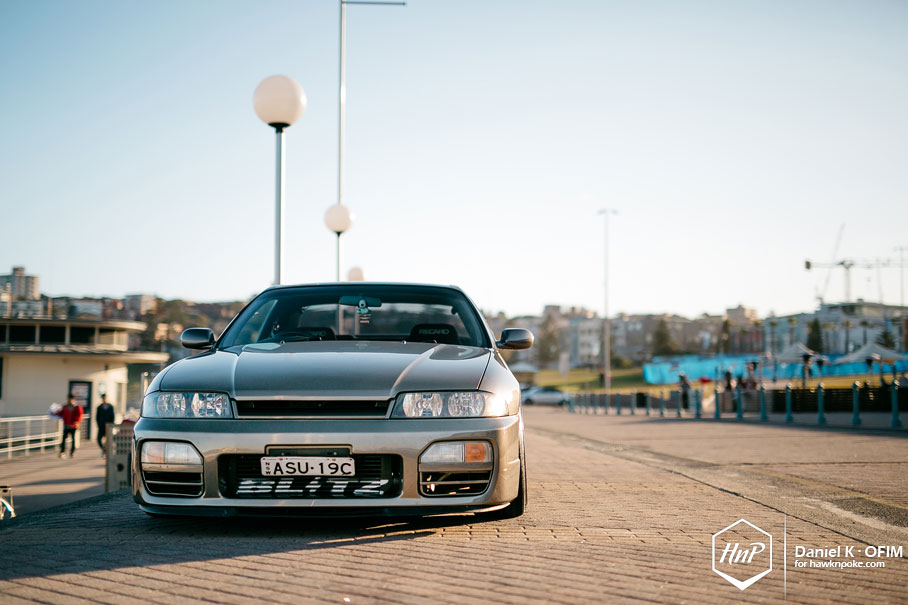 With a turbocharged engine under the hood (RB25DET) and RWD setup, the GTS-T is the GT-R's direct little sibling. Notably lighter than the big bro thanks to the absence of an AWD system, the GTS-T still proved to be a popular platform of choice in the motorsports arena. With ample performance tuning potential and greater daily drivability, Yuga admitted that the GTS-T has been the perfect platform for him to start his aggressively-fitted Skyline dream.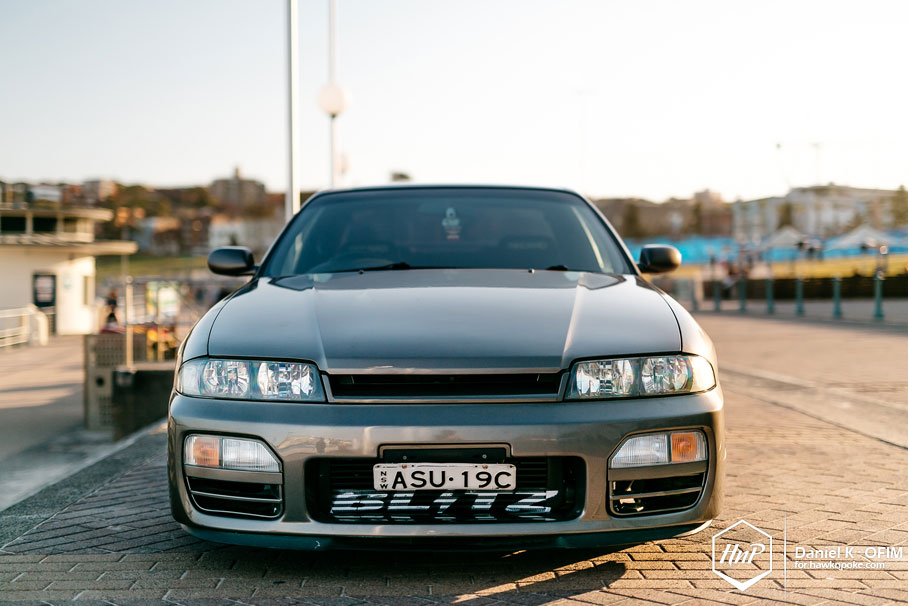 Less popular than any of the other siblings and often deemed as a 'failed Skyline' (mostly due to its less aggressive looks), the R33 has undeniably become the most underrated model of the lineup. Determined to change this perspective, Yuga set his plans since early on to transform his GTS-T into one definite head turner. Utilising air flow upgrades to free more air in-and-out of the engine, and aggressive footworks setup, Yuga has definitely built one of the most unique R33's in town.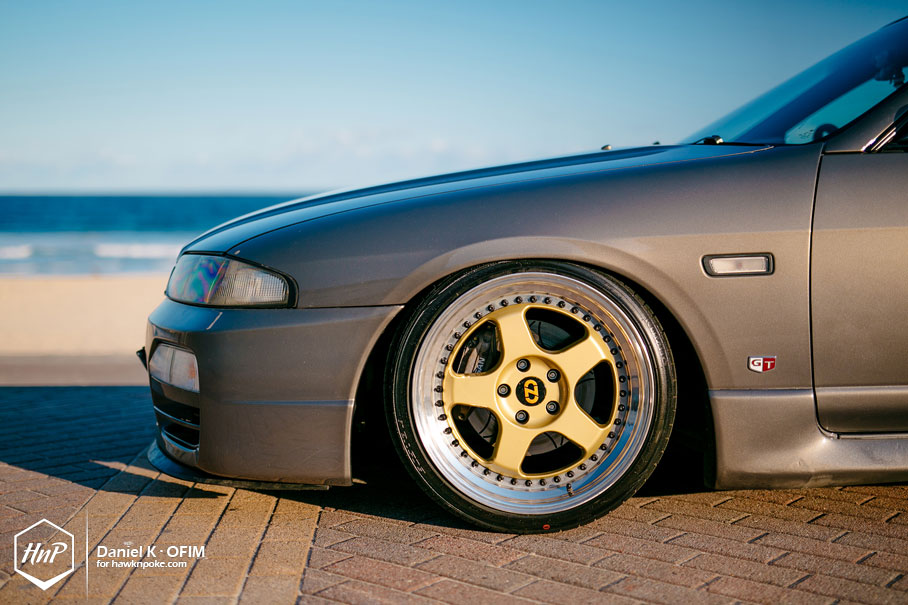 With a great Skyline, comes great police attentions. Notably popular as a 'defected vehicle' in Australia (mostly due to owners' outrageous 'illegal' modifications), driving a Skyline on Australian streets proved to be an intimate business with the officers. Along his trip towards Bondi beach for this photoshoot alone was Yuga stopped by a couple of highway patrol cars. Four officers soon came out of their patrols and gave a quick inspection on Yuga's R33; trying to find anything illegal on the car. Thankfully there's nothing to be defected on the build and Yuga's afternoon nerves-rush ended with a friendly greeting from the officer, "Have good day mate, nice car btw!"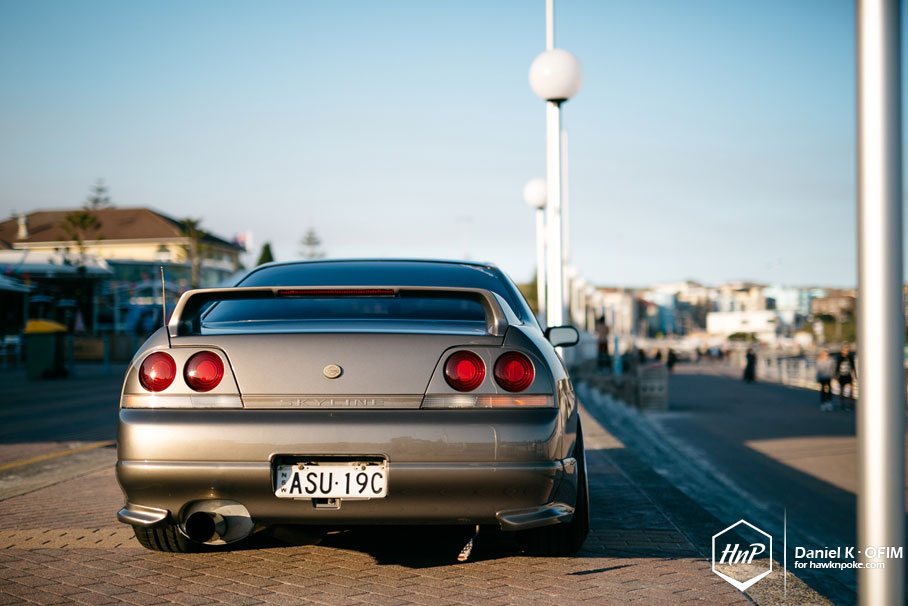 There'll never be a happy ending for enthusiasts' builds, for there's always a better looking, better performing part out there. Having already resprayed the car, aggressively lowered it on OZ Pegasus, and installed a couple of modest exterior parts (notably unique is the Seat Cupra R front splitter!), Yuga admitted a wilder plan ahead for his GTS-T. A can't-say-now plan that involves "an exterior work, minor interior works, and huge engine works!" said Yuga.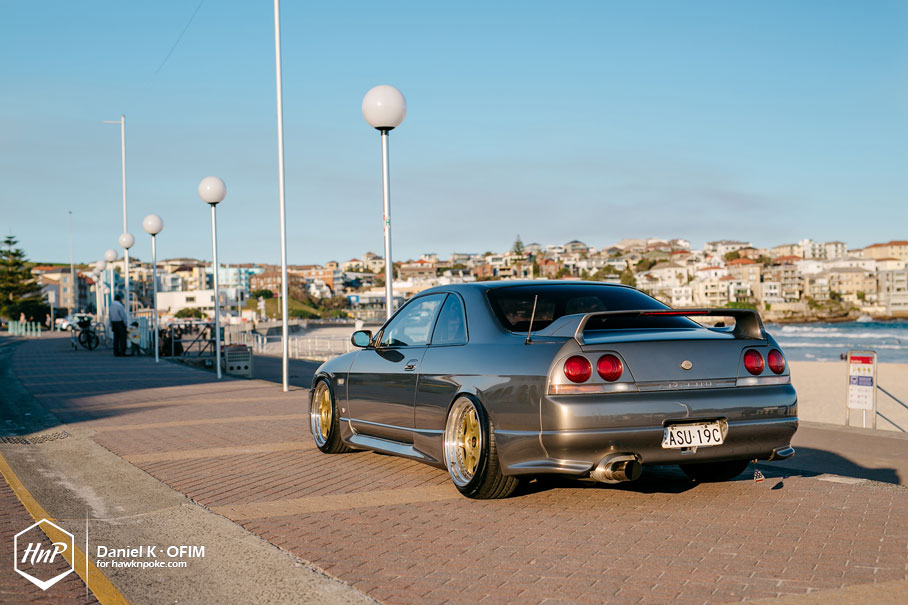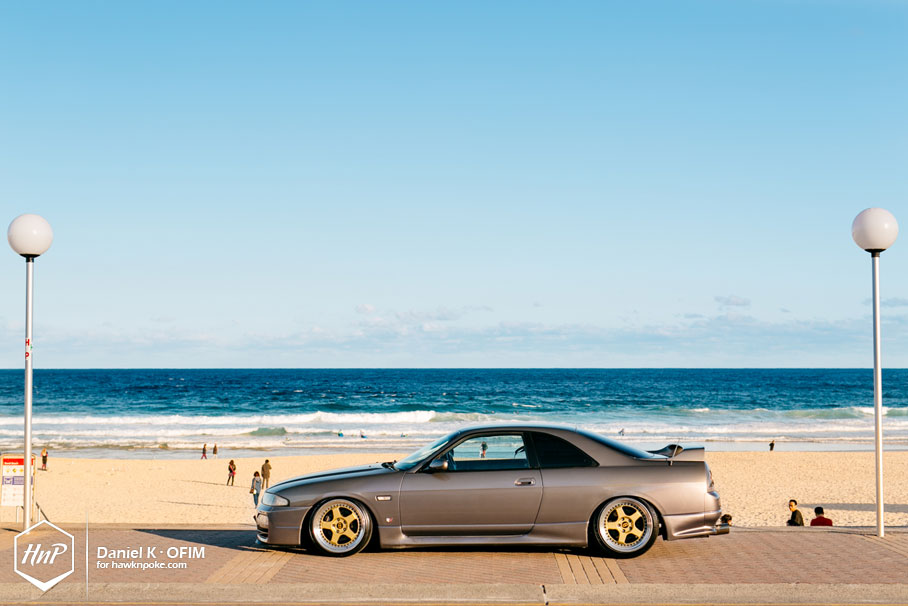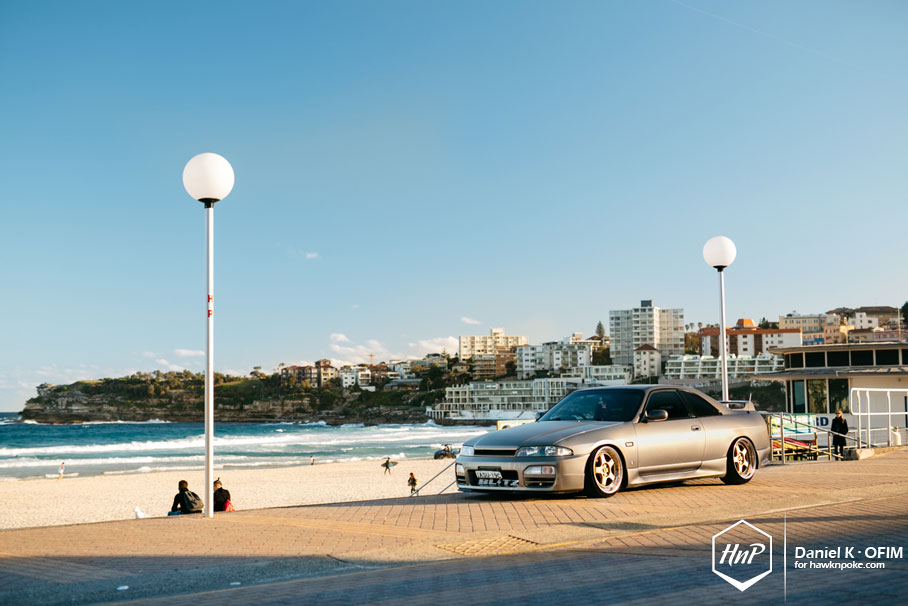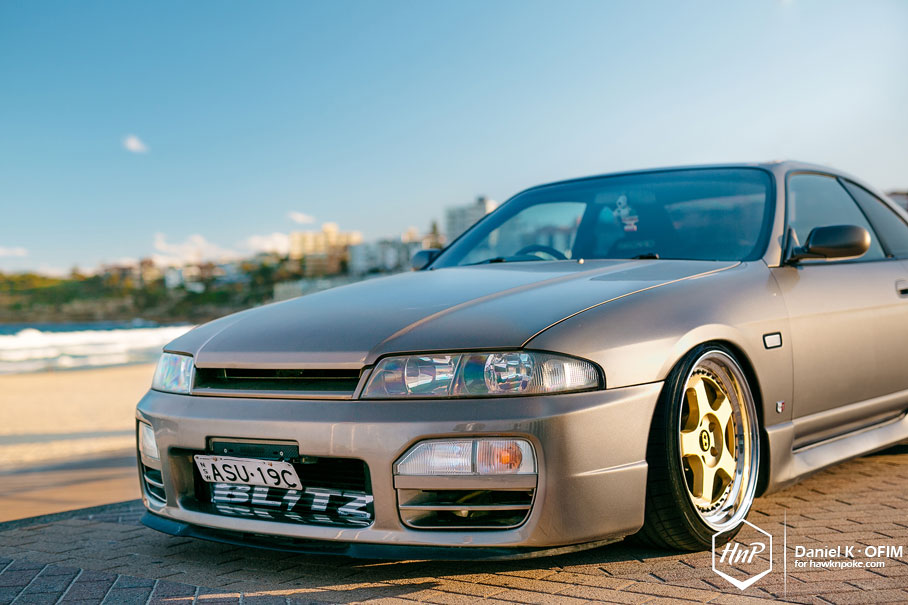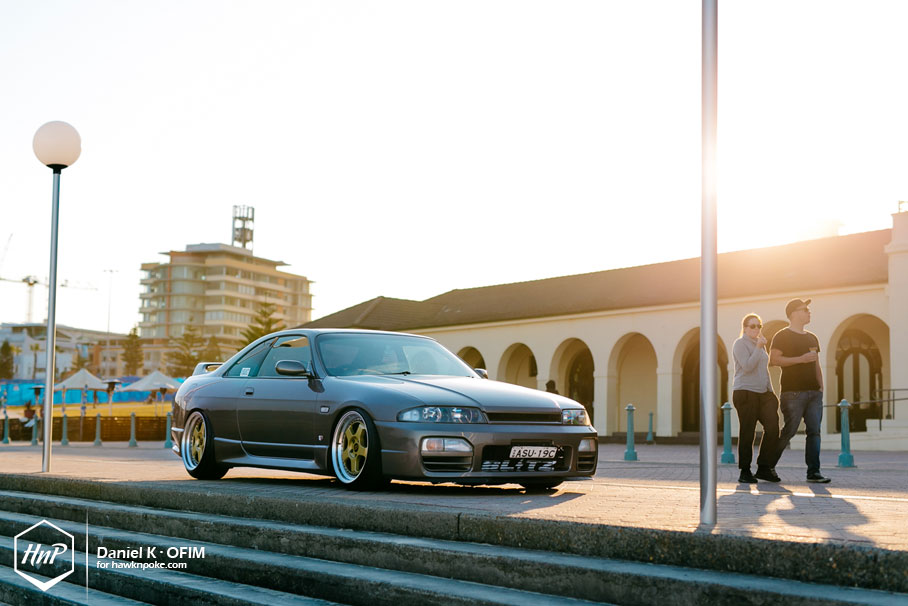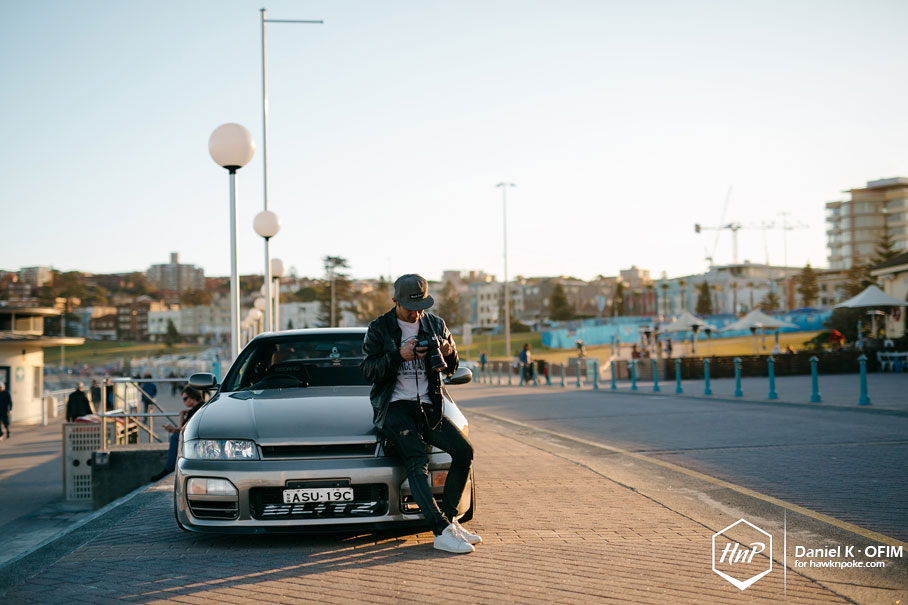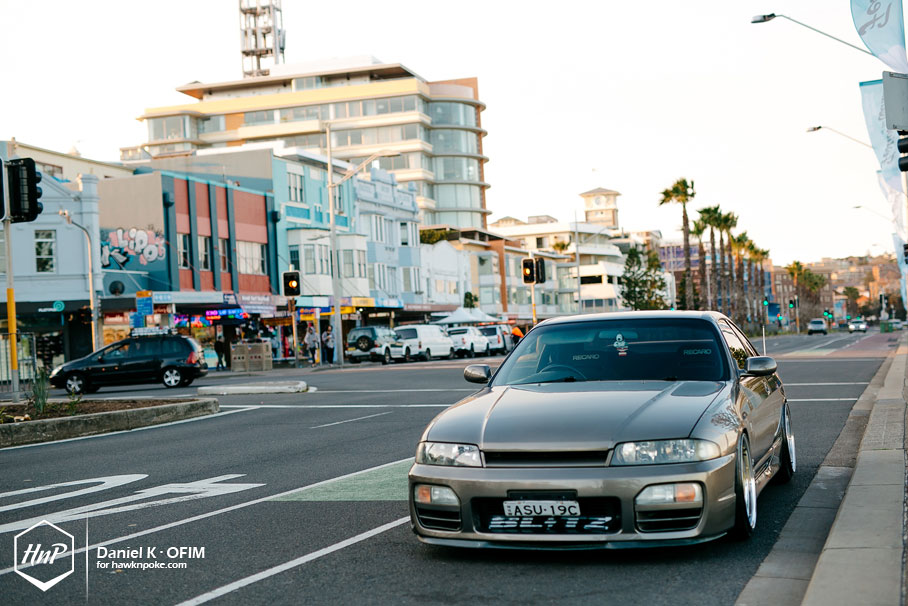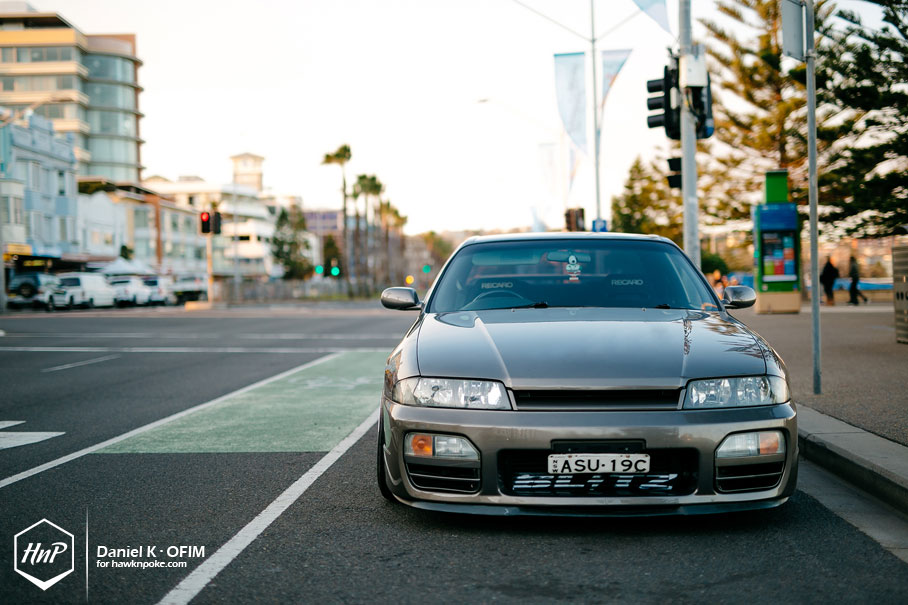 Modification Specs
ENGINE ETC
HKS SSQV 4 BOV
Blitz return flow
Fujitsubo catback
Venom Catco 100cell
APEXi open filter
WHEELS ETC
OZ Pegasus 18″x9.5-11
BC V1 coilovers
BODYWORKS ETC
Seat Cupra R splitter
Body respray
Recaro SR3 pair
GTR rear pods
Nismo clear side indicators
Rolled and flared guards
Philips HID 4300K
Philips 4000K center cabin light
Osram 4000k front cabin light
JDM carbon plate holder
High beam mod
Sedan front indicators with cover
Additional Infos
Photography by:
Daniel Jason Karjadi
Sydney, Australia
Website: OFIM
Instagram: @dkarjadi
Facebook: Daniel Karjadi Photography