Macchina Selvaggio // Vorsteiner Aventador on Forgiato
Fierce. Sharp. Wild. Fast. And unforgiving. An unmistakably anti-villain character birthed by a rebellious inventor and industrialist: Ferruccio Lamborghini. For decades Lamborghini supercars have been praised for their unpretentious designs and uncompromisingly high-performance traits. Always wider than most, always faster than most. Becoming the ultimate collectible items for successful entrepreneurs and eccentric car lovers alike. Today I have a rather special Aventador that's even been bred to be fiercer than most. With high-precision Vorsteiner carbon parts and unconventionally attractive Forgiato wheels, this is the bull to watch out for among the pack.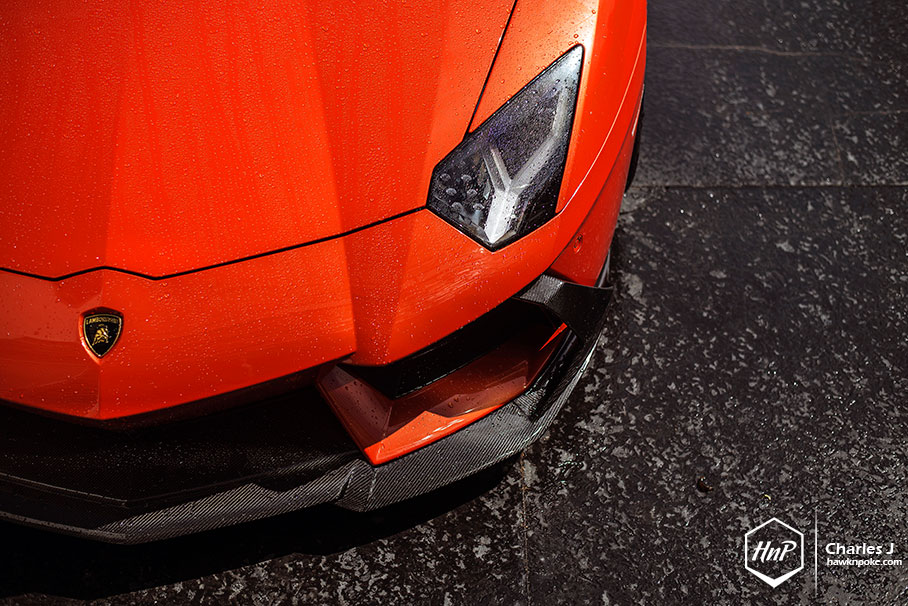 The flagship; the commander and the highest ranked. Throughout the company's half-century of existence, there's only been five flagship models in history: The Miura, The Countach, The Diablo, The Murcielago, and finally this most recent one The Aventador. Each of these flagship models has never been designed to compete with other human-made cars. A Lamborghini is a Lamborghini. It doesn't compete with others, yet built to tackle the existence of 'time' instead. Meticulously crafted with designs that'll withstood the test of time and performance capabilities that'll take milliseconds to measure properly. Powerful and everlasting.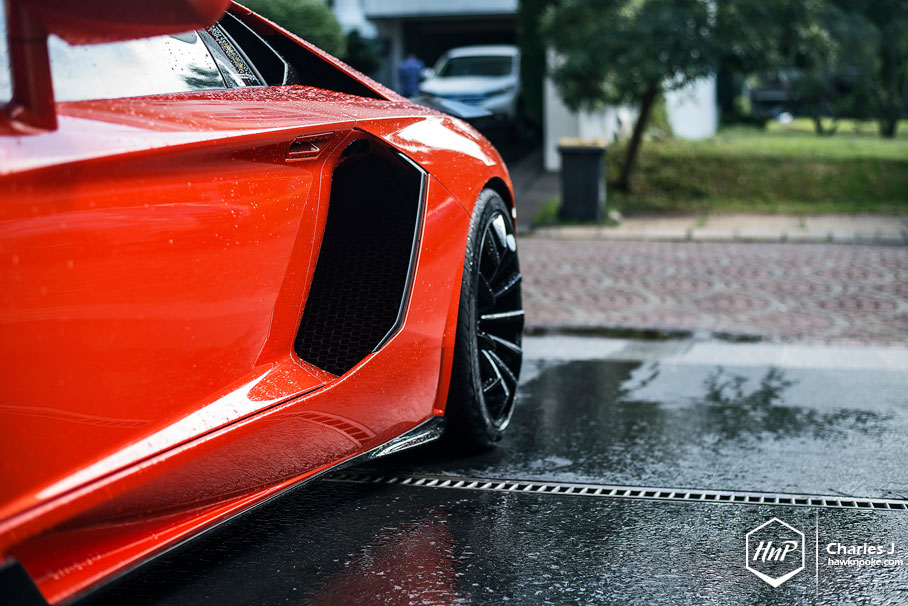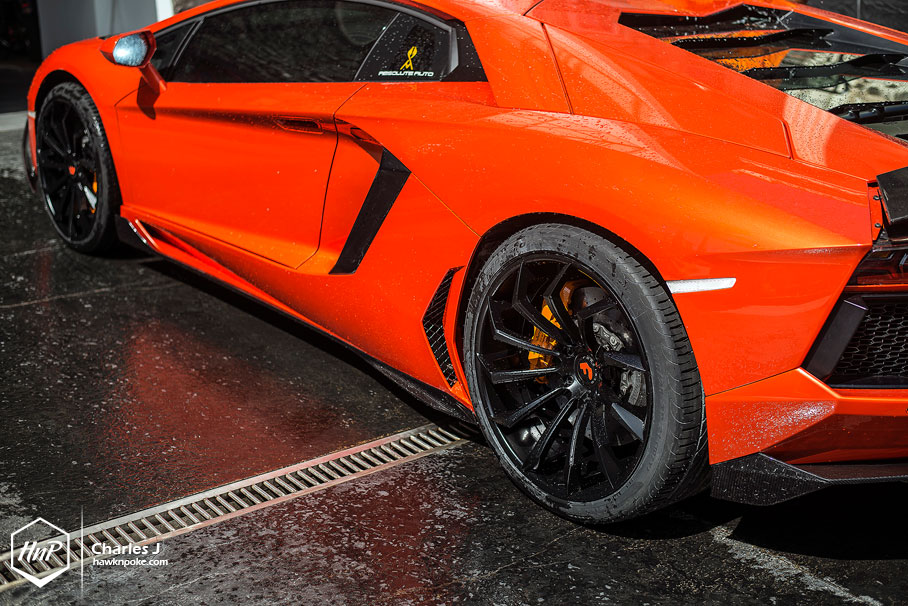 A jet-fighter for the land. Prior to the Aventador's launch, there's never ever been a supercar manufacturer who dares to bring such a look onto the streets. It's so sharp and angular, both outside and inside, that it'll surely blend right in amongst military airplanes and artilleries. And it packs a lot of power underneath too! With 6.5L V12 engine residing beneath its stealthy rear fins and a 0-100KM/h time of 2.9s, the human driver's skills would be the only biggest hindrance the supercar has.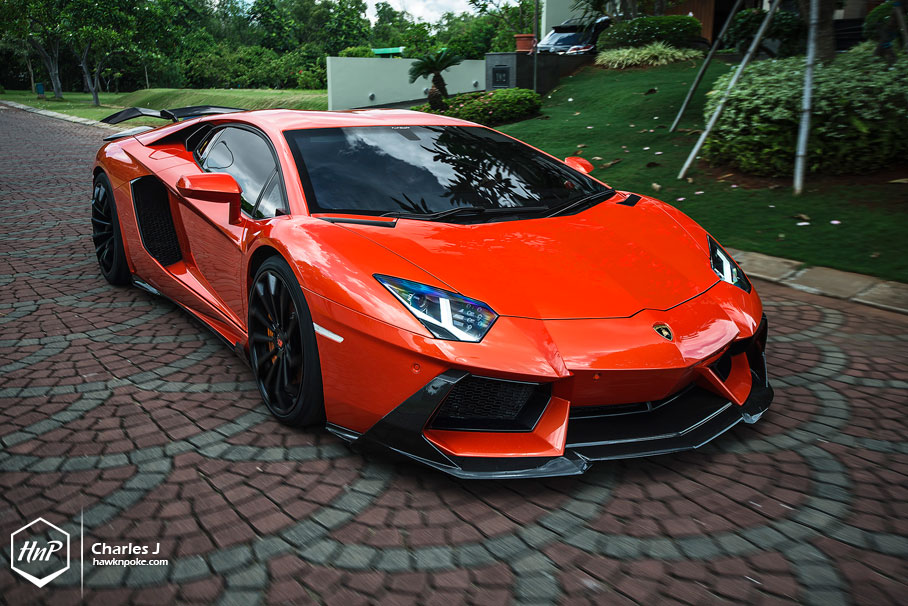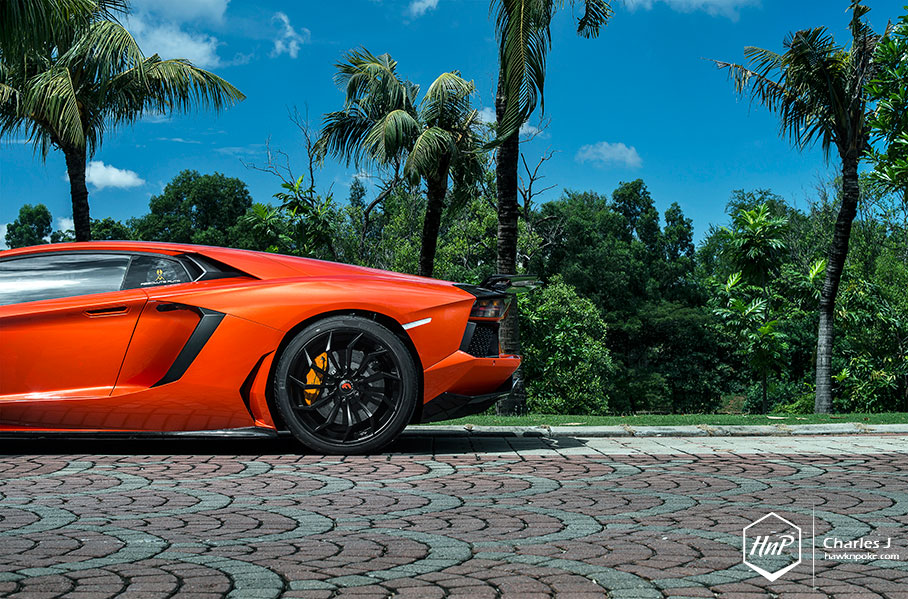 Taking aerodynamic lessons seriously. With more than enough horsepower to tackle an entire fleet of passenger cars, aerodynamics undeniably played an important role in maintaining the Aventador's high speed stability. As an attempt to further improve this area, the owner, guided by EDC Jakarta, decided to install Vorsteiner's full set of carbon fiber aero parts: from spoiler, rear wing, diffuser, to side skirts.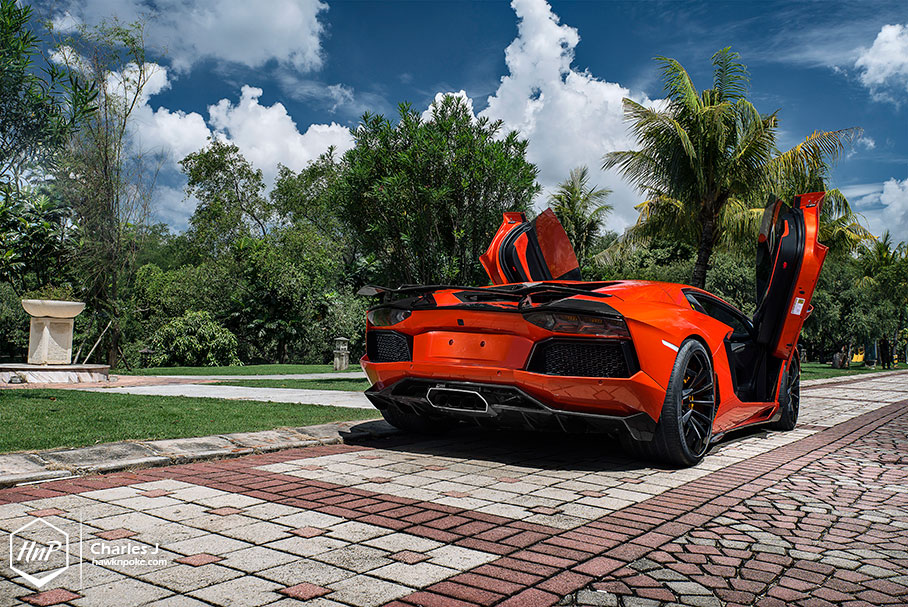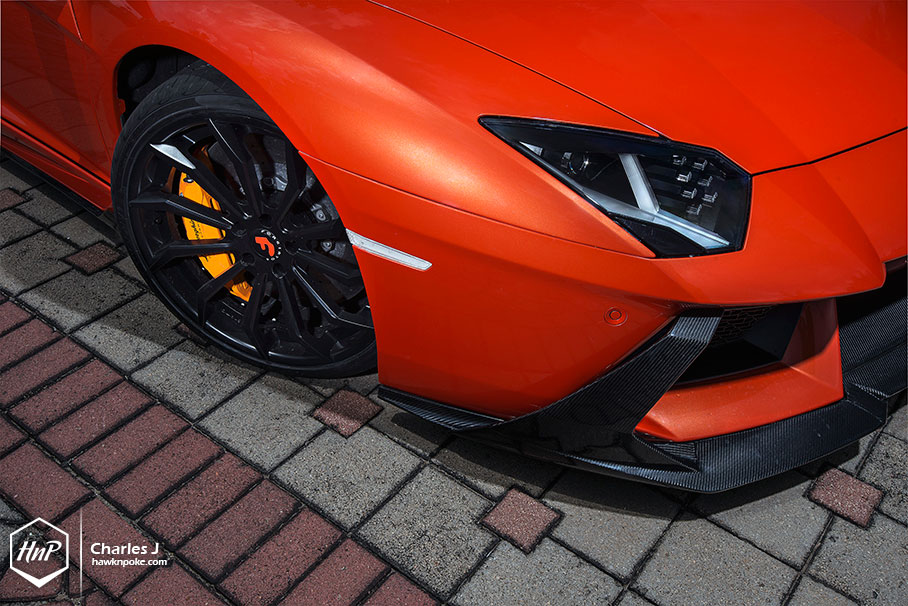 Having already owned a Ferrari F430, several Porsche's and a few BMW and Benz in his garage, the owner knew from early on that there's only one supercar that can satisfy his appetite for a hardcore speed machine: the Lamborghini. Prior to this LP 700-4, the owner has tasted the flagship's little sibling, a Gallardo LP 550-2. Craving for a livelier performance and eccentricity, it became a natural move for the owner to upgrade to this full-blown V12 supercar.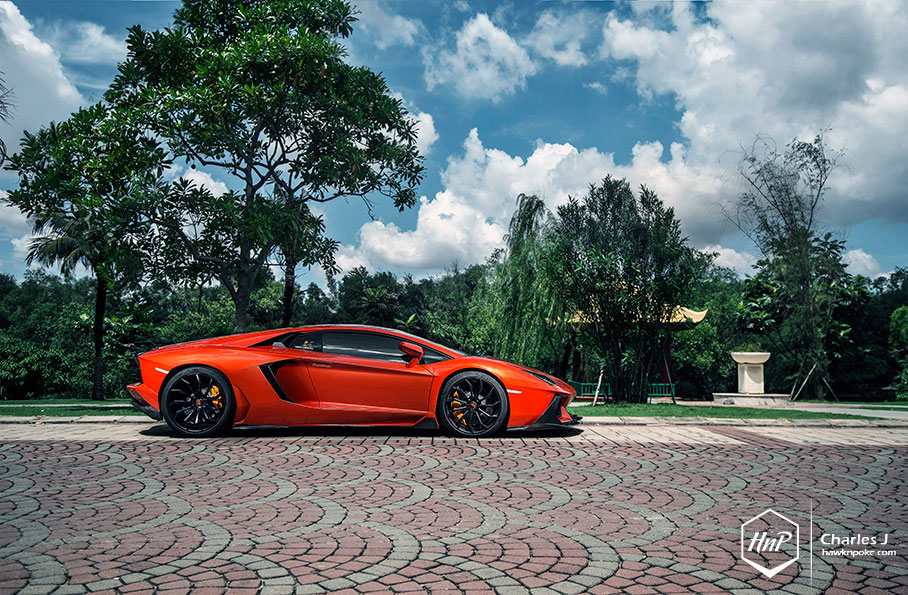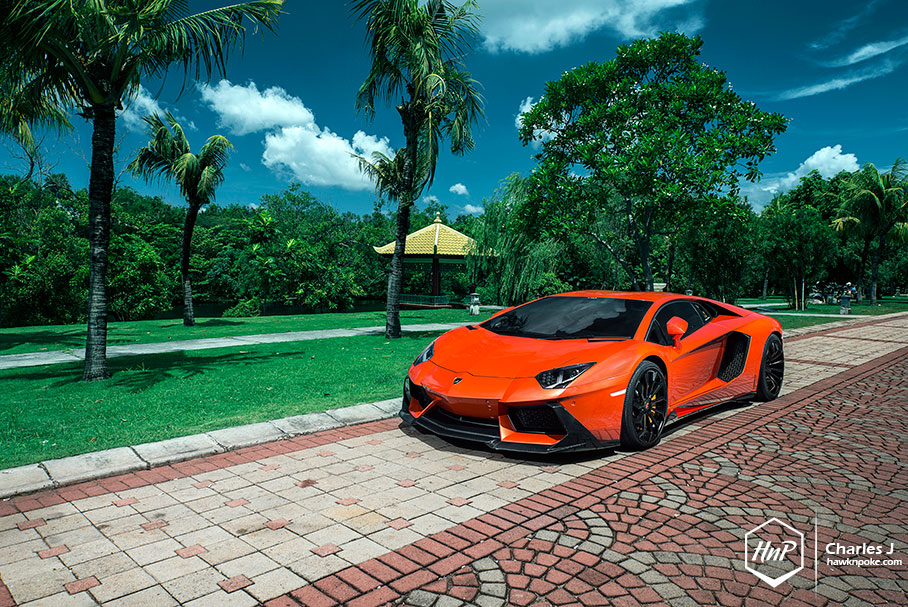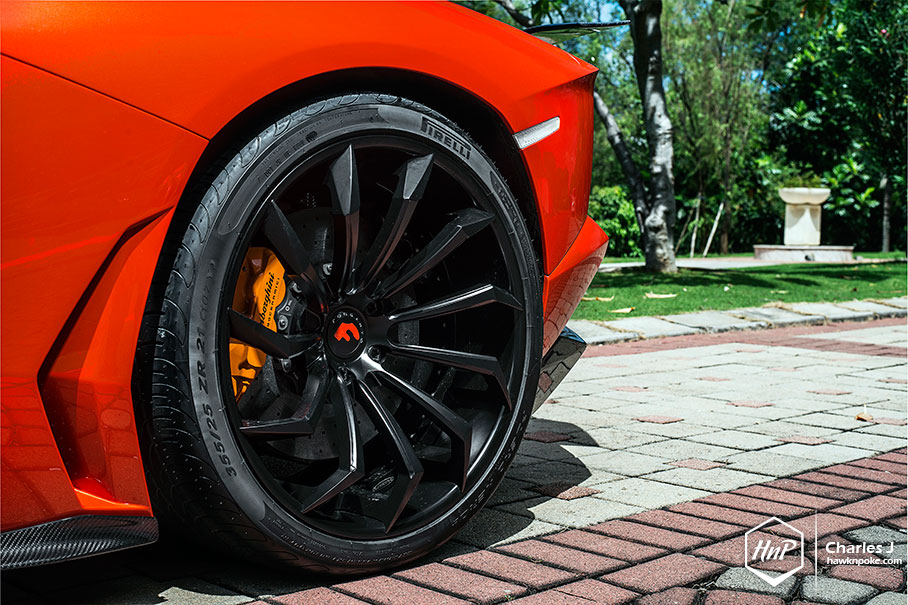 Wanting to become a spotlight on the runway, the owner chose Forgiato wheels for the company's always-daring and out-of-the-box designs. This particular Navaja ECX model has a distinctively concave, yet wider-than-lip directional spokes that goes towards the center of the wheels. A design cue that's so unique and unusual that it's borderline bizarre at the same time. Pretty much just like how Lamborghini's flagship models have been built.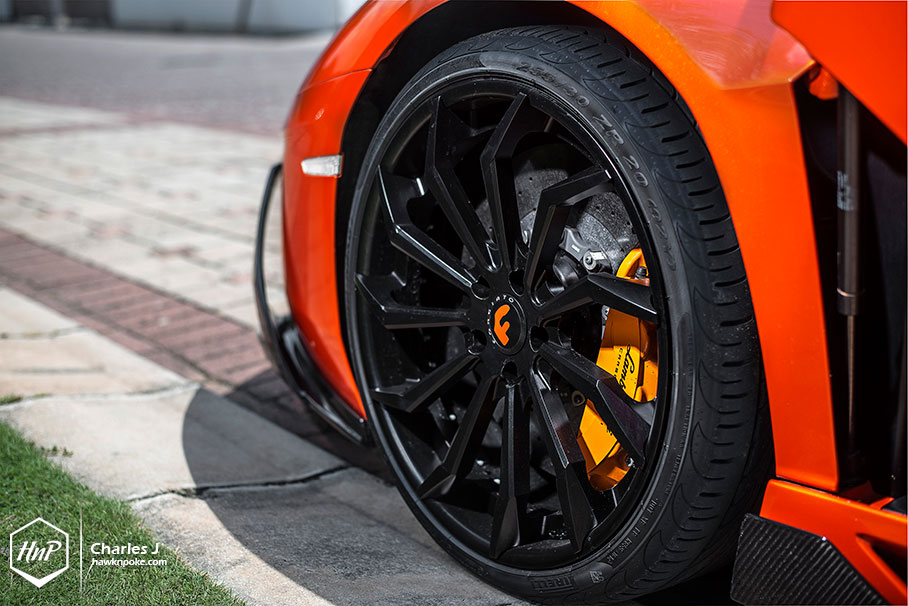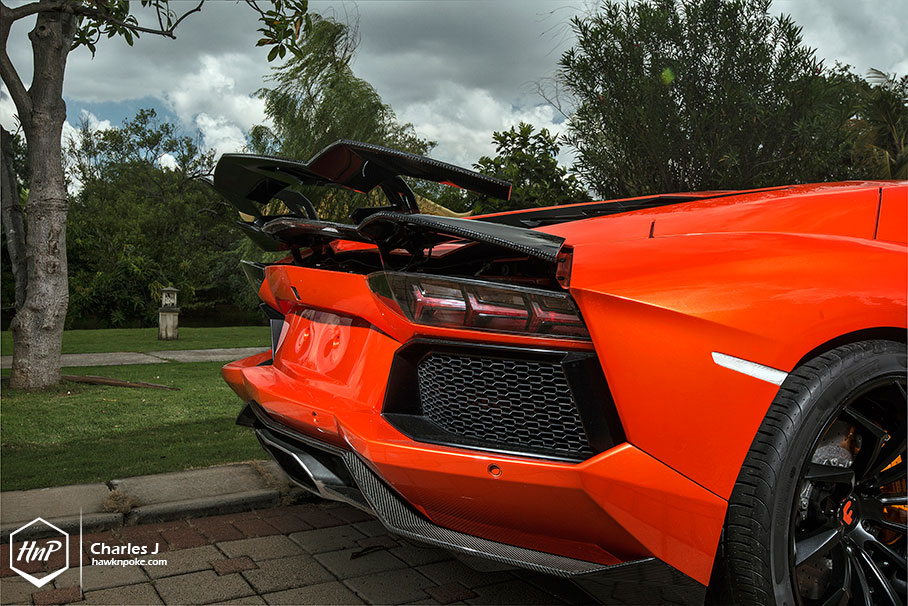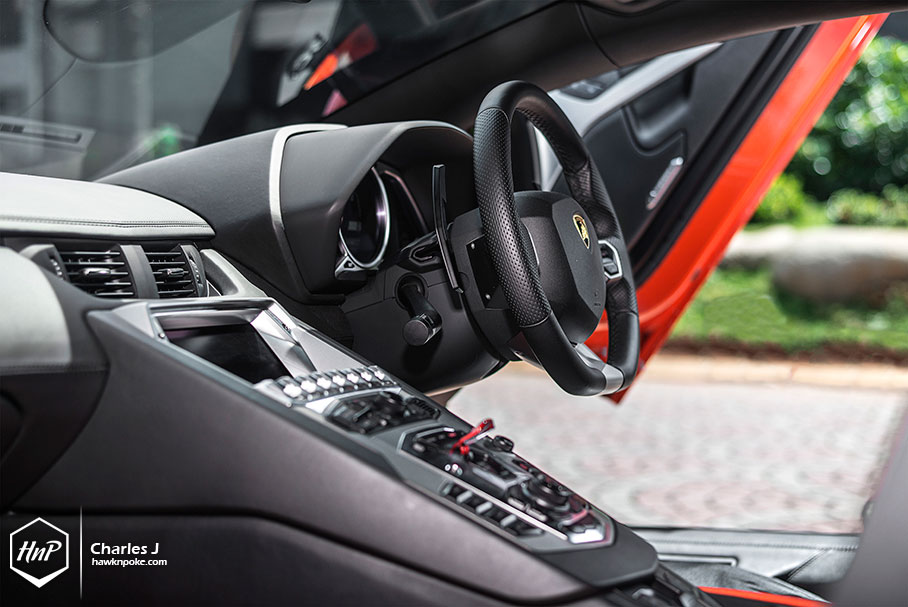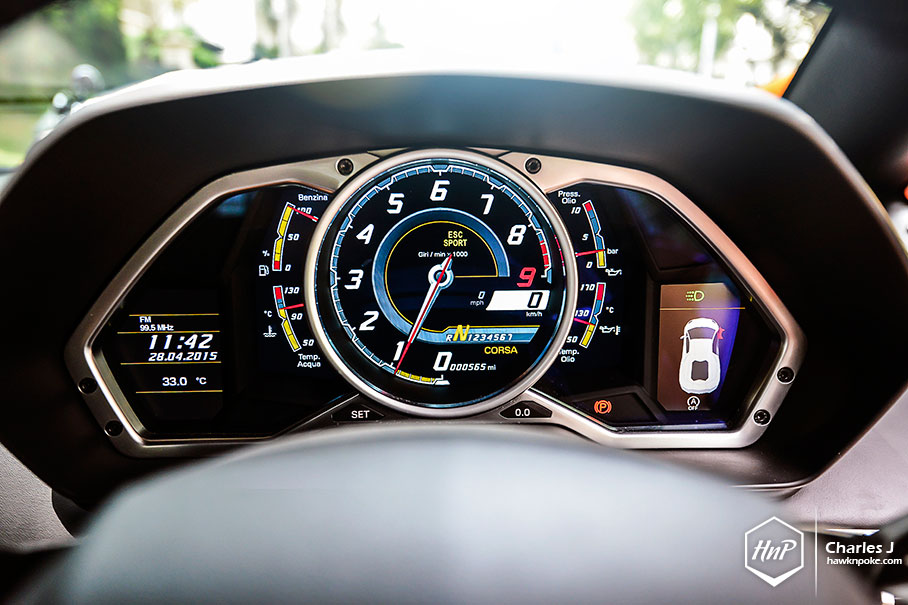 Our thanks goes to Elite Driving Club Jakarta in giving us this opportunity to capture the wild beast owned by one of EDC Jakarta's members.
Modification Specs
Forgiato Navaja ECX 20/21″
Pirelli P-Zero 255/30/20 355/25/21
Vorsteiner Zaragoza Carbon front spoiler
Vorsteiner Zaragoza Carbon rear wing
Vorsteiner Carbon rear diffuser
Vorsteiner Carbon side skirt
Capristo Cat-bypass pipes
Capristo Valvetronic exhaust system
Additional Infos
Photography by:
Charles J
Mobile: +6287886807762
Email: jhons.charles@gmail.com