Solid Performer // BMW F30 335i on HRE
Earlier this morning, I read an article about Apple's development on an electric car. Yes, the smartphone giant, currently developing a car. Meanwhile, last month we've also been hearing a lot about the Tesla S, an electric car which has just received an over-the-air software update that improved its performance (sounds like a phone software update isn't it?). Right now it does 0-100KM/h in about 3.2s, which is about the same as a Lamborghini Huracan. Yes, despite the Tesla P85D being a four-door saloon and fully electric car. Is the future finally here? Are forced inductions and gasoline smell going to be wiped away the next time we wake up from our V12 dream?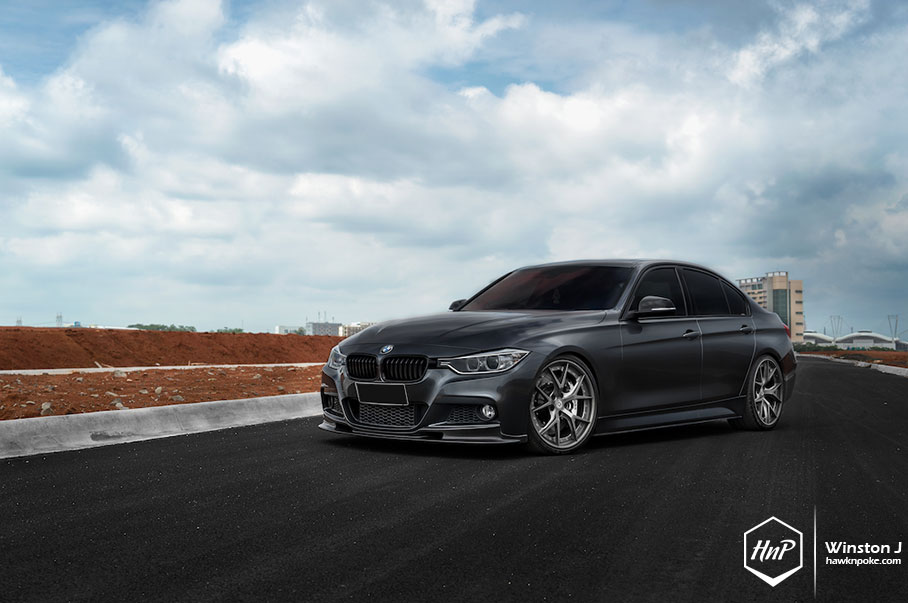 To those complaining about the lack of Naturally Aspirated engines currently in the line up of high performance cars, you'd better be keeping a good care over your N/A's. Because sooner or later, not only that N/A will be gone, I'm guessing even those smaller, turbocharged engines will be left in the museums too. All replaced by maglev-sounding electrics that will wipe away every single gasoline-powered seniors; pretty much just like Shinkansen overtaking the speeds of every coal powered trains out there. Such future will come, and it's unavoidable. Our current generation cars will all be nothing but pollution-causing, polar-bear-murderer, inefficient methods of transportation.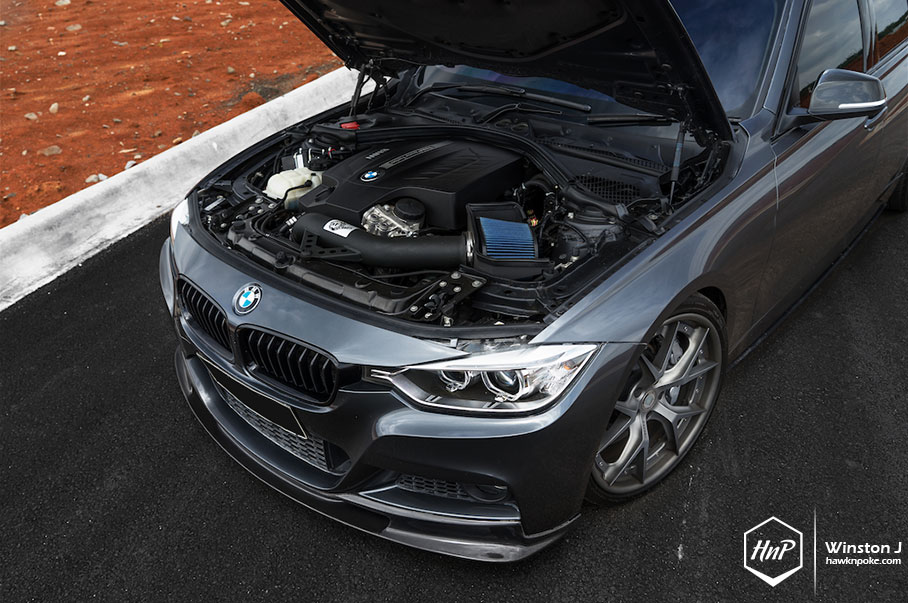 Maybe in 15 years' time there'll be no more Top Gear, and the world's best motoring TV Show will be called Top Rotor. All because there'll be no more gears in present of those electric cars. And the show will be hosted by three dudes, all of whom dressed up like Apple geniuses, talking about software updates for the new BMW iM5 and how Golf GTE just won the the world's car of the year. Is this the future we are looking forward to?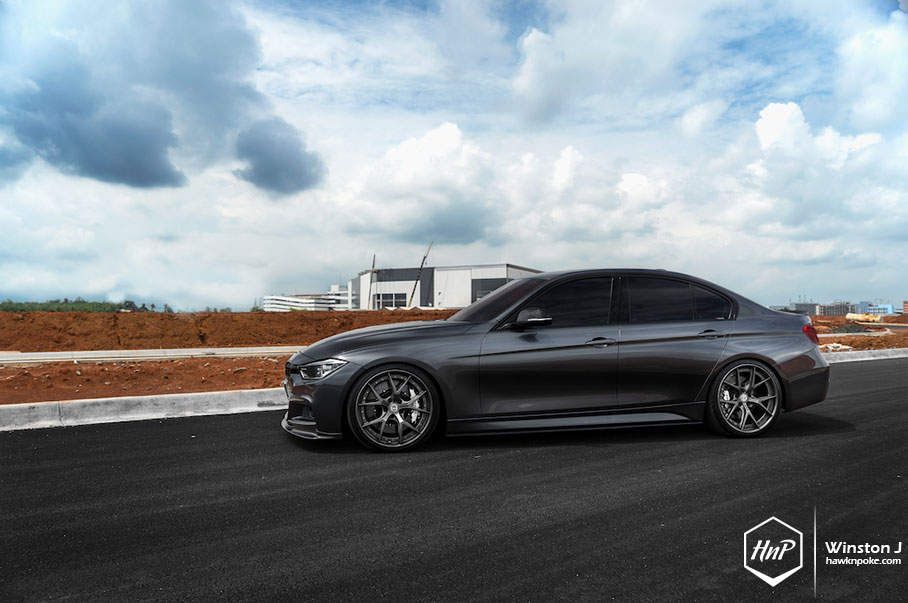 I don't know about you, but my dreams are filled by noisy exhaust/intake symphonies, not those silent EVs. Perhaps in 2030 I'll look like one of those making calls with Nokia 3210 in today's world of iPhones. Perhaps the new kids will be driving their electric Golf GTE's MK10, while I'll be old and driving what they call as disturbing V8 M3 that caused nothing but costly problems. Problems that can't be solved via over-the-air software updates like their GTE's could.
But, hey let's be sure, I'll be having the brightest smile on my face instead. Cherishing the good old days of rowdy, lively, dangerous era of cars.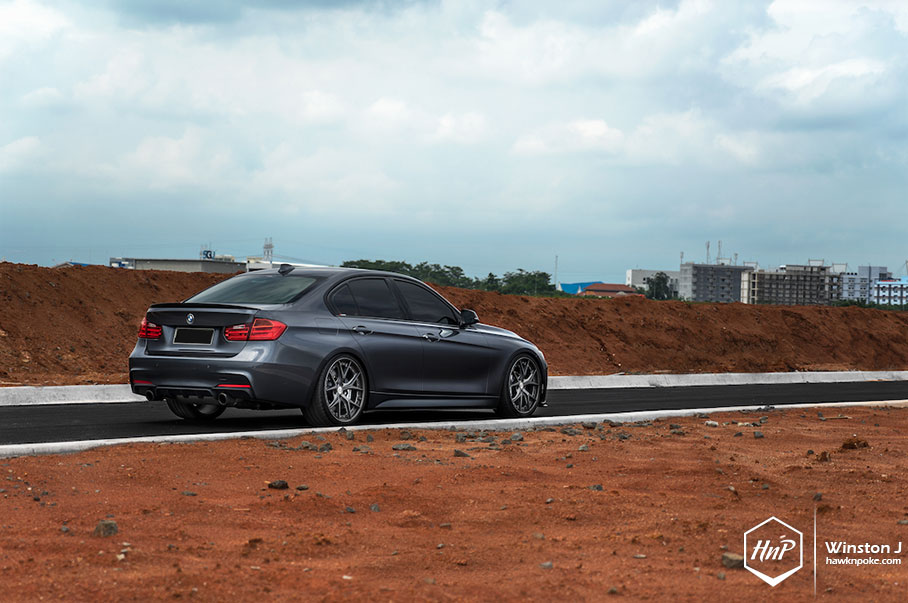 Enough with all those rampage over electric cars and move on to this beauty we have today. It's a BMW 335i F30 sitting beautifully on a set of HRE wheels. Underneath, it's been powered by BMW's prided N55 TwinPower engine, a jewel among their passenger cars lineup. The naughty little brother of an ///M. It's loud, it's thirsty for fuel and it brings a thorough joy of performance to your everyday routines.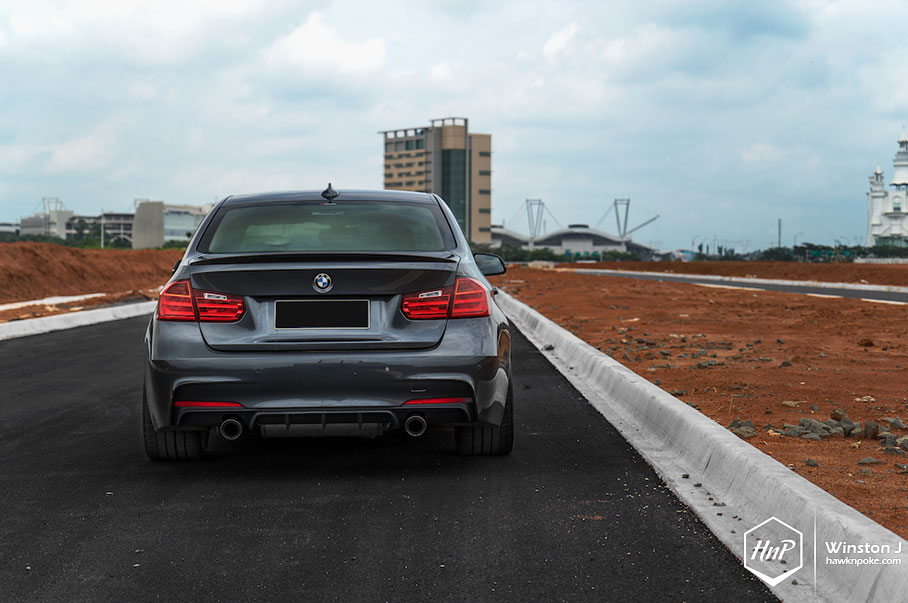 It's clear that BMW has been moving to smaller turbocharged engines for its performance offerings. Even the new M3 has ditched its N/A V8 for the current S55 6-cylinder TwinPower. A move that's reasoned to improve efficiency while killing less trees at the same time. Doing a better good for the earth, for the society. But has these turbocharged engines lost a fraction of its wilder soul?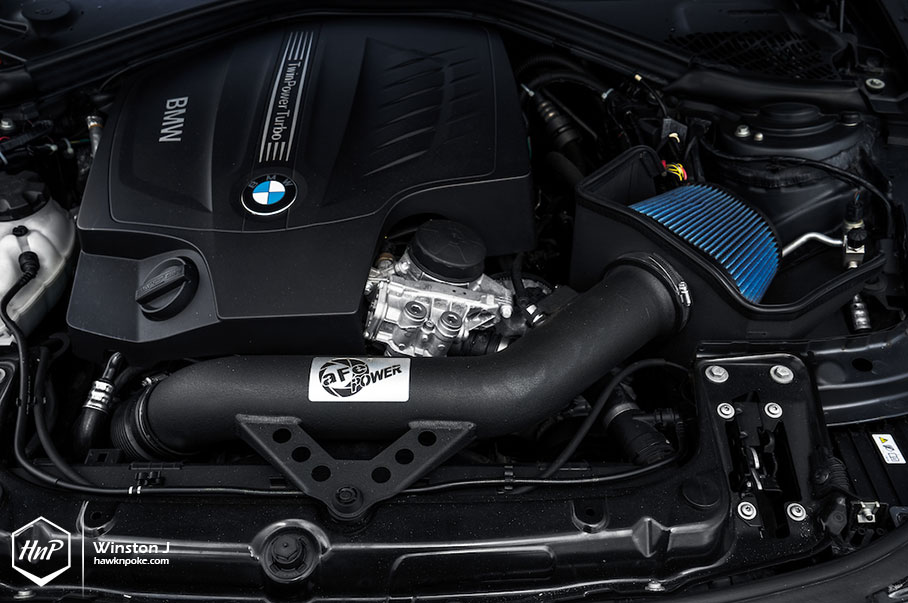 Maybe yes, maybe no. Take the case of today's 335i. Ever since its release through the E90 platform, the 335i has become one of those 'sleeper', faster-than-average sedan among the regular 3-Series model. All thanks to its turbocharged engine, which wasn't really available at the age of its predecessor E46. A completely new model made available thanks to BMW's TwinPower engine. A model that's sure to be praised by enthusiasts alike. A model that's currently even more revamped through this aggressive-looking F30 platform.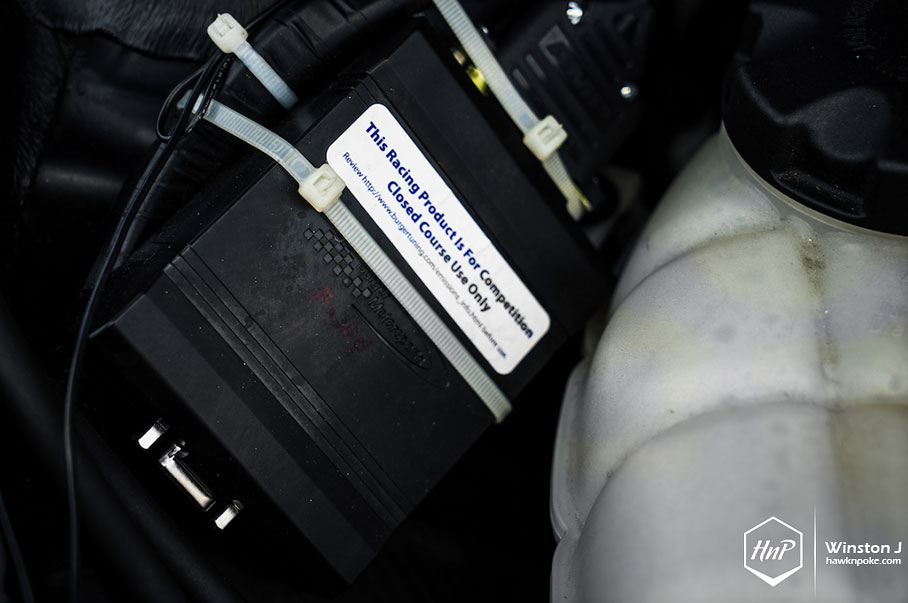 Such turbocharged engine always light up a single idea in every enthusiast's head: quick horsepower bump. Through bolt-on downpipe, intake, and ECU tuning kit, these machines can be tuned to produce around 30% higher horsepower output. That's why today's owner has upgraded most of his 335i's airflow components to take its horsepower figure close to 390HP.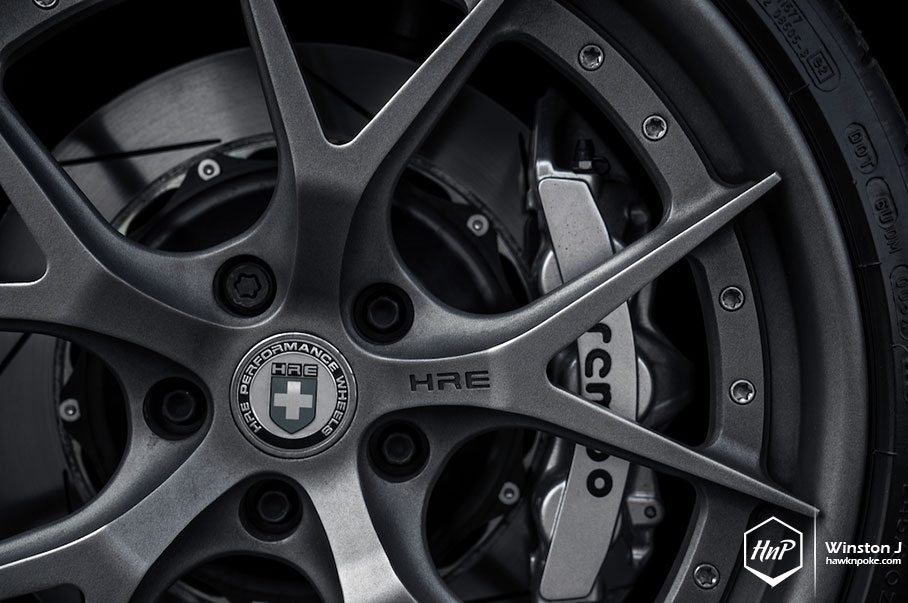 Having featured several of his other BMW's at HnP, I knew exactly what to expect upon hearing his latest 335i build. It's going to be another head-turning build, both exterior-wise and footworks-wise. He likes to have wheels-fitment functionally aggressive and coilover setups likewise. This is clearly apparent from today's lavish HRE, gorgeous Brembo and high-tech KW DDC combo. Another perfect execution strike by the owner.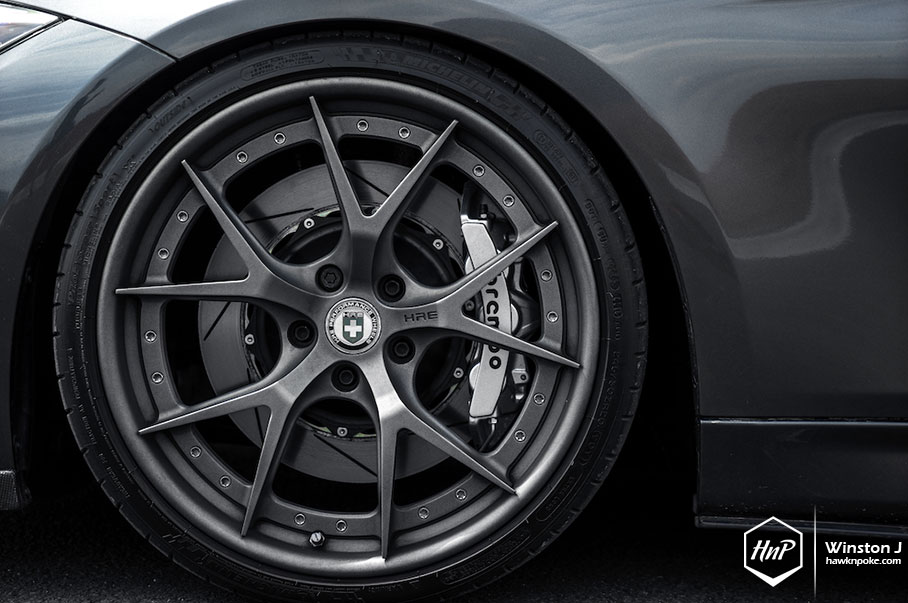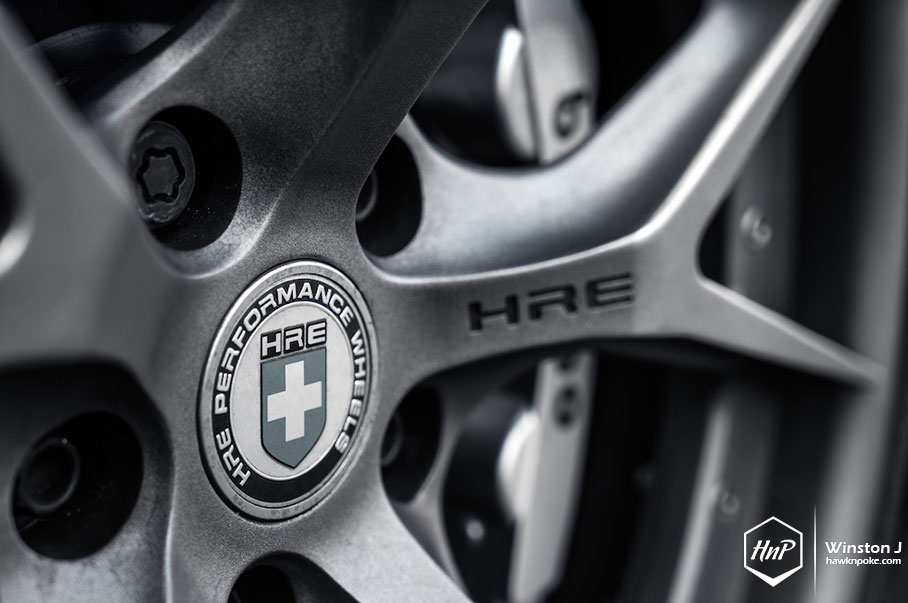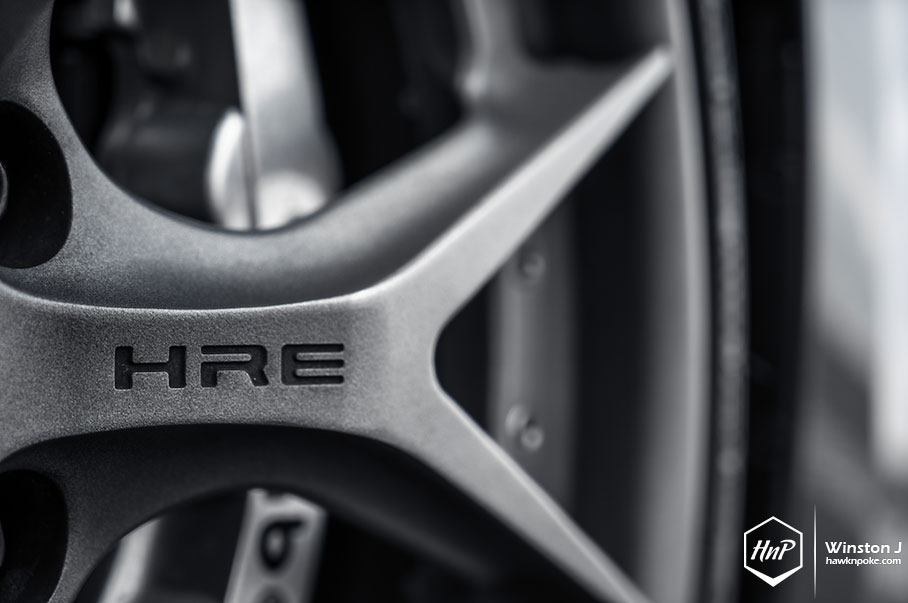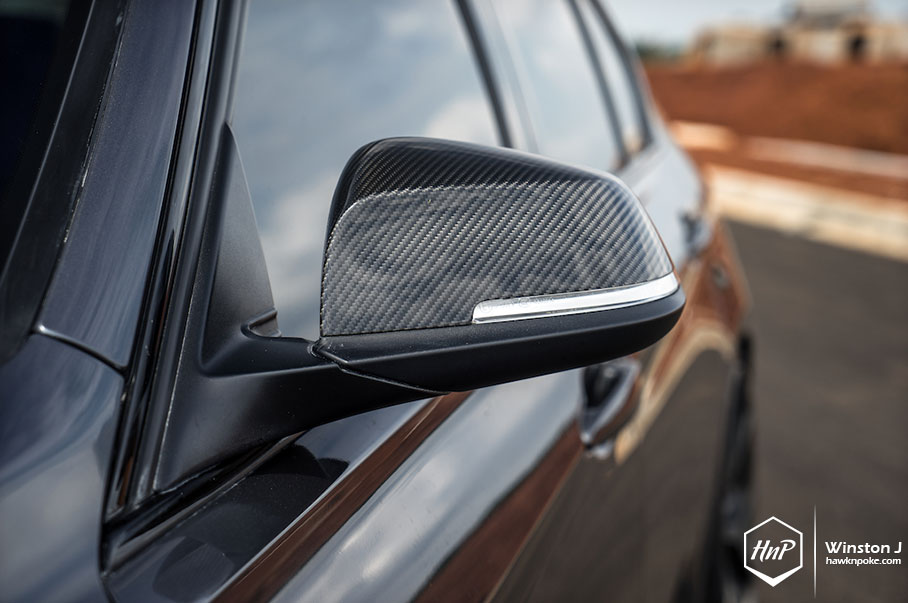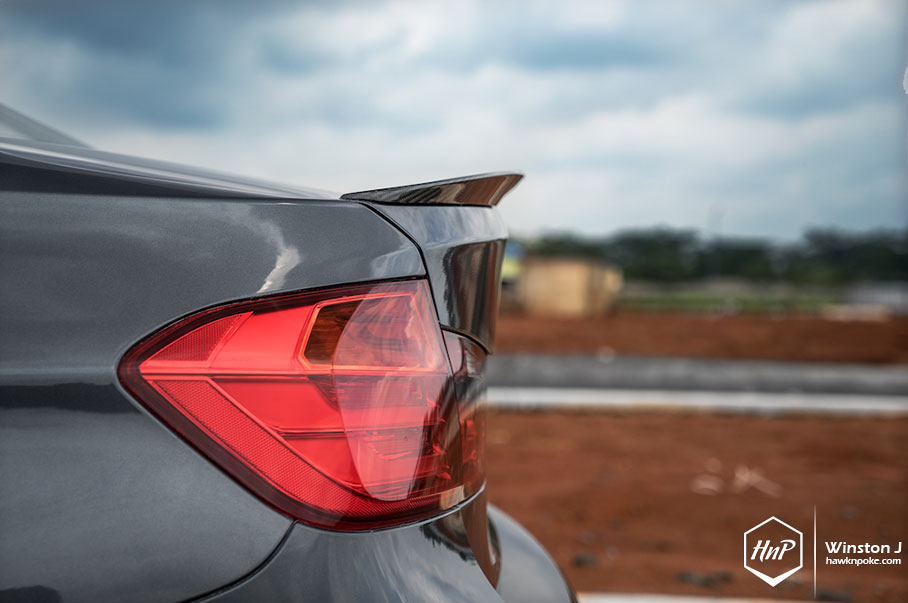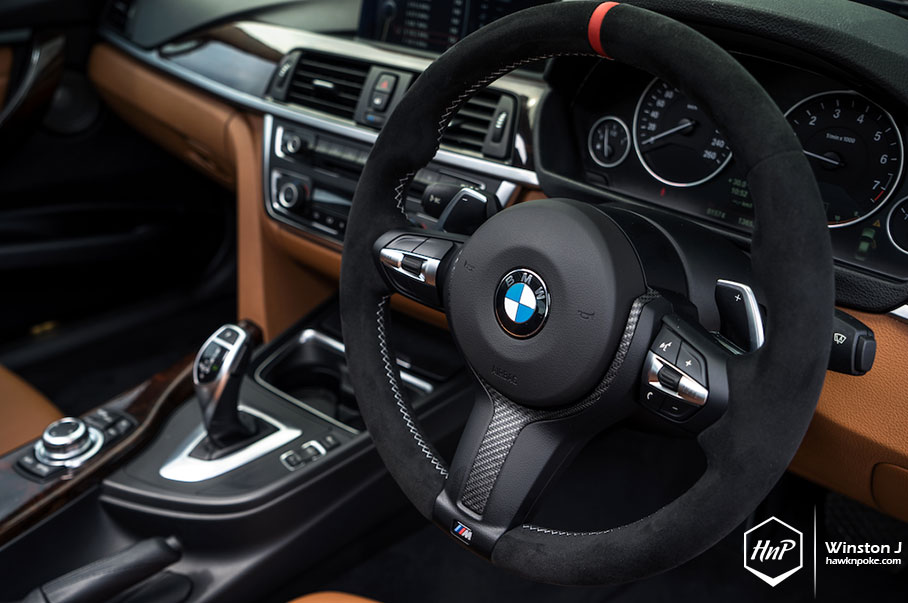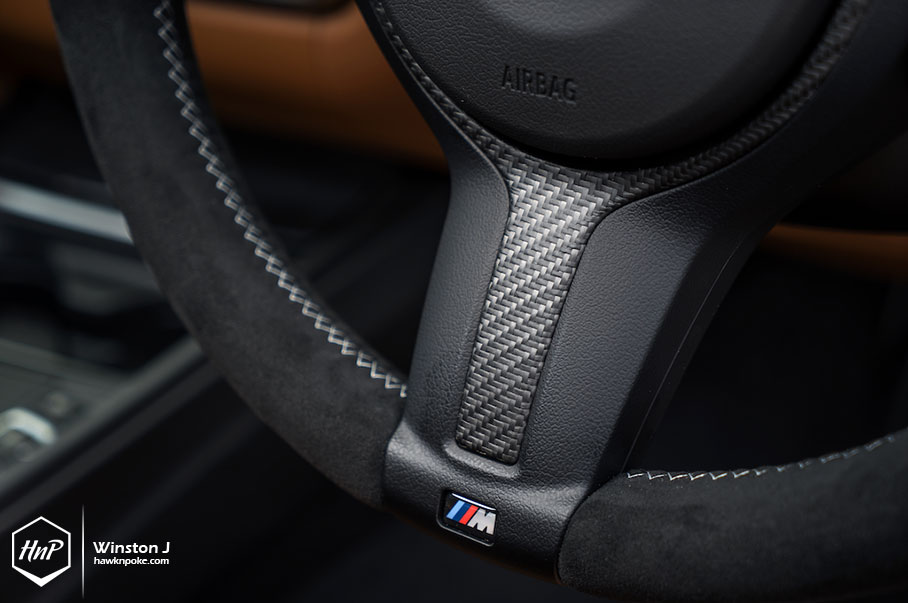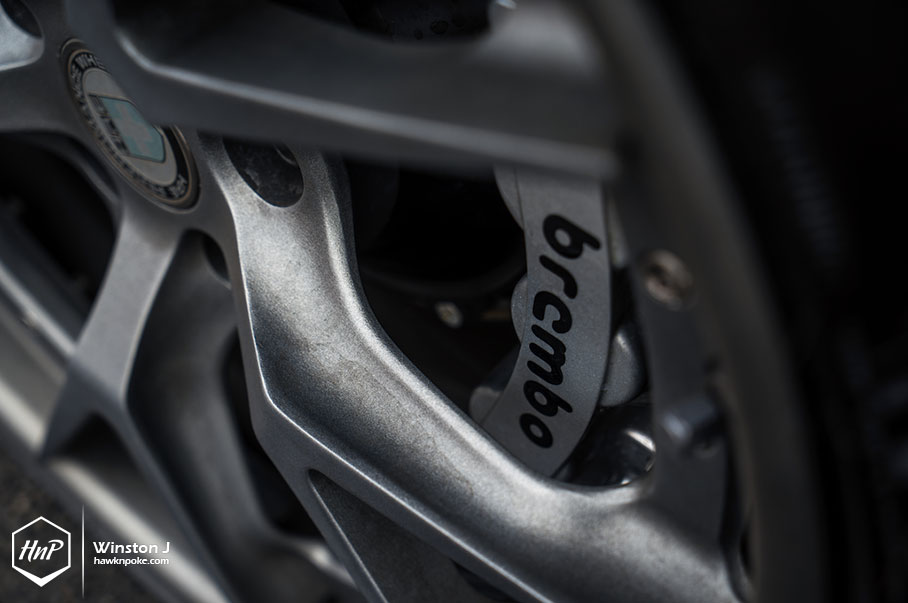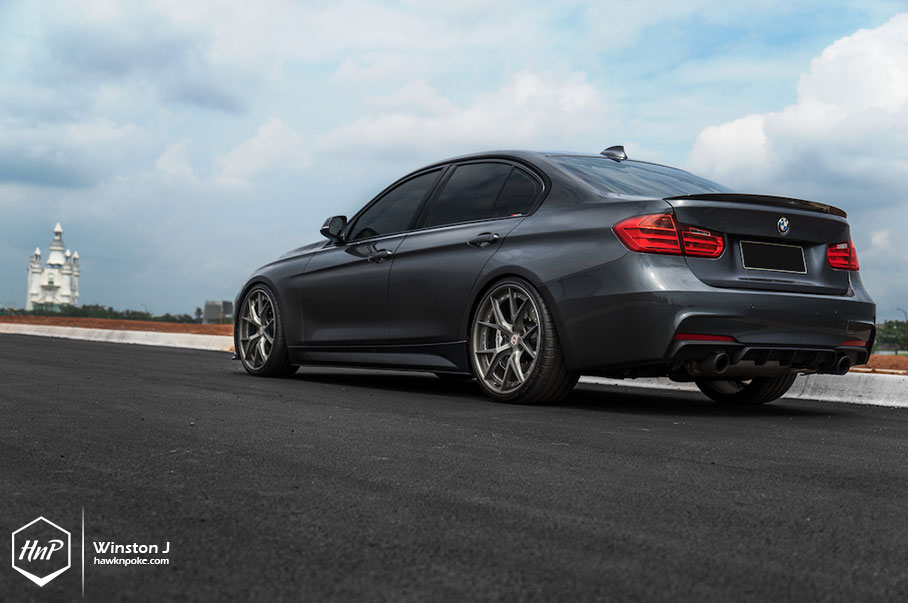 So what's your take? Are we going to enjoy these turbocharged engines era or are we going to keep moaning about the extinction of V-engine N/A's? I'd say, looking at the how the future holds for electric cars, these turbocharged engines are going to be our best moments cherishing the present while we could. Even better if you still have your mighty performance N/A's in your garages. For they might still cost a fortune as collectibles when the future comes.
Modification Specs
WHEELS ETC
KW DDC P&P
HRE S101 20″x8.5-10
Michelin Pilot Super Sport 245/30 285/25
Brembo GT 6/4pot 380/345mm (custom painted calipers)
ENGINE ETC
Akrapovic Evolution Exhaust
Challenge Catless Downpipe
Burger Motorsports JB4
Evolution Racewerks Charge Pipe
Wagner Tuning Competition Spec Intercooler
aFe stage 2 Performance Intake
EXTERIOR
M-Sport Aerodynamic Kit
M Performance Underskirts
M Performance Diffuser
M Performance CF Mirror Covers
M Performance CF Rear Spoiler
M Performance Black Front Grills
3D Design CF Front Lip
Shadowline Window Trim
INTERIOR
M Performance Steering Wheel
Recommended Oil
TOP 1 Synthetic Oil (Certified by BMW)
Additional Infos
Photography by:
Winston J
Mobile: +6281932092426
Email: winston_jaury@hotmail.com