Changing Lanes // Charles' Subaru WRX on TE37SL
The 2005 Subaru is a terrible car. Yes, you heard that right, what an awful method of transportation! Aha, but of course that'll only be true if you're a first-time car buyer. It has a manual gearbox, uninteresting fuel economy, very basic interior and a fascia that looks like a bug. What a nightmare for new drivers! But to all other enthusiasts out there, I know you've been rushing yourself to scroll down this article and appreciate the widebodied WRX I'm featuring today.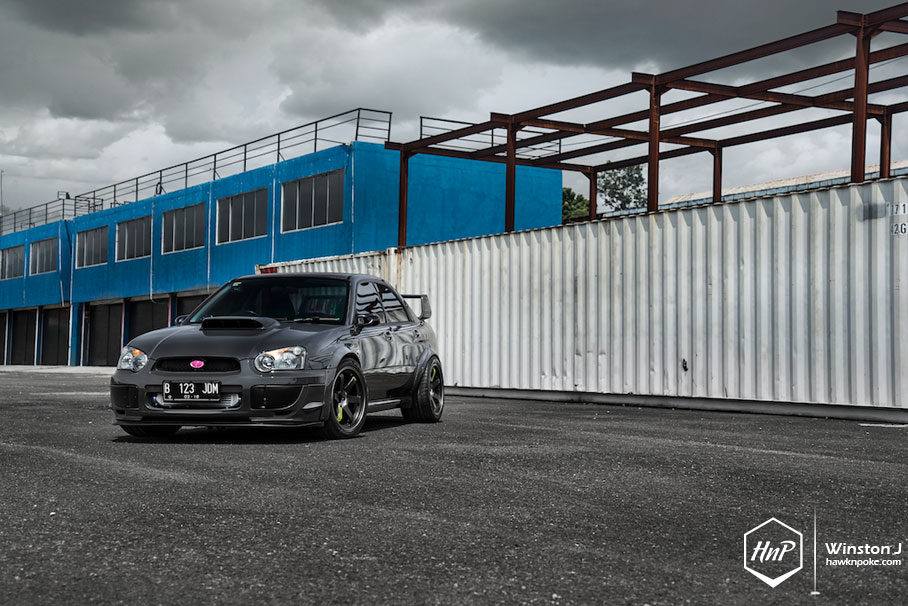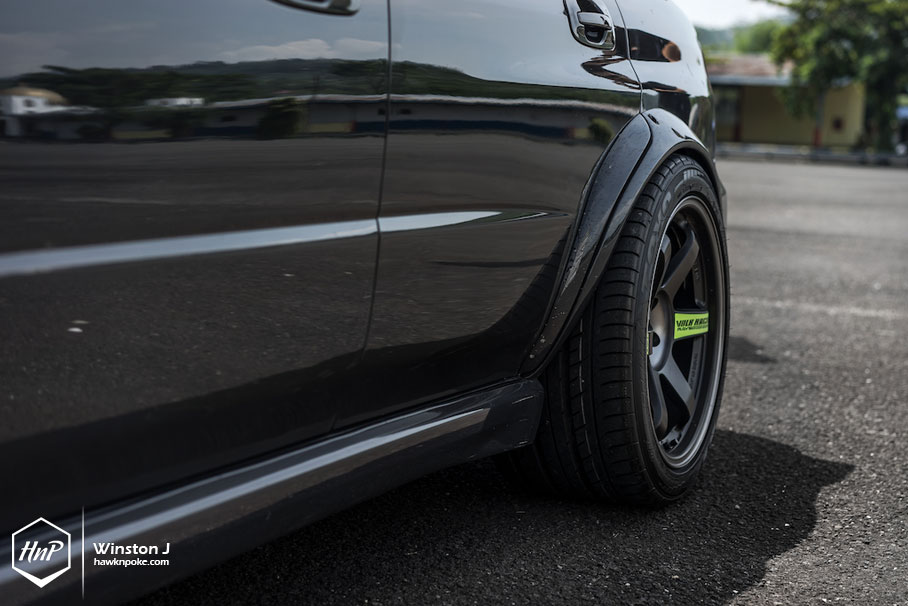 A long-time calling. Prior to building this 2005 Subaru WRX, Charles was driving a Stage 2 GTI MKV. It has a DSG gearbox, practicality like no other in the market, and enough boost to compete with the bigger sedans on the streets. It was the perfect daily driver, weekend runner and valet parker; an all-in-one. However, after joining the JDM.Run community runs more frequently, Charles became more and more interested in building his all-time favorite Japanese warrior: the Subaru GC8. This is where all the madness began.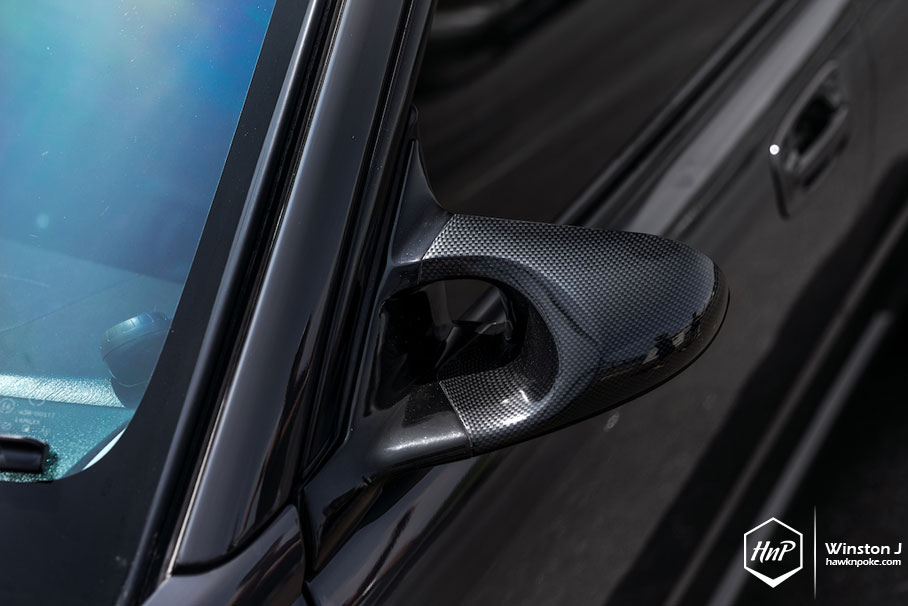 Finding a good condition Subaru GC8 (1992-2000) proved to be a huge challenge for him. That's why he ended up with this 2005 GDB instead. Fresher, younger, equipped with the famously attractive 'refreshed bug-eye'. A pretty good alternative to satisfy his apetite. However, upon seeing the car in person, it wasn't in a favorable state either. The factory blue paint has shown signs of age, and the car was sitting on Rota wheels. Far from Charles' vision of his Japanese warrior. But since everything else seemed to be under good condition, he immediately sealed the deal and took the car to Brilliant workshop for a makeover.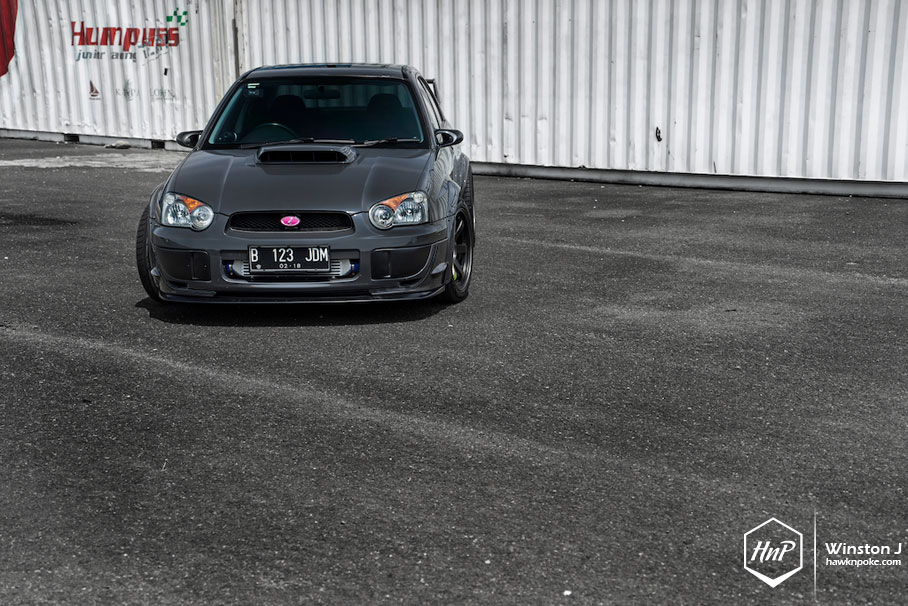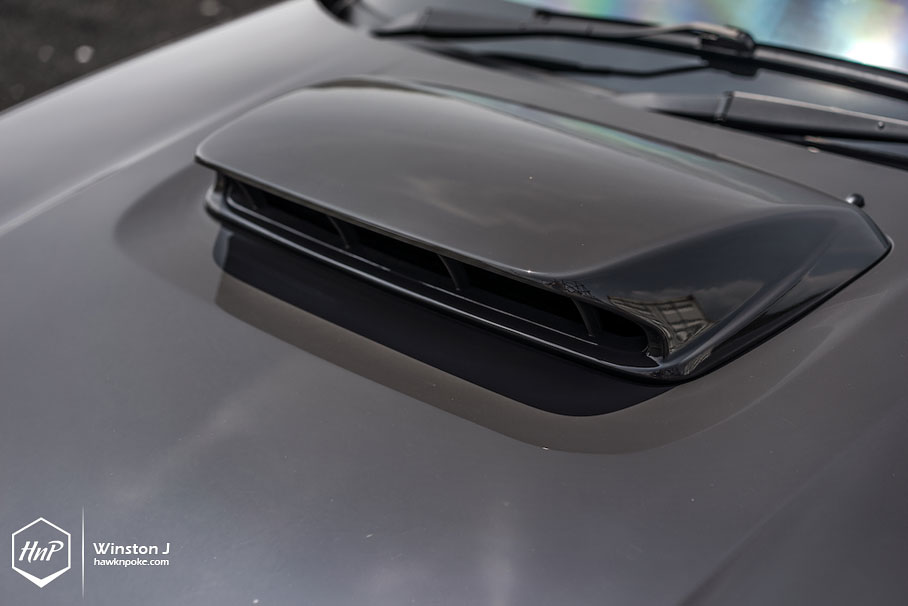 Going all-out in rebuilding the Subie's looks, Charles has decided early-on to widen the body of the car. Karlton fender flares finally became his method of choice, and has been installed together with the car's full-body Porsche Grey repaint. Months in the making, Charles has also installed STI lips to poise up the front fascia of the ride.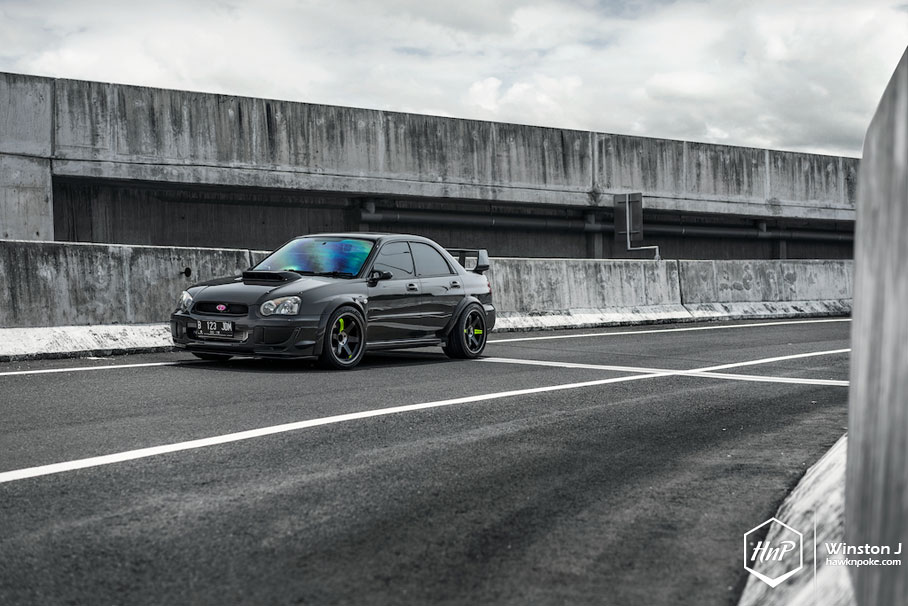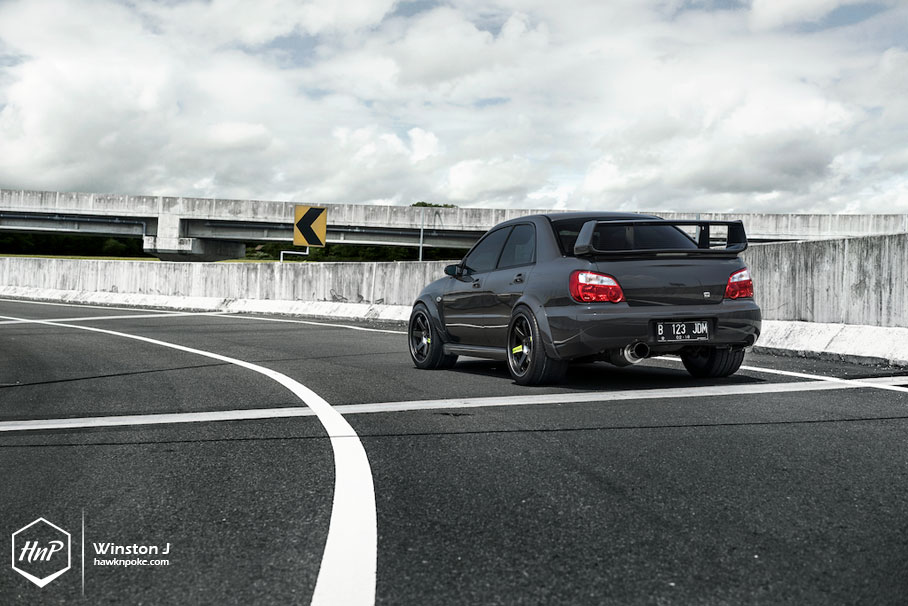 Why the Subaru and not the GTI? Yes the GTI was a very good companion for daily drives, even during the worst traffic hours. On the other hand, the Subaru has proved out to be a real challenge during traffic; thanks to the manual gearbox, turbocharged engine and AWD transmission. It's rather heavy, to say the least. But at the end of the day, Charles admitted a much more livelier experience with the Subaru. Much closer to driving a real, mechanical and breathing car. It's very much alive. It has scars and tough looks all over, and it's one heck of a beast at WOT. That's the kind of experience you won't get from other hatchbacks and sedans.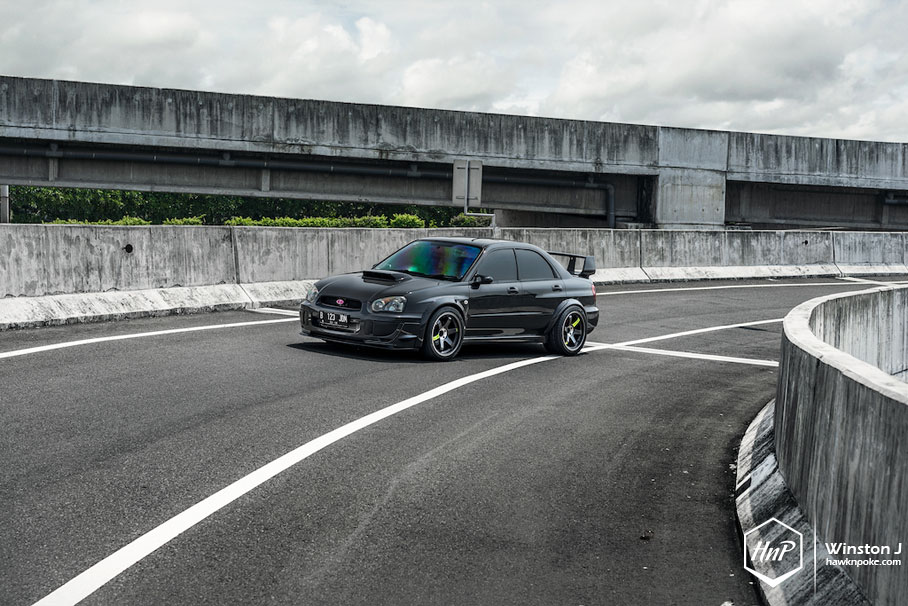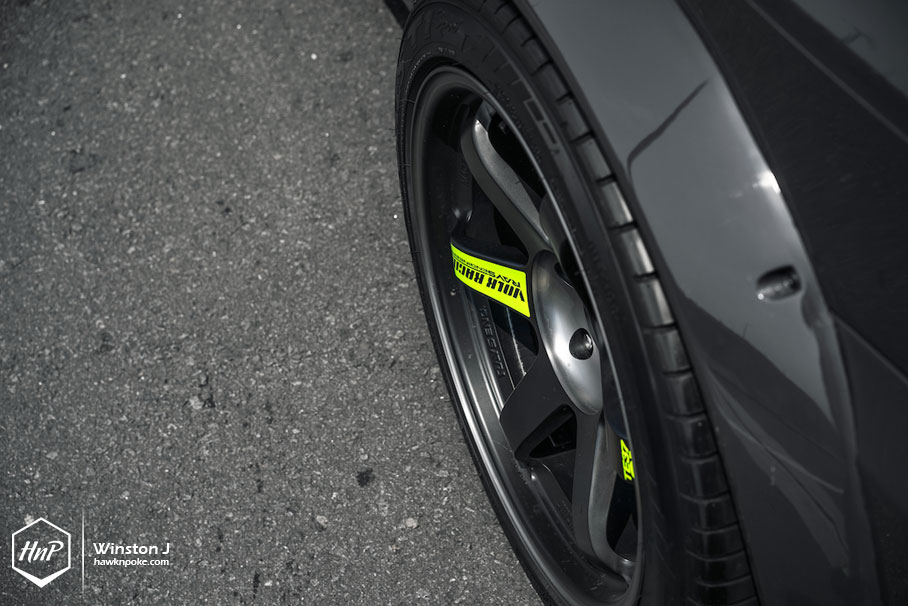 Thanks to the widebody fender flare treatment, Charles was able to install extra-wide wheels underneath those arches. Thoroughly searching the web for other aggressively fitted Subaru build threads, he finally came down to the 18″x11 ET15 all-around setup you're looking at. Built by Rays Japan, this set of forged Black Edition TE37SL packs plenty of concave for a monoblock wheel.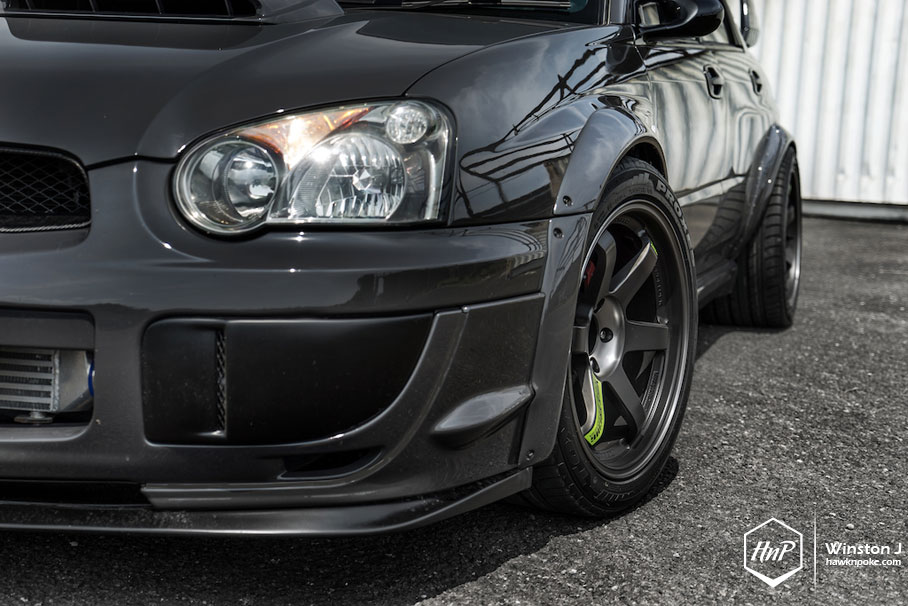 Not wanting to go with the mainstream stretched-wheels religion currently popular in the country, Charles sets his footworks to be rather functional instead. "It's a 'meaty', functional fitment," he said. The perfect tires for his build should've been 305/30/18, but it was pretty difficult for him to find that size locally. That's why he had no other choice but to install these thicker-walled 285/35/18 instead. Now that's a lot of tire wall for an aggressively fitted Subie.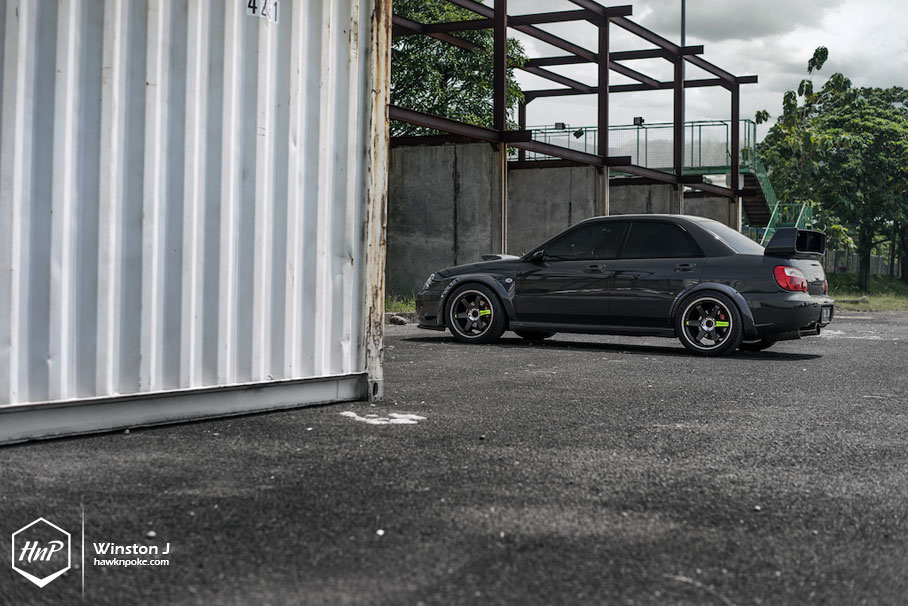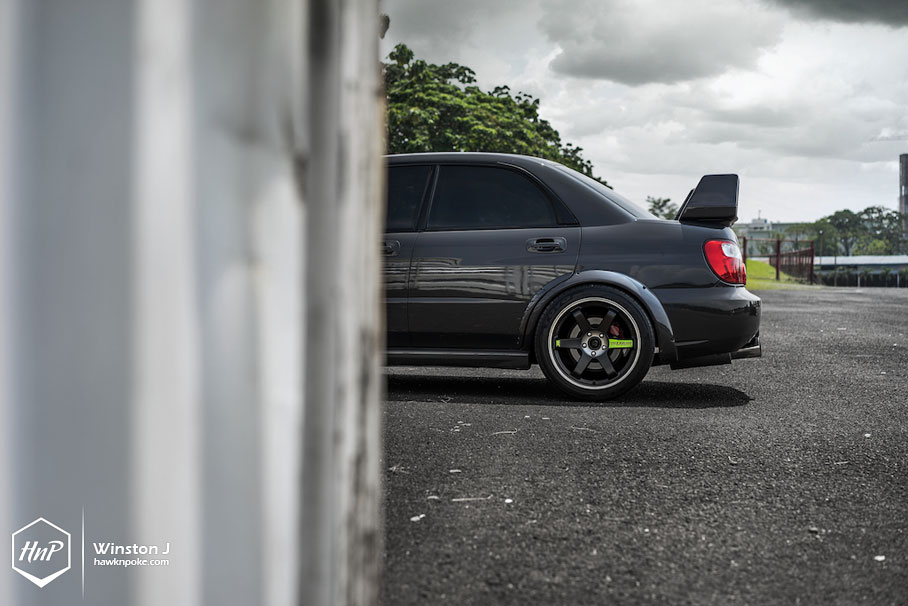 What's next? A thorough makeover wouldn't be complete without a proper set of big brake kit. That's why BBK is currently at the very top of Charles' to-do list. Meanwhile, the rest of the sheet currently includes a bigger FMIC and a complete interior makeover.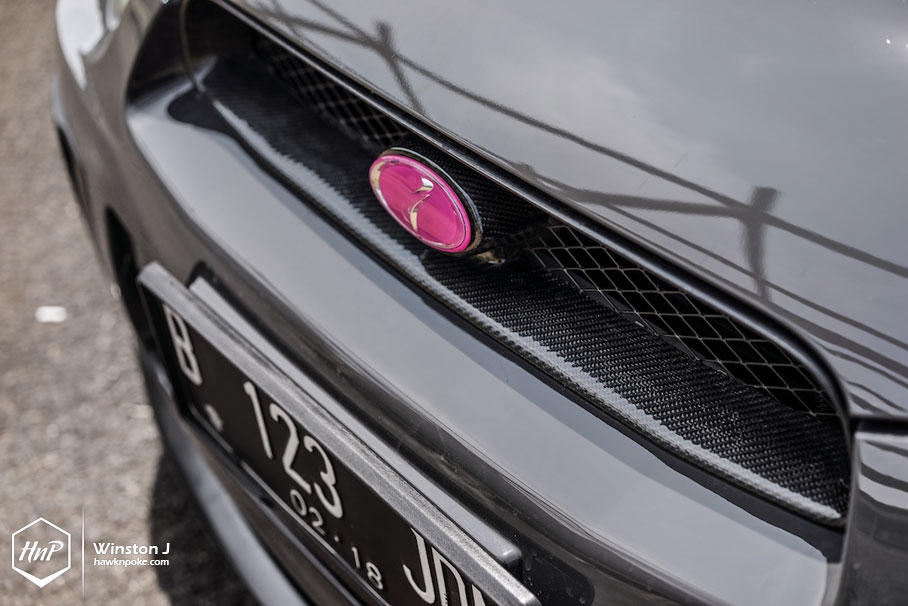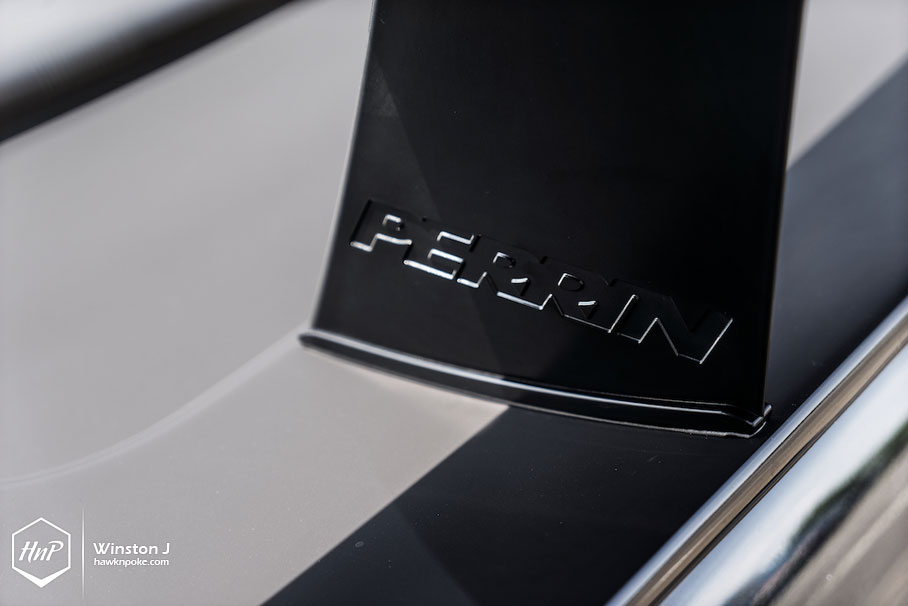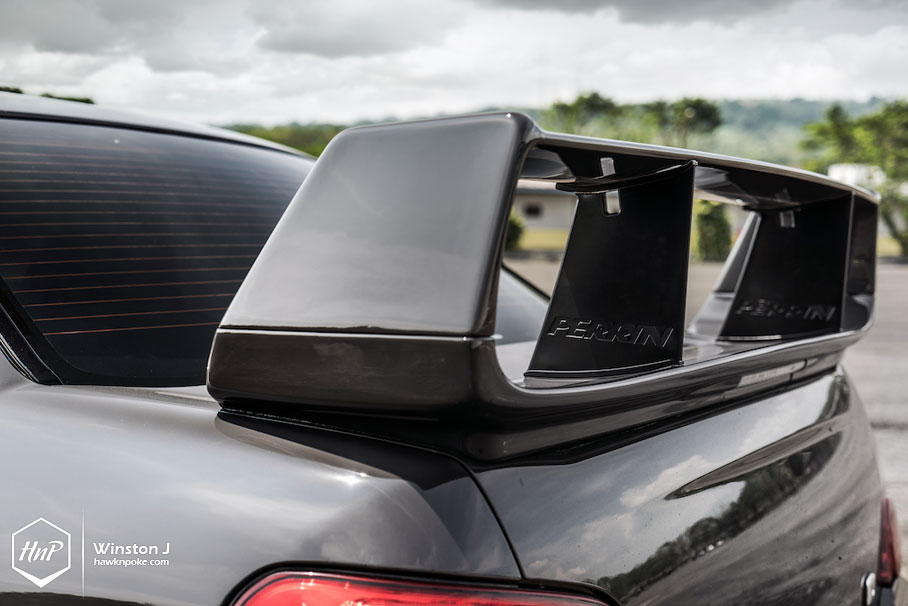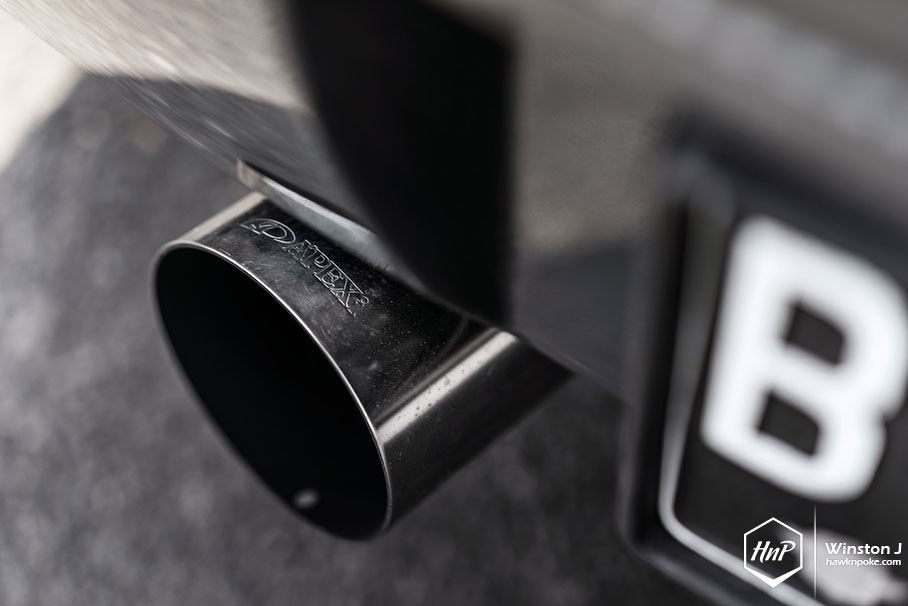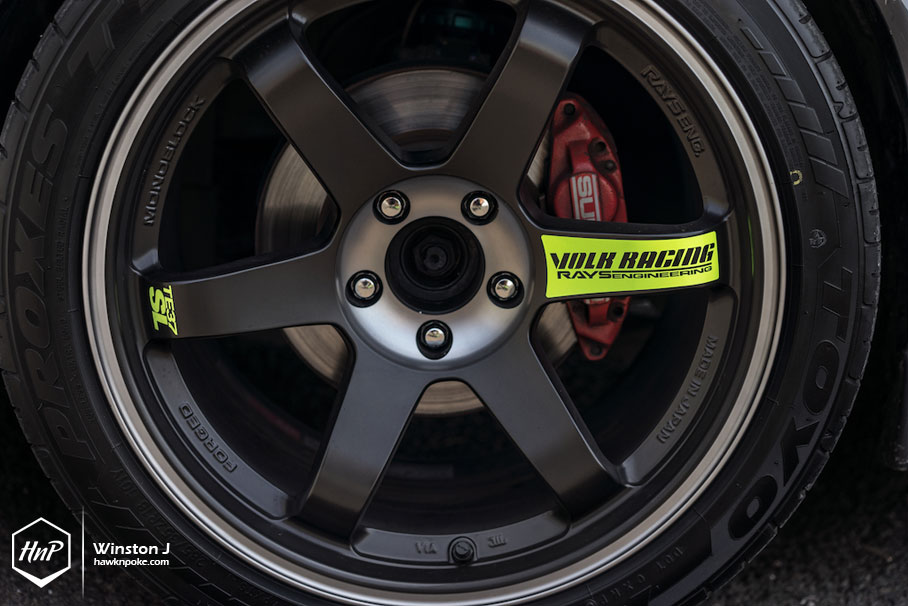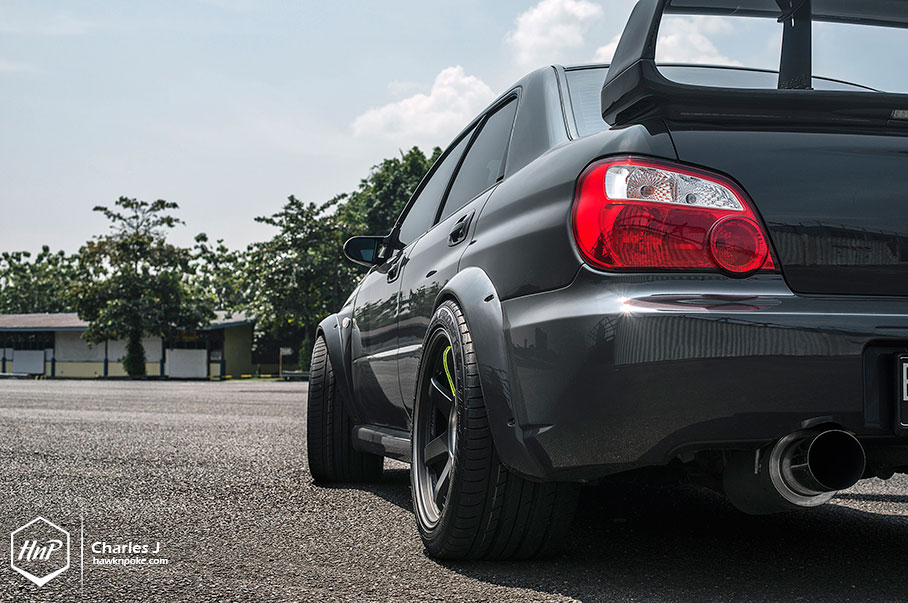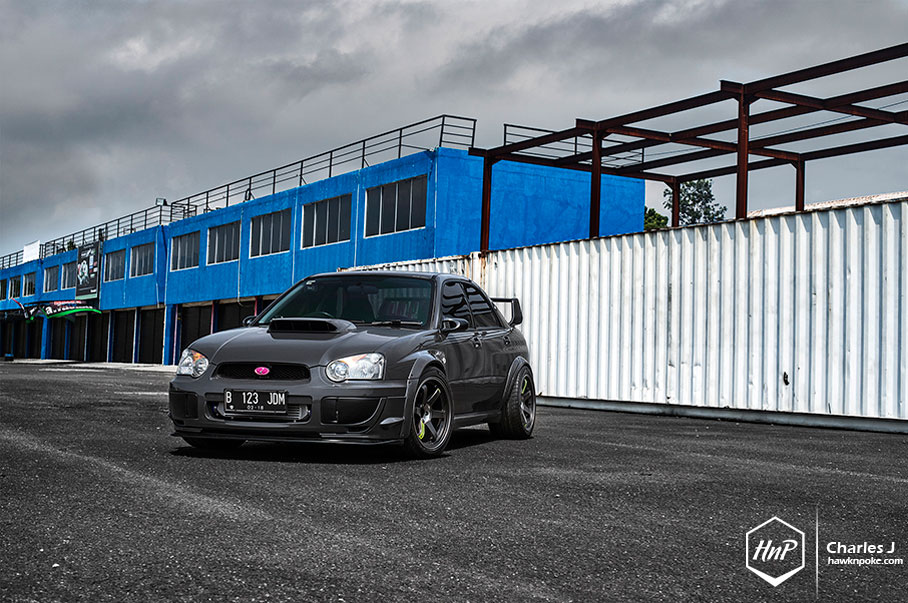 Check out Charles' build thread for the car's future updates!
Modification Specs
EXTERIOR
Carbon fibre grille
STI hood scoop
STI add-on lip
Ganador carbon fibre side mirrors
Perrin add-on
Karlton Fender Flares
Porsche Grey body paint
WHEELS
TE37SL Black Edition 18″x11 ET15
Toyo T1R 285/35/18
OTHERS
APEXi N1 exhaust
APEXi AVCR black boost controller
STI speedometer JDM version
COBB gear knob
Recommended Oil
TOP 1 Synthetic Oil
Additional Infos
Photography by:
Winston J
Mobile: +6281932092426
Email: winston_jaury@hotmail.com
Charles J
Mobile: +6287886807762
Email: jhons.charles@gmail.com