In To Speed // Subaru WRX STI on Rays
Those following the global car culture through internet would probably notice that there are practically zero cars that hasn't been touched by super-slammed treatments, leaving hair-width ground clearances everytime. Even the new M4 and countless number of exotics have now been equipped with air suspension system and ultra-low static setups. Subaru for one, has often been infamous for one of those 'rally cars gone really low' sayings. But not today's, where the owner has specifically built his to fulfil the daily need for speed.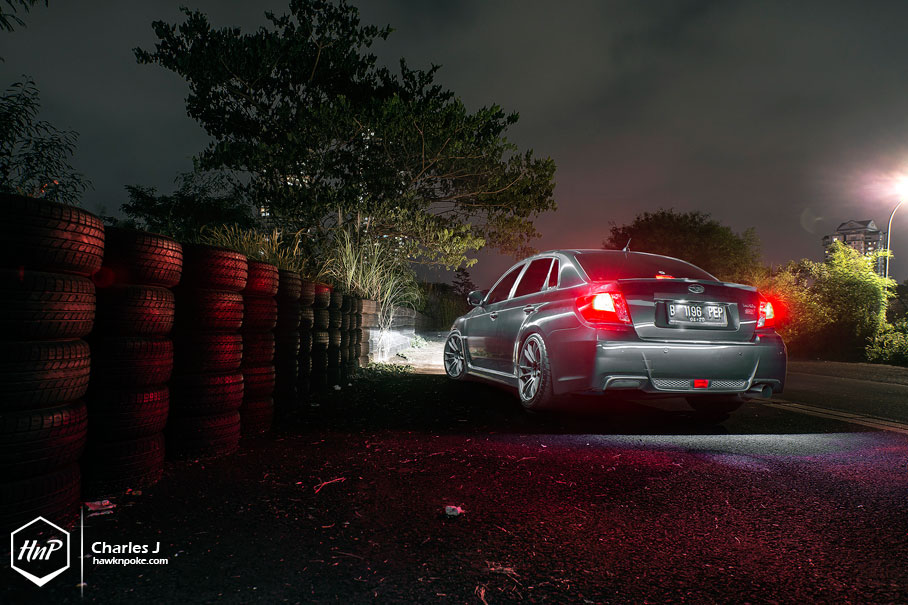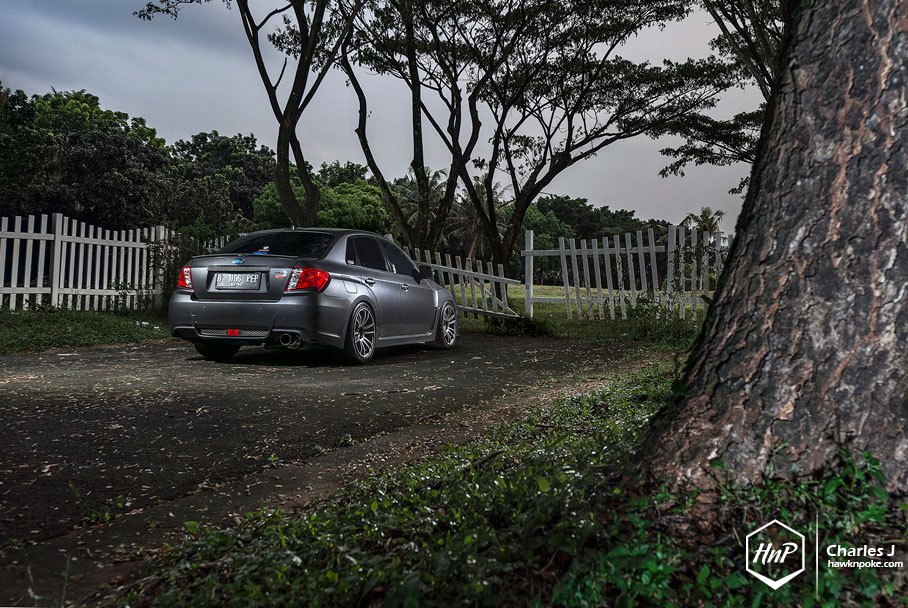 Do it properly and the result would be good; do it way over the limit and it would be a fiasco. This rule of thumb doesn't just apply to basic aspects of life, you see. If you were to put a ginormous amount of horsepower to your car without properly tweaking the undercarriages, you'd end up with one heck of an uncontrollable car. I've seen quite a number of these builds-gone-wrong, where these project cars have become so overpowered that there's no longer a balance in driving the car, let alone having it for daily commutes.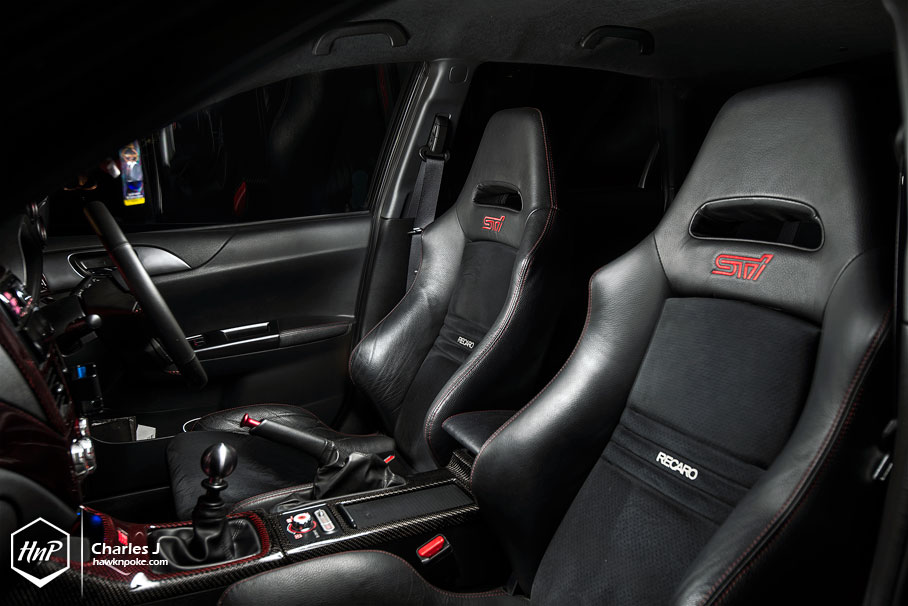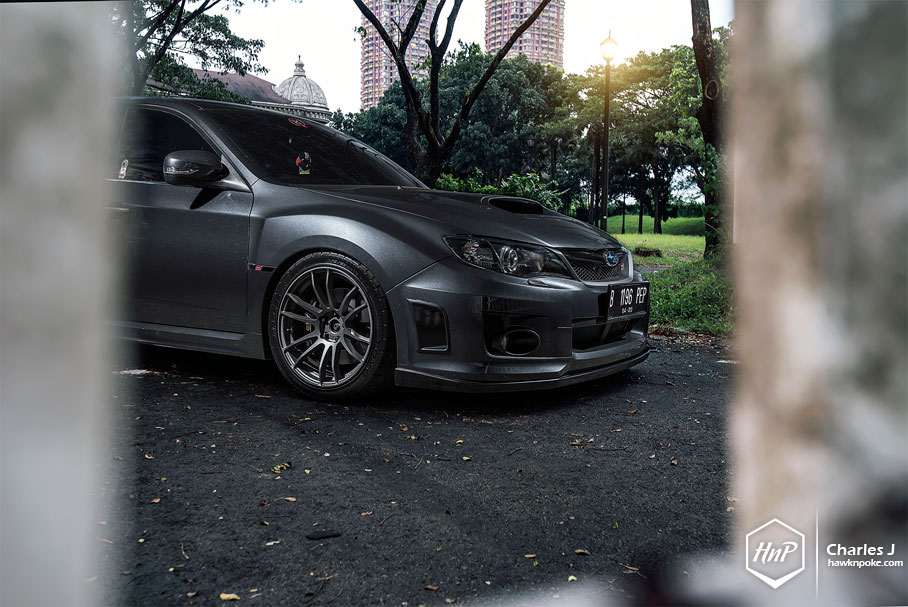 Same thought also applies to the height adjustments of a car: lowering it just right and you'll get much better ground-hugging performance, yet slamming it all the way down might cause you unnecessary harms. No doubt lowered out cars look way sleeker than the rest, yet at the end of the day it's the long way drives that brought out the brightest smiles on your face. When the sun is setting down, often it's your own satisfaction that counts, not everybody else's.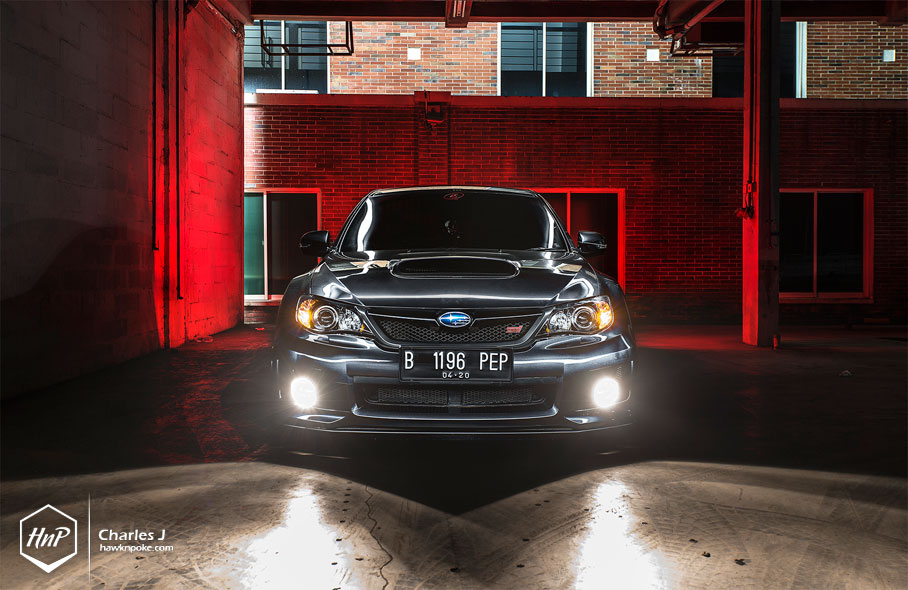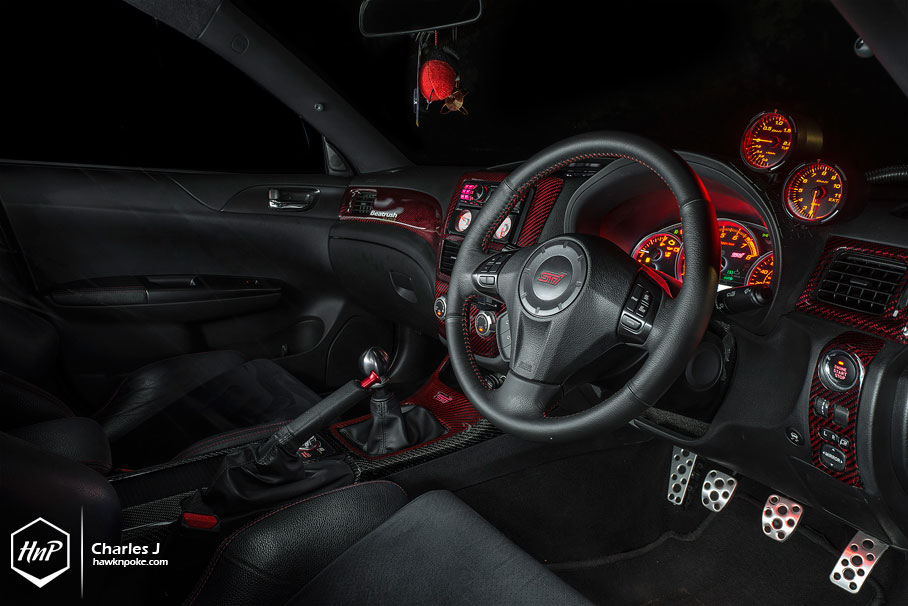 Today's STI owner has had his fair share of experience in automotive customisations. A fan of automobiles since his early ages and a prior owner to E90 BMW, he knew exactly well what to expect out of his new project: performance that matters. As a result, he picked this extremely perfect choice, the STI, to pursue his passion for performance. With the STI's large-potential boxer engine, he immediately modified the car inside and out to suit his tastes.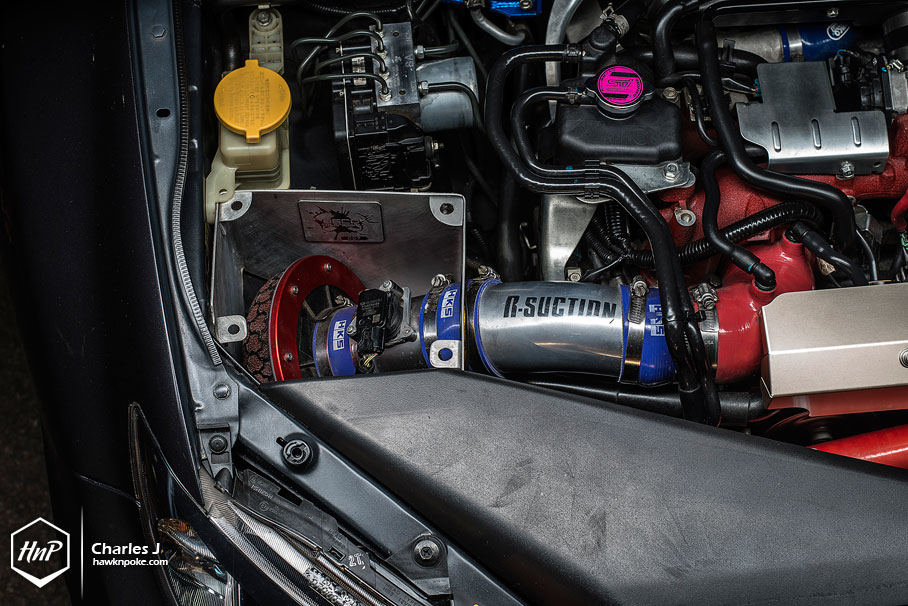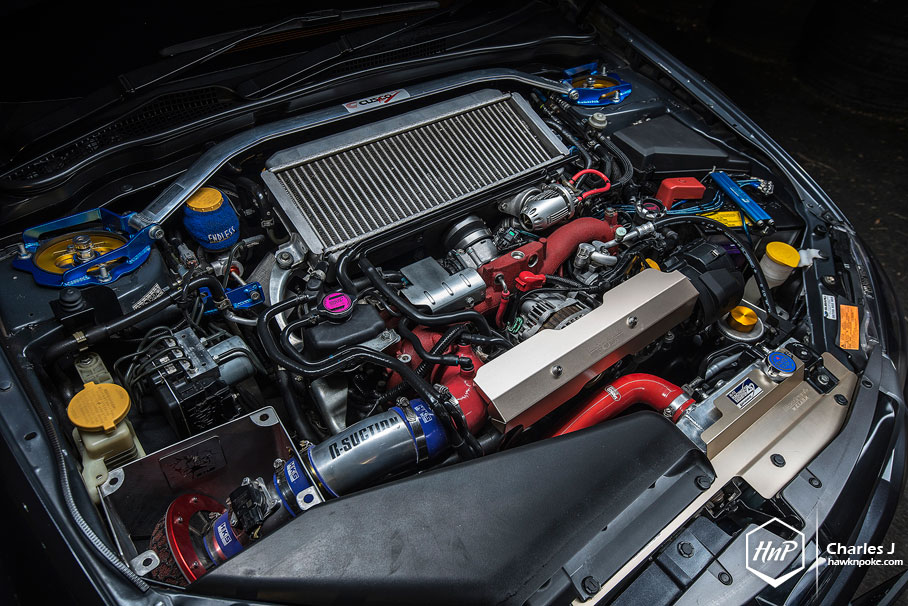 From thorough bolt-on engine upgrades (such as exhaust lines, intake, pulleys and cooling setup), to the customised intake box and lightweight Gramlights wheels, it's immediately clear to us that he's been on the right track for better performance. With Toyo R1R, which has been deemed as "Ultra-high Performance Summer tires" being the ground-contact weaponry, this STI packs way more joyful rides than any other slammed cars out there.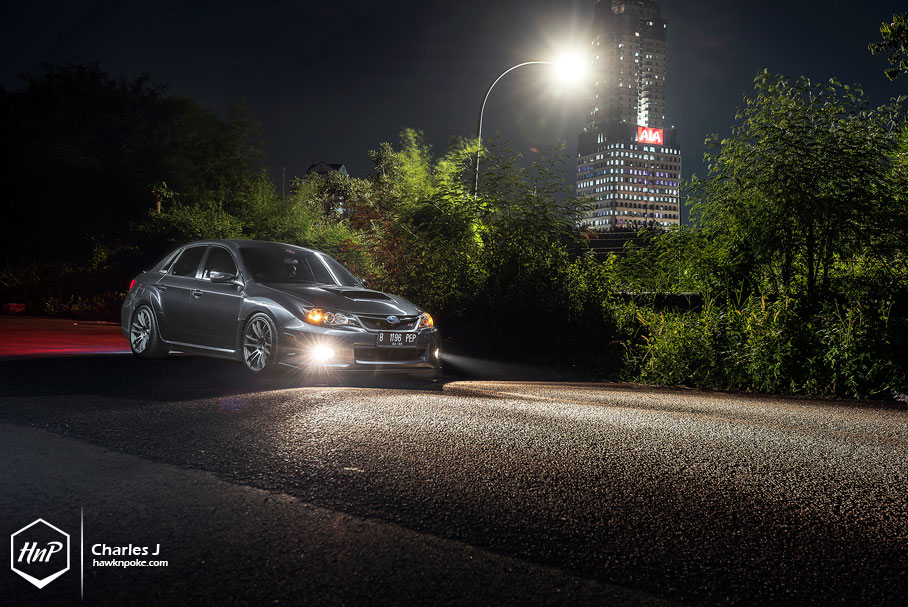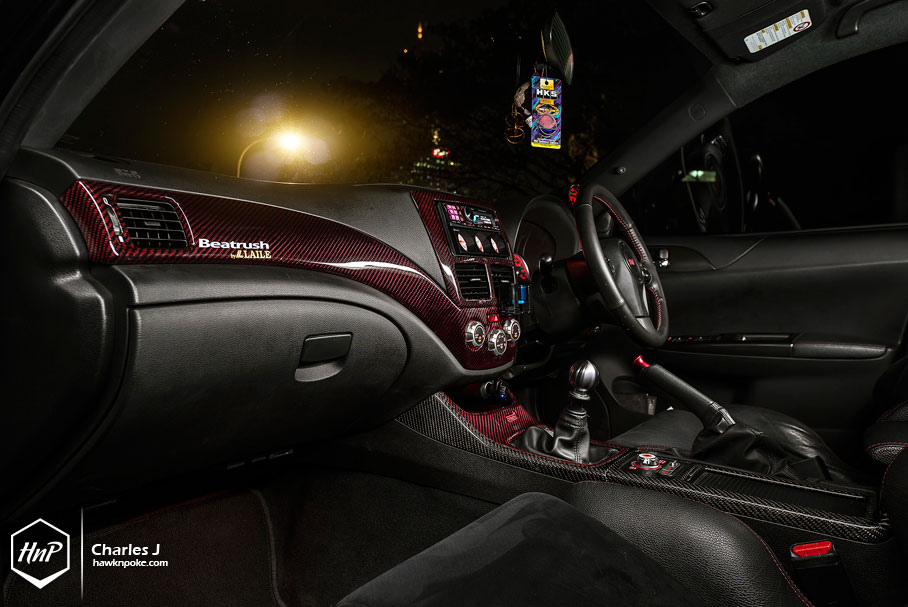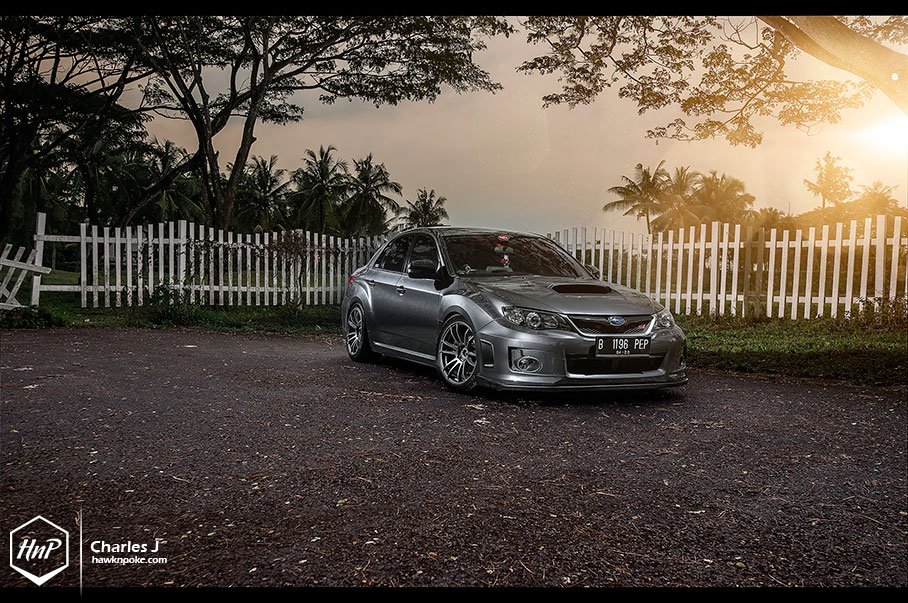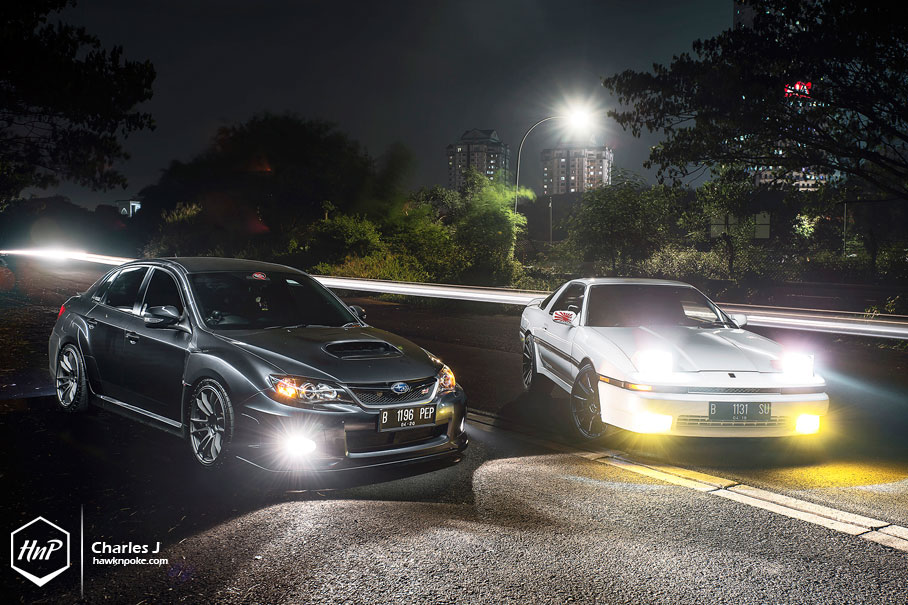 Modification Specs
ENGINE
Tomei UEL header
Tomei up pipe
Tomei downpipe
Fujitsubo Authorize RM catback with bumper delete kit
Blitz Racing radiator Type ZS
Blitz radiator cap
Samco silicone hose
Endless reservoir band
STI oil cap
STI radiator cap
Pivot megaraizin
Beatrush pulley cover
Beatrush radiator cooling panel
Beatrush lightweight crank pulley
Beatrush alternator pulley
HKS racing suction
HKS SSQV IV
HKS gold fin
HKS oil filter
HKS spark plugs
Custom intake box
DEI exhaust wrap
Goodridge clutch line
Cusco oil catch tank
Crawford ecoblock
Cobb turbo heat shield
Cusco battery tie
DeatschWerks 65c fuel pump
INTERIOR
Custom carbon
UK-spec Recaro seats
Cusco spin turn knob
Defi gauges
Custom shiftknob
Alpine HU
Flux speakers
Rockford subwoofer
WHEELS ETC
Rays Gramlights 57extreme 18″x9.5
Toyo R1R 265/35
Cusco braces and strutbar
Cusco lateral link
ISC coilover pro street
EXTERIOR
Rubber ducktail
Front lip spoiler
Cusco antenna
Additional Infos
Photography by:
Charles J
Mobile: +6287886807762
Email: jhons.charles@gmail.com