Passion for Life // Daniel OFIM's Cooper S Coupe on Advan
A passion goes a long way. Started HnP back in 2011, I've always dreamed of showcasing Indonesia's finest and most proper rides to as many viewers as possible. Uploaded for the entire world to see, narrated for the entire automotive community to read. Early on, ever since our humble beginnings, we've always put our passion for automotive on top of everything else. On top of any compromises for quality, on top of monetary purposes. Passion for all things automotive is our priority. Such a principle has now gotten us to where we are today. A blog uniting Indonesian automotive enthusiasts from all over the globe, including Daniel whose Cooper S Coupe we're featuring today, who came all the way from Sydney bearing these P0E71H "Putih" license plates.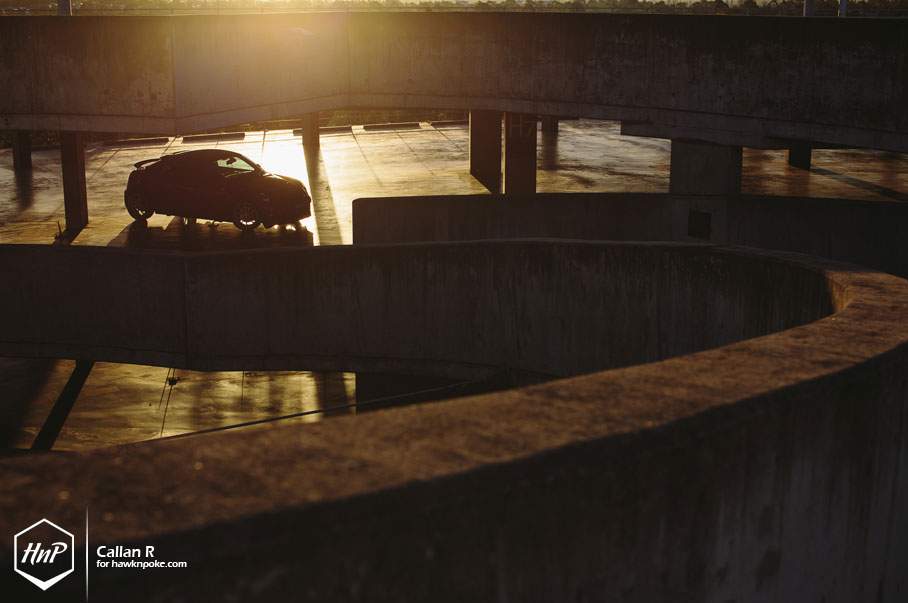 Throughout these times I've received a lot of emails from car owners wanting their cars to be published onto the site. And around last week I received an interesting email from Daniel about his MINI we're posting today. Daniel is a fellow Indonesian currently living in Sydney, with photo and videography being his passion for life and also his main occupation. You can go ahead and check out the wedding photography team he's joining here: Clarzzique.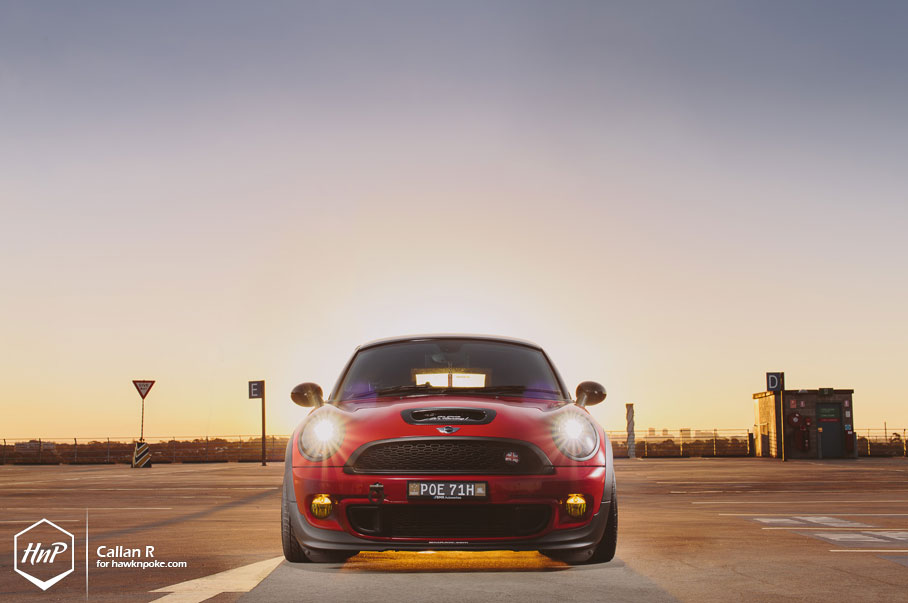 What's so interesting about Daniel is the fact that he's also a fellow automotive blogger. He runs the OFIM (Oh Fuck It's Monday) blog, which talks about all things automotive, music and men's culture in Sydney. Despite having photo/videography as both a hobby and a main occupation, Daniel is still often finding himself dulled by the great amount of work he has. As a relief to those works are his new passion for cars and automotive photography.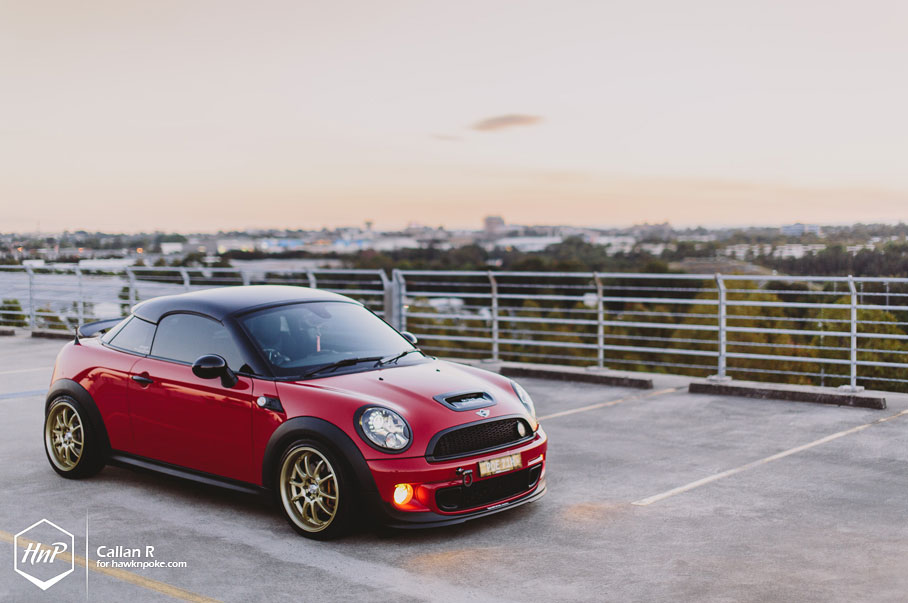 Despite having this thoroughly modified Coupe as his current method of transportation, Daniel hasn't always been a modified car fan. He used to drive a pretty much stock Civic FD, "not wanting to spend on anything depreciative," he said. However, as his passion for photography slowly turns into work and even more works, he started looking for other hobbies to set his minds free. That's where cars come into place. Replacing the FD was a Candy White Golf TSI, lowered on springs and mildly modded, which became the first bearer of these P0E71H plates.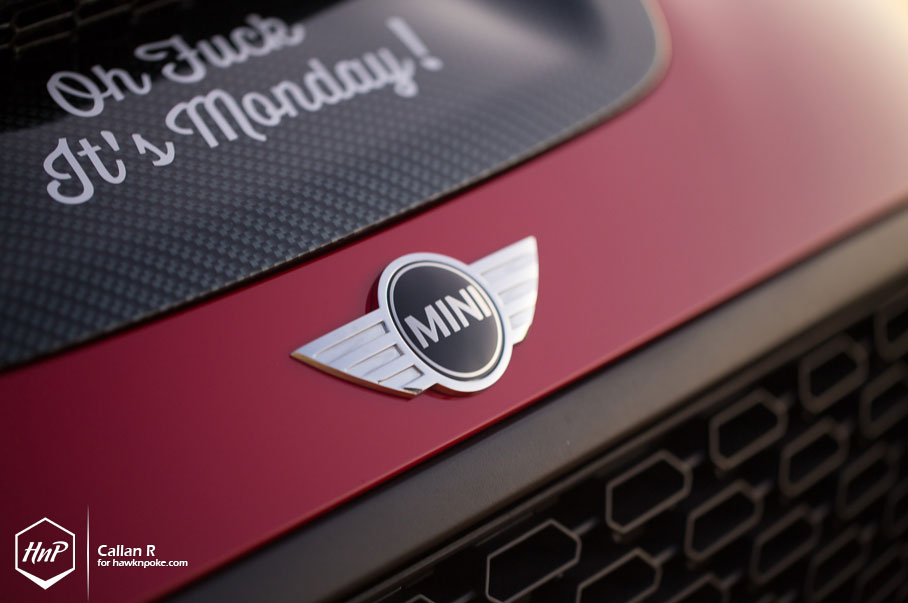 What started as a spark for mods became a larger flame for Daniel. As he was shopping around for a new car, he initially planned on test driving the BMWs, especially the 1 and 3 series. To his utter surprise though, he was lured by the MINI dealership next door instead. None of his friends expected him to fall for the MINI Coupe, which rolled off the factory with such a tiny dimension and the oh-so-British styling. But these are the exact seductions that caught Daniel's attention. The Coupe's compact dimensions impressed Daniel with the nimble steering feedbacks during the test drive, and the unique styling is the perfect expression to Daniel's passion for everything creative.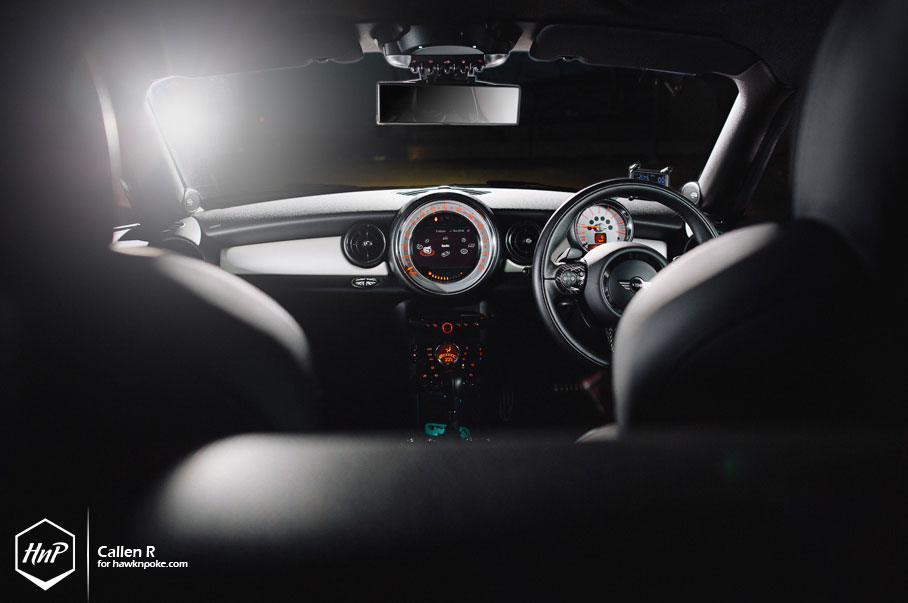 To this date it's been a year-and-a-half journey for Daniel and his MINI Coupe, with his favorite mod being the Recaro MINI GP2 seats. Coupled with the carbon fibre steering wheel trims, I truly believe these are the perfect track-inspired interior combos for Daniel.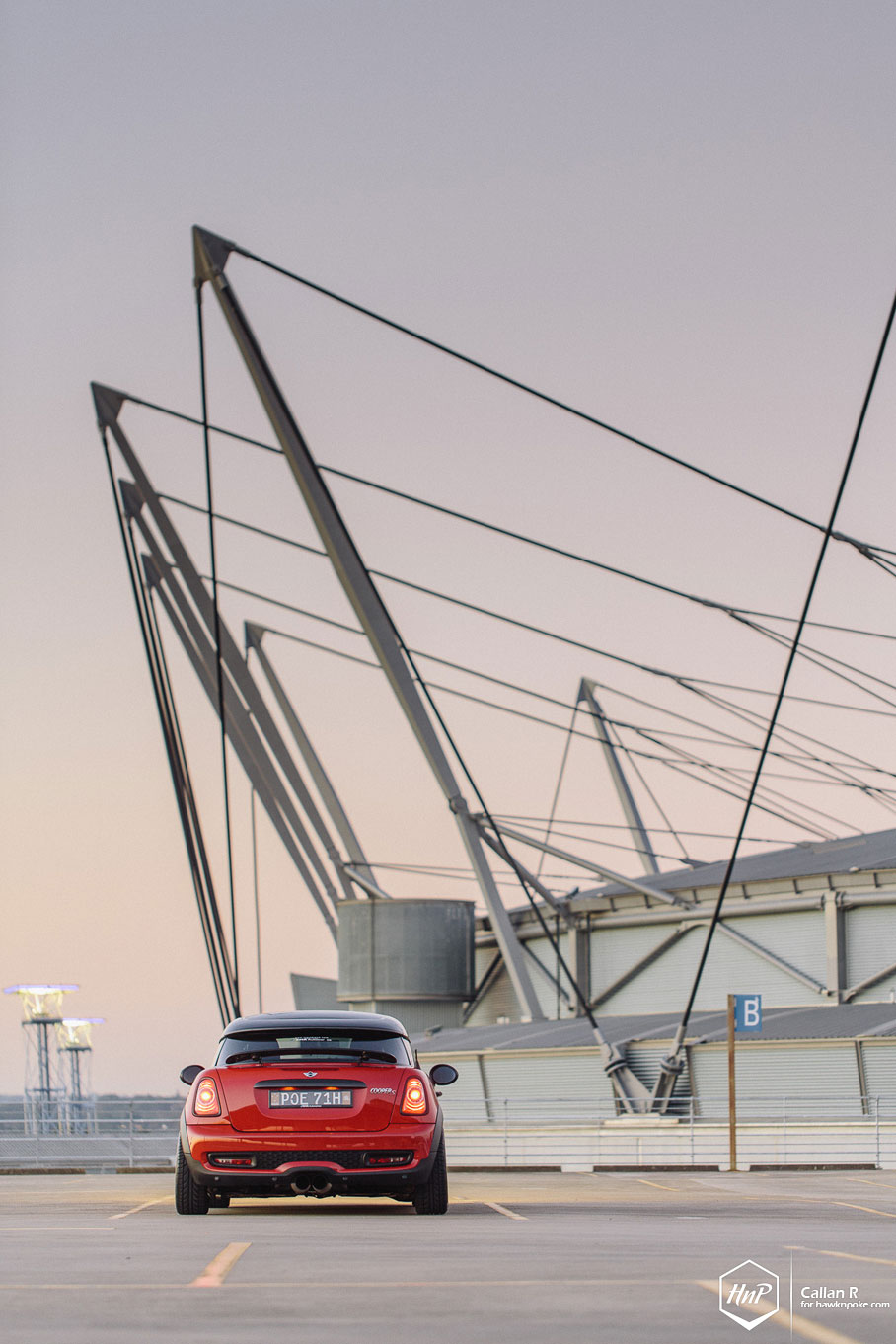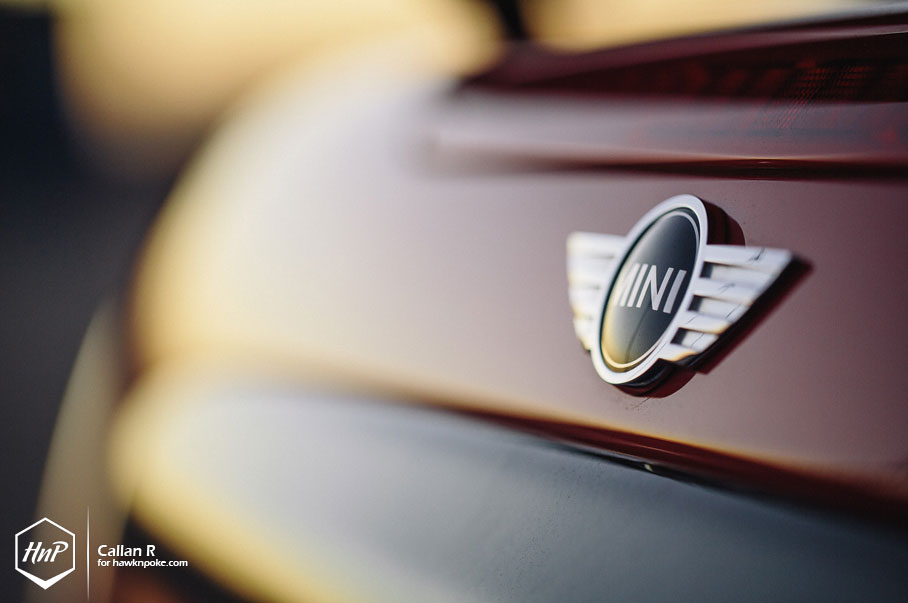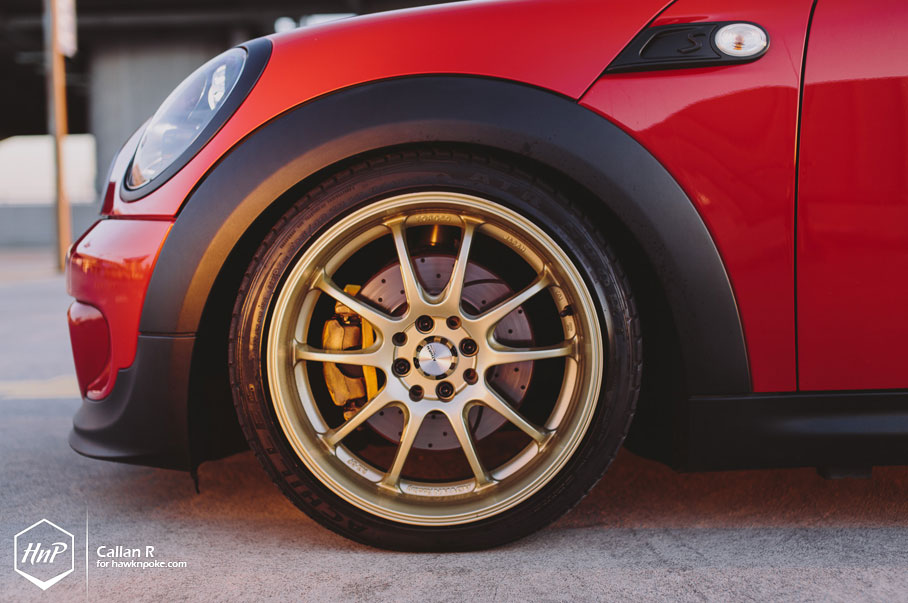 Wanting to set his Coupe apart from the others, Daniel installed these delightfully light and golden set of forged Advan RZ-DF. Supported by the ST coilover kit, Whiteline sway bars and endlinks, the MINI is now performing even better in its handling department compared to Daniel's first impressions during the test drive. Further enhancing the driving experiences are the RDA rotors and Remsa brake pads.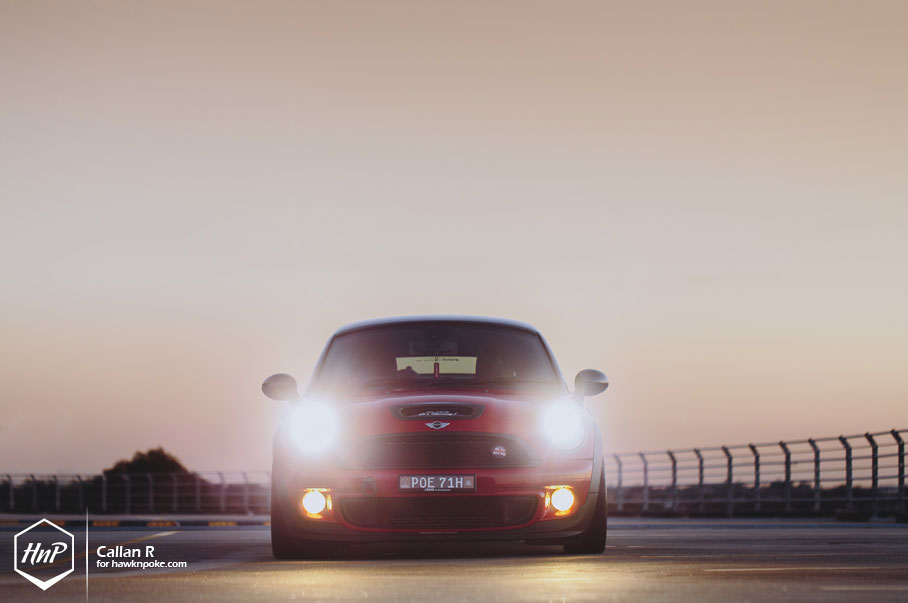 What's next? An aerokit is currently Daniel's top priority to enhance the Coupe's stylish looks, while rear lower control arms are on the list of future performance mods.
Be sure to check out Daniel's OFIM blog and his photographer friend Callan's works through the links below!
Modification Specs
Mini Cooper S Coupe 2012 (R58)
Chilli Red with black roof
SUSPENSION
ST Coilovers
Whiteline 20mm Rear Sway Bars
Whiteline Endlinks
JCW Front Strut Bar
ENGINE
ARK Design Catback 2.5″
BRAKES
RDA slotted & dimpled rotors
Remsa brake pads
WHEELS
Advan RZ DF 17×7.5 ET38
20mm H&R Spacers rears
5mm H&R Spacers fronts
EXTERIOR
Carbon Fibre Door handles
Carbon Fibre Boot Handle
CF Wrap on the spoiler
CF Cover hood scoop
Gloss black beltline
Plastidipped Headlight and Taillight trims
Plastidipped grille
INTERIOR
Satin White wrap trims
Ultragauge
MINI GP2 Recaro leather/alcantara seats
Carbon fibre steering wheel trim
Recommended Oil
TOP 1 Synthetic Oil
Additional Infos
Oh Fuck It's Monday
http://www.ofim.com.au
Facebook page
Instagram
Photography by:
Callan Robison
http://callanrobison.com/
Facebook page