Bandung Turbo-Frenzy Warriors // Scirocco x GTI
Manic. I've been staring in awe, examining the modification specs of these three little hatchbacks inside my mailbox for a full hour. The spec-lists are downright overwhelming. Stage 3+ tunes. Swapped turbochargers. Reinforced footworks. The driving experience must've been nothing short of thrilling. As a Volkswagen driver myself, I can't quite possibly wrap my head around the idea of having such ample horsepowers on a FWD. Go ahead and scroll down to the bottom-most yourself for the specs, and then scroll up back here!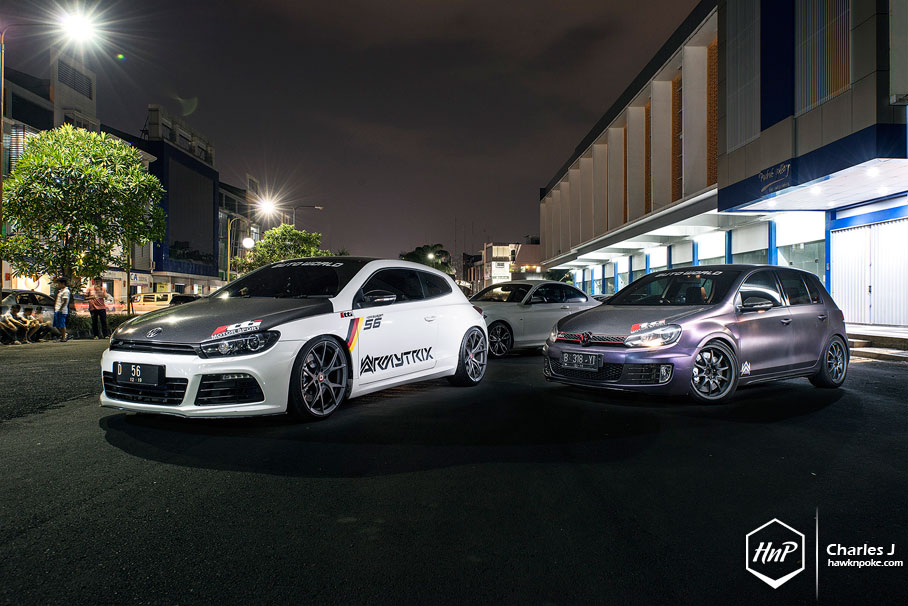 Meet Ferry and his turbo-frenzy friends. This particular white Scirocco on Klassen ID wheels is his personal ride, while the other two VWs are his friends'. Having a strong passion for speed, Ferry picked the Volkswagen Scirocco for its perfect blend of comfort and engine-tuning potential. Topped with the highly attractive coupe-x-hatch exterior, the Scirocco is definitely not the decision to be regretted.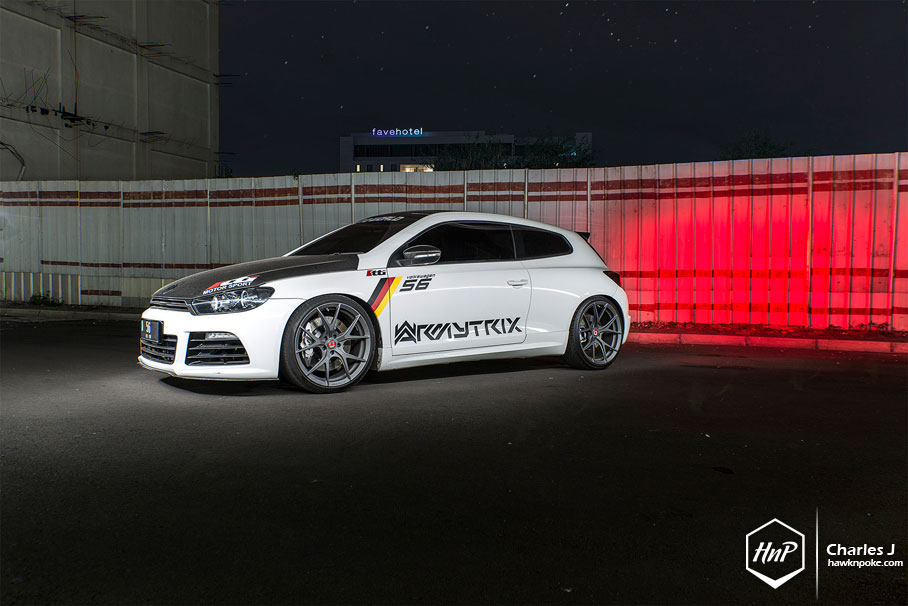 Built to be different. I've met plenty of VW owners who stopped their engine tunes at Stage 2 setups for their rides. That is, a Stage 2 ECU tuning coupled with intake and downpipe upgrades. Such a setup would usually result in a more-than-satisfying 30% increase over stock horsepower figure. A stock 200HP GTI, for example, can reach 260HP when given the Stage 2 treatment. An amount that's perfectly sufficient for daily drives. But this isn't how Ferry imagined things should be.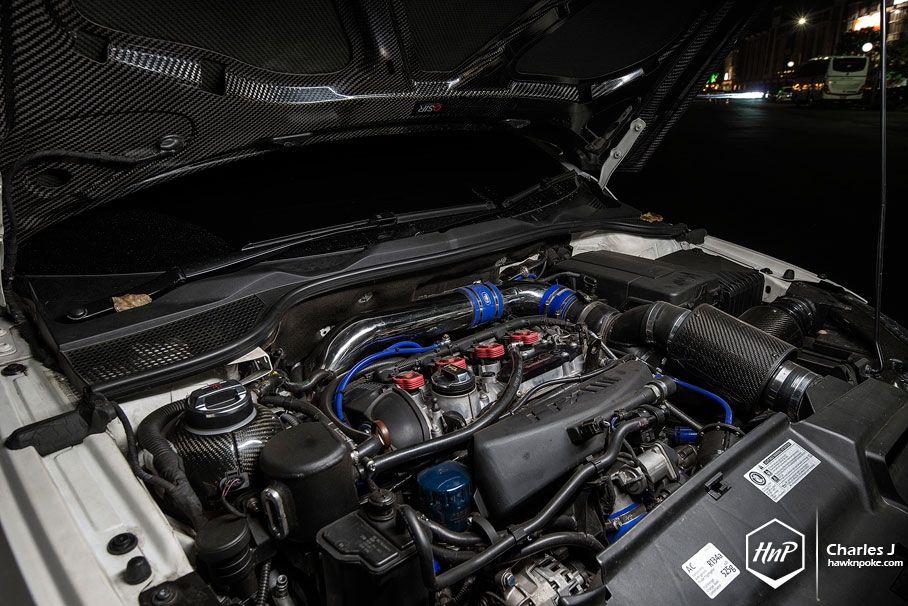 Despite having only owned the Scirocco for a year, he went for the full-on turbocharger upgrade. Gone is the stock turbo, replaced by Garrett's much more competent offering. Further induced by a water methanol injection system, he claimed the setup is good for about 600HP. Now that is a huge amount for such a little hatchback. Does it work?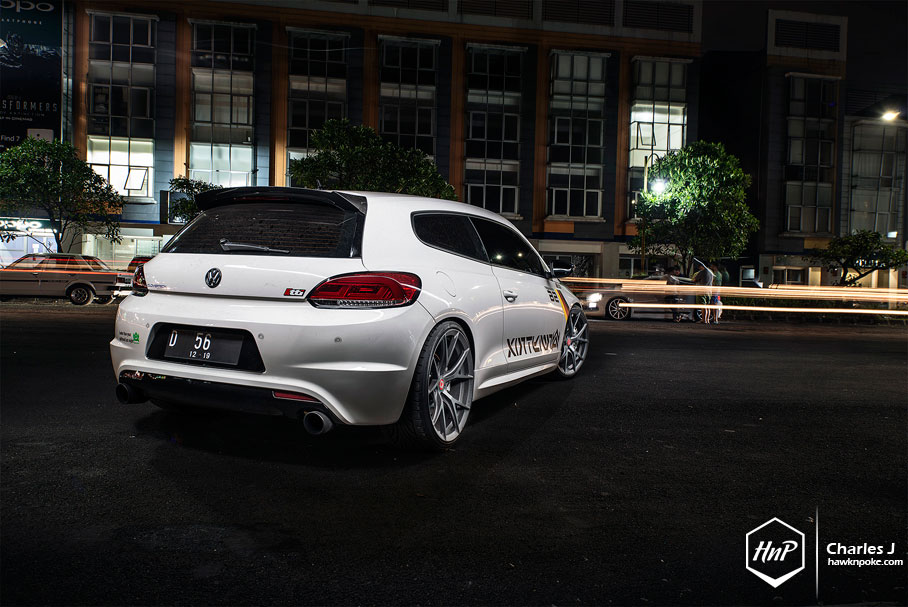 It does, thanks to a plethora of supporting upgrades. Following such a massive increase in horsepower, Ferry has installed an endless number of reinforcements throughout the ride. APR intercooler system has been installed for a much more efficient engine cooling. Footworks are supplemented by KW Suspension, H&R anti-roll bars, engine mounts and under-braces.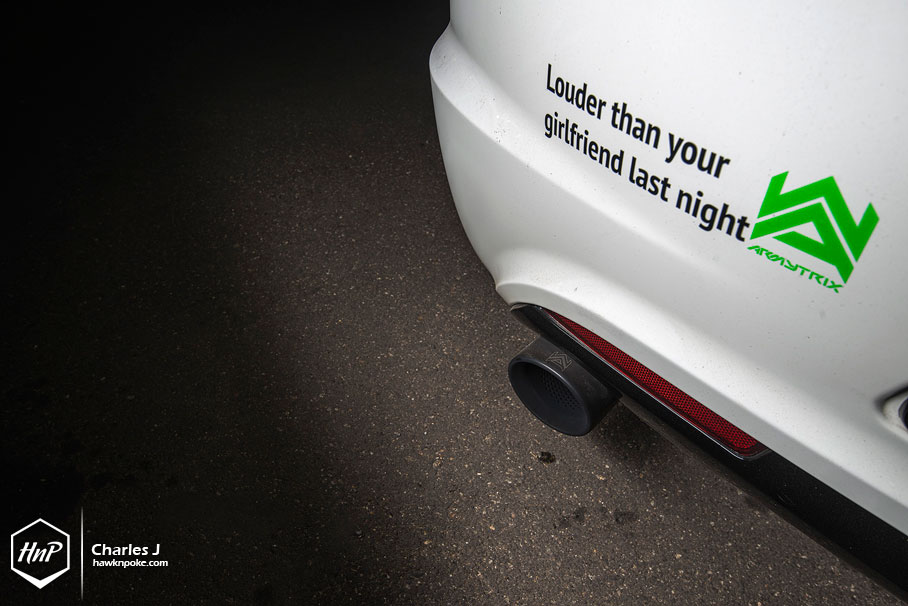 The exhaust gases are taken care by an almighty ARMYTRIX valvetronic exhaust system. Essentially making this race-bred beast a swift glider for the streets, thanks to its on-off exhaust noise level controls. Rather quiet when closed, yet screaming like the world's going to end when opened. Loud.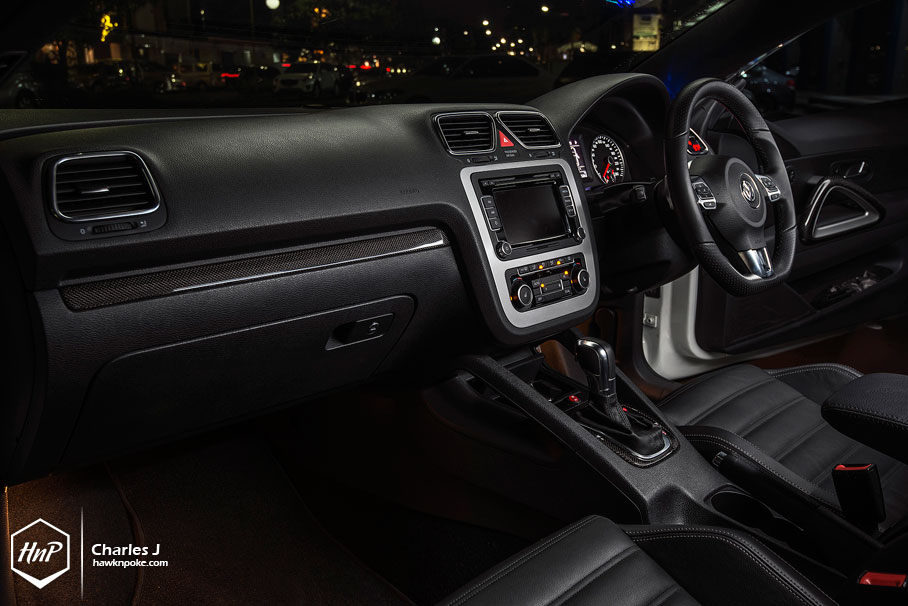 Inside, Ferry has also kept his mad-for-performance orientation throughout the cabin. Osir carbon fibre parts can be found at all the right places. Interesting to touch and very exciting to the eyes.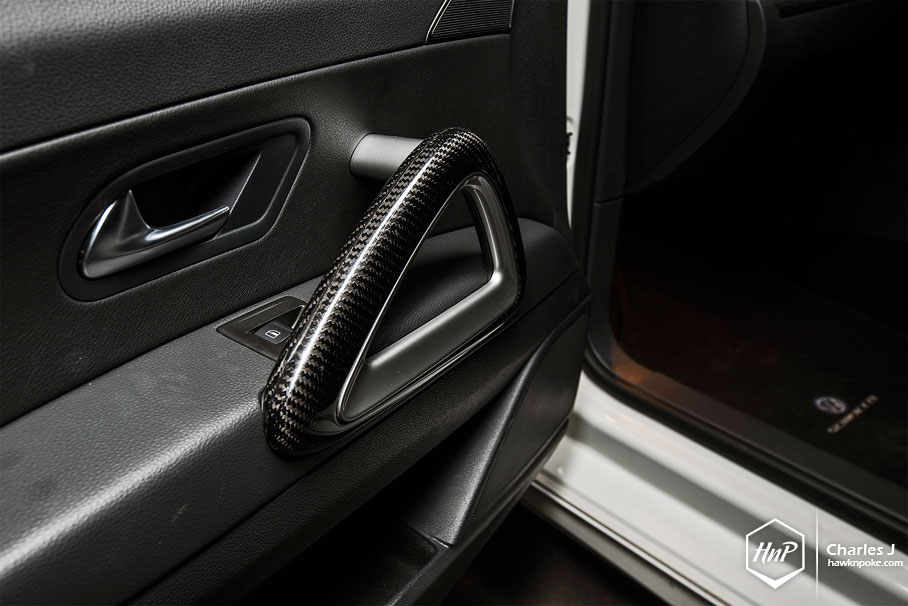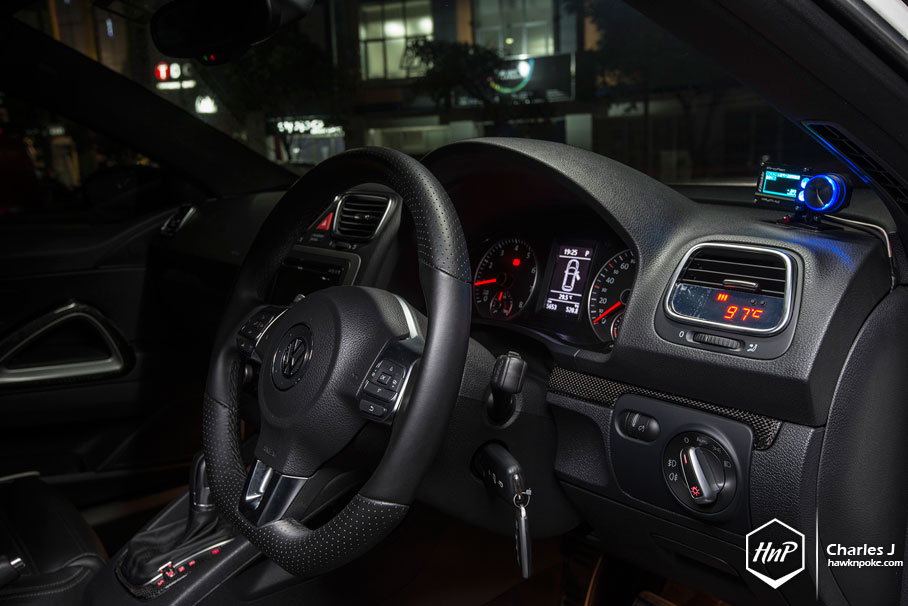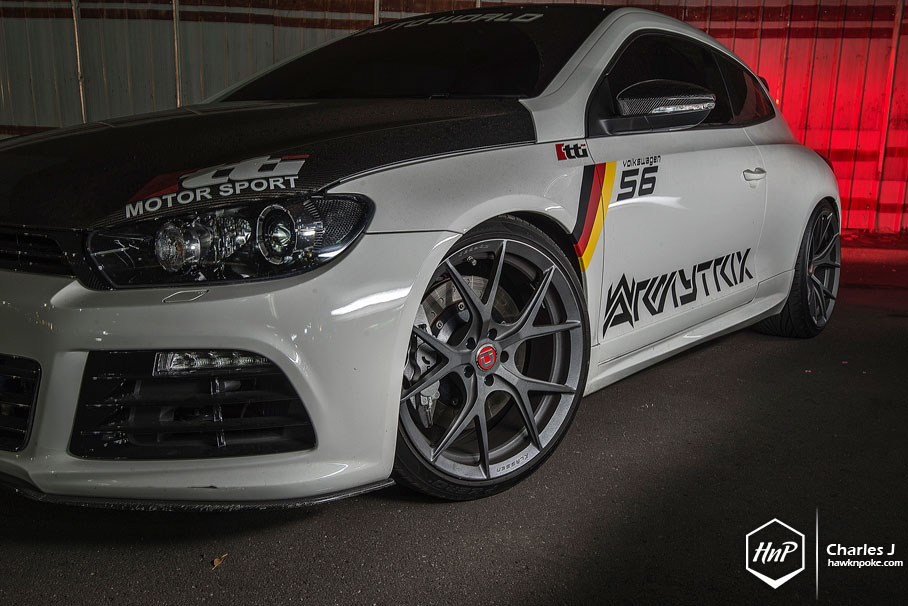 Wheels-wise, Ferry's choice has also been another out-of-the-norm. Klassen ID forged monoblock wheels are now found stylishly tucked under the Scirocco's large fender arches. Concave-faced and fitted just nice, these are the perfect functional aesthetic upgrades complimenting Ferry's search for upmost performance.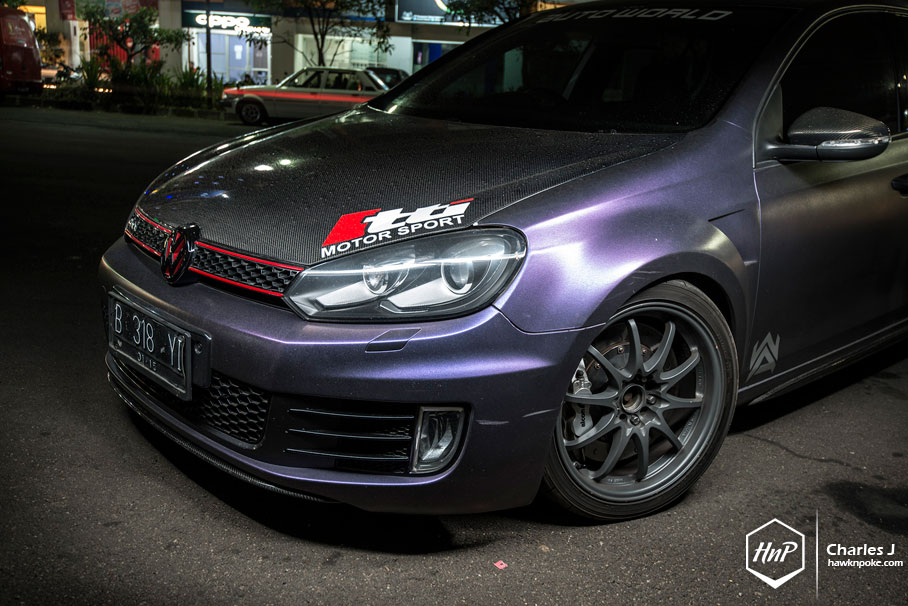 Moving on to the GTI owned by Arman. This is another build not to be underrated. Yes, it has two extra doors and a typical hot hatch look; no alluring coupe rears can be found here. Yet, the GTI is still capable of things that the Scirocco simply can't handle. A much more liveable rear seats and an ample storage space, that is. Making it the perfect daily commuter and weekend highway sprinter at the same time.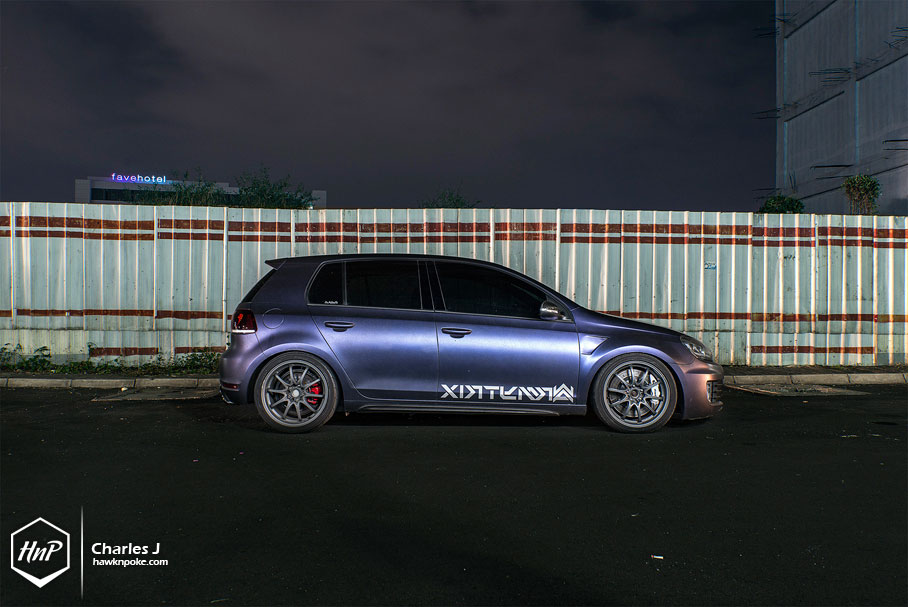 Thanks to its TR04 hybrid turbocharger swap and TTi Stage 3+ tune, this chameleon dipped GTI packs way much more 'oomph' than a bone-stock 200HP GTI. Statistically it can reach around 360HP with such a setup. Further supported by the upgraded clutch, efficient Gruppe M intake and high-flow ARMYTRIX exhaust system, this is not the groceries-getter you'd want to mess around with on the streets.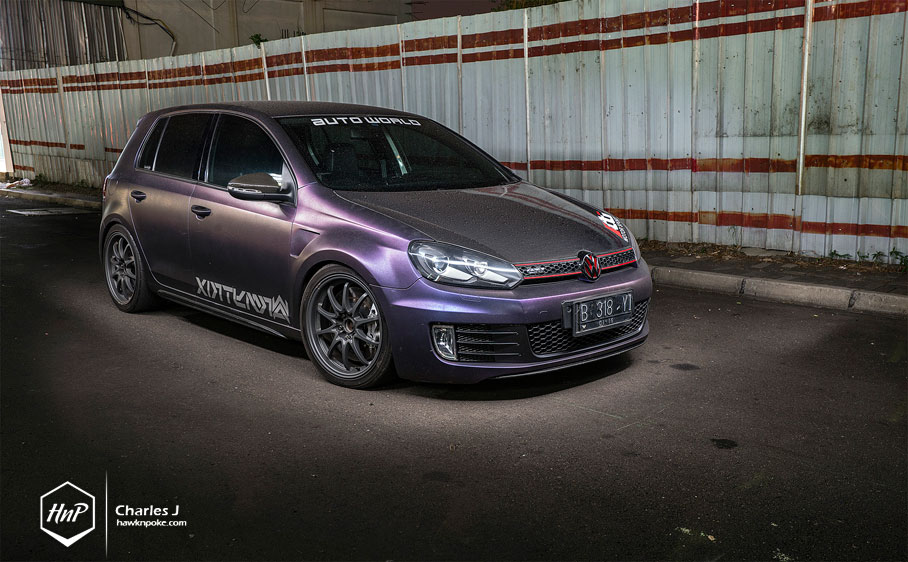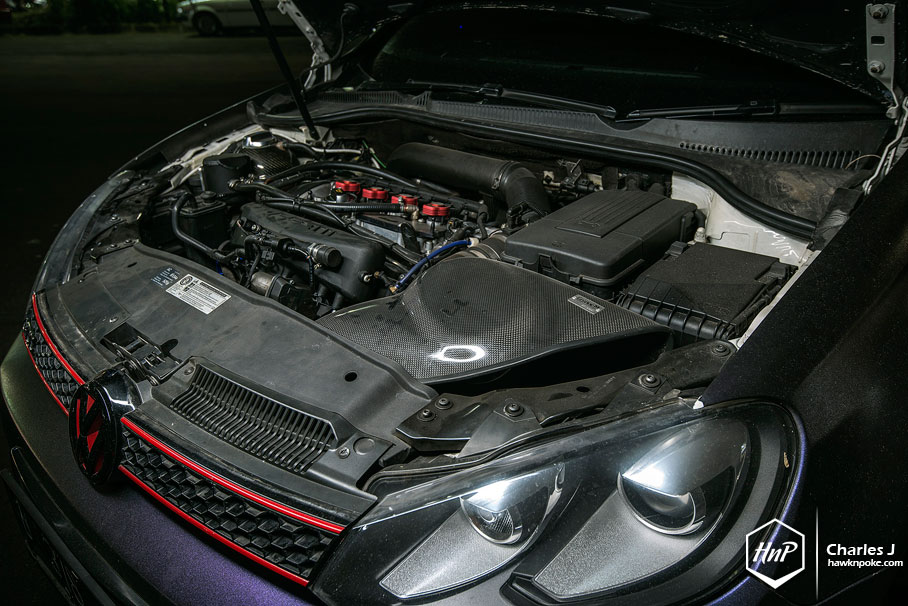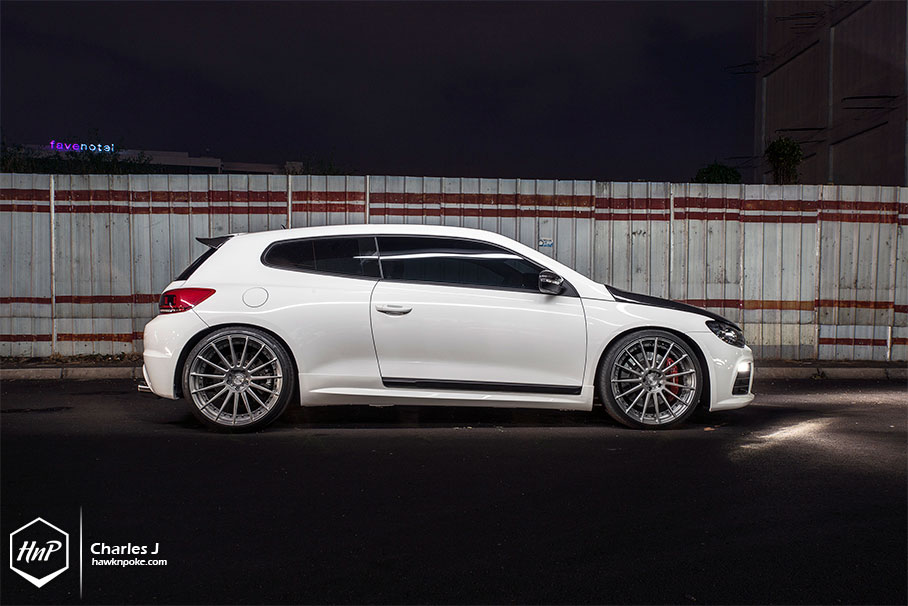 Last but not least is this posh-looking Scirocco on ADV.1 wheels. Unlike the other two manic, race-inspired, turbo-swapped hot peppers, this particular 'Roc has been modified under a more laid back format. APR stage 2 intake and ARMYTRIX exhaust system took care of the main jobs needed to go for the TTi Stage 2 tune. Such a setup has enhanced airflows into and out of the stock turbo, resulting in better horsepower outputs throughout all RPMs. Meanwhile, drool-worthy 6-pot AP Racing brakes can also be found peeking through these highly prestigious wheels.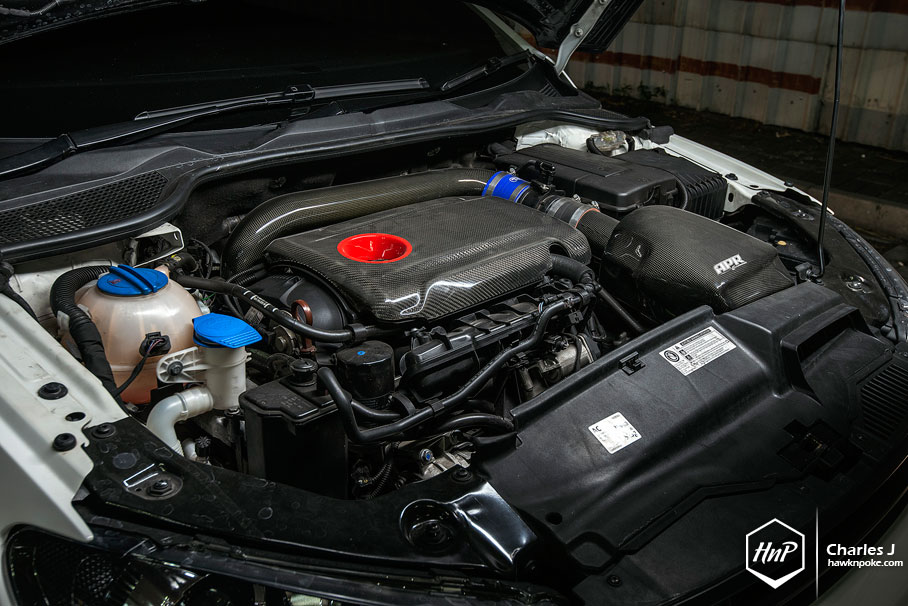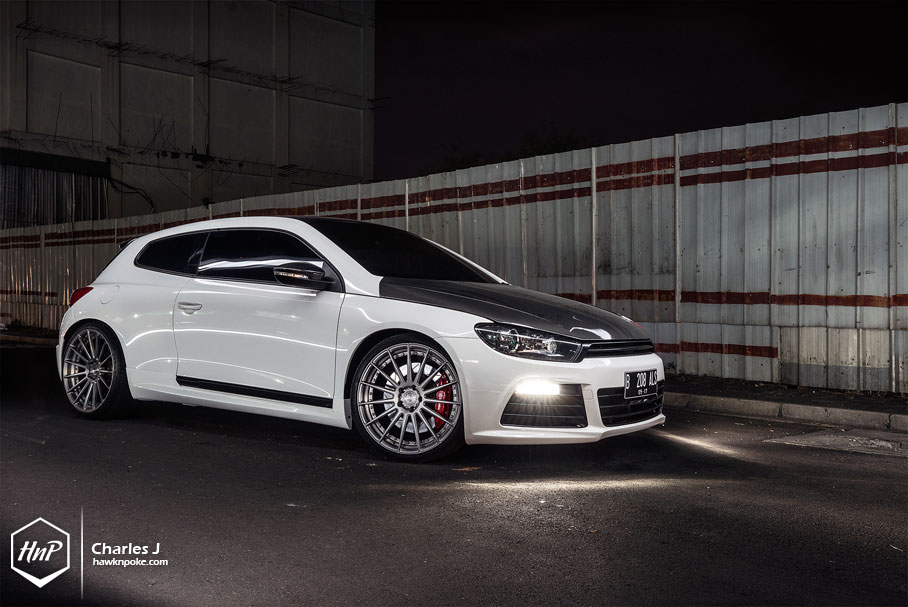 Modification Specs
White Scirocco on Klassen ID
TTi Stage 3+ tune
TTi Mapping stage 2 for DSG
Snow Perfromance water methanol injection (WMI)
Garrett GT28X turbocharger
Forge Twintake, oil catch tank
GFB dump valve
Okada plasma direct coil on plug
SSP Stage 3 performance clutch
DSG cooler
Engine cooler
APR intercooler
High pressure racing fuel pump
HPA intake manifold
ARMYTRIX valvetronic exhaust system
TTi subframe
SuperPro lower arm, ball joint adjuster
KW DDC suspension
H&R anti roll bar
Spoon rigid collar
Whiteline rear and front end link
Whiteline engine mount insert
Ultra Racing underbrace bar
Klassen ID wheels M52R 20″x9-10
Continental 245/30/20 275/30/20
Alcon 4 pot 365mm front 310mm rear
Scirocco R bodykit
Carbon fibre engine hood
Osir carbon fibre spoiler + panels
Carbon fibre fenders
Carbon fibre mirror covers
Osir carbon dash trim, paddle shift, footrest, DSG trim
Greddy EBC
Forge paddle shifter
Power pedal
GTI MK6
TTi Stage 3+ tune
TTi DSG stage 2 mapping
TR04 hybrid turbocharger
Gruppe M cold air intake
Forge performance oil catch tank
GFB dump valve
Audi R8 coil pack
SSP 400+hp clutch
DSG oil+ engine cooling kit
Audi S3 intercooler
High pressure fuel pump
HPA intake manifold
ARMYTRIX valvetronic exhaust system
Carbon fibre hood
Osir spoiler
Custom fender
Chameleon plastidip
Carbon diffuser
Osir carbon lip spoiler
Carbon mirror cover
P3 gauge
Osir footrest
Forge performance paddle-shifter
S3 Lower arm bushing
KW DDC suspension
VWR anti-roll bar
Whiteline rear
Whiteline engine mounting insert
Volkrays CE28 18″
Advan AD08 225/40/18
Alcon 4 pot 365mm
Spoon rigid collar
Scirocco on ADV.1
APR Stage 2 intake
Scirocco R bodykit
ARMYTRIX valvetronic exhaust system
Carbon hood
Osir carbon spoiler
Osir carbon mirror covers
ADV.1 20″
TTi Stage 2 tune
AP Racing 6pot big brakes 355mm
Superpro arm
Ultra Racing underbrace
H&R anti roll bar
Recommended Oil
TOP 1 Synthetic Oil
Additional Infos
Photography by:
Charles J
Mobile: +6287886807762
Email: jhons.charles@gmail.com