Proper Update // David's F10 on MORR
It all started 40 years ago when BMW decided to make an executive mid-size luxury car, the 5-Series.
Thanks to the sizable chassis underneath (also used by 7-series F01 and 6-Series F12), the F10 5-series is the perfect car for daily commutes; especially when paired with its spacious interior and masculine exterior. A very desirable personal space for the white collars out there. The "Best Executive Car" title has also been awarded to this 5-er from the Auto Express New Car Honours in 2013.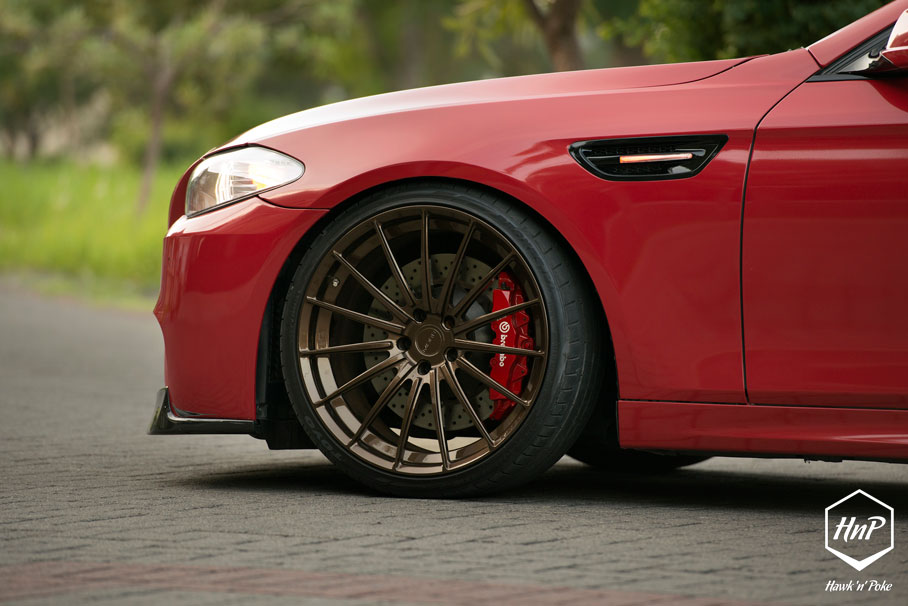 As a human being, it's in our natural desires to praise at the good things in life, whether it be jewels, houses, watches, and cars, of course. So how do you turn the very desirable executive carrier into an even greater head turner? By going through the road less travelled. While most F10 owners are lovestruck to HRE, BBS, and the like, David the owner of today's F10 sticks to his favorite: MORR Wheels. You can check out his previous set of MORR here.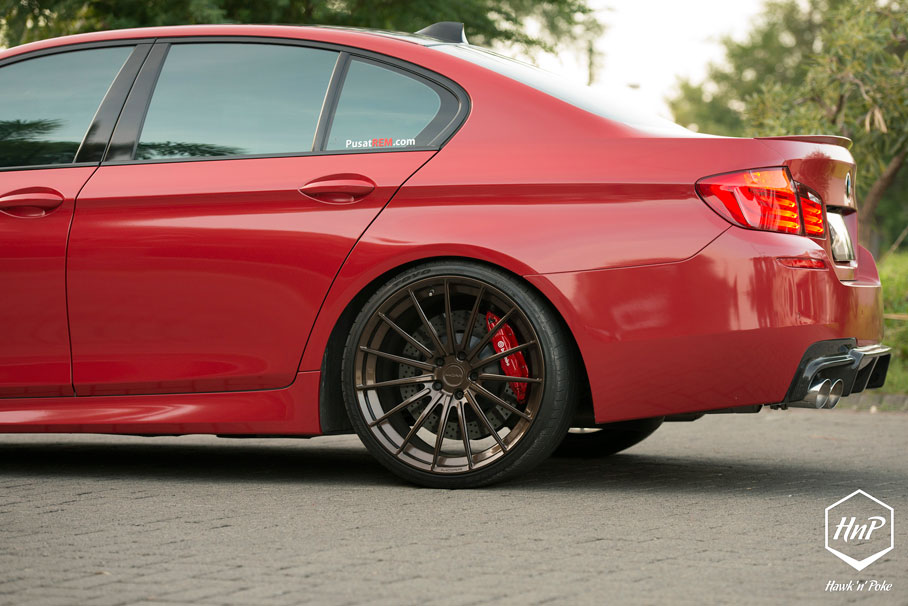 MORR is an uprising performance wheels brand, with wheel choices completely custom-made to the client's order. Their fine craftsmanship and attention to detail are exclusively tailored to high-end automobiles. David's previous setup involved a set of gorgeously grey MORR MS52 wheels, but now he replaced those with these VS16 model, finished in a much more striking shade of bronze.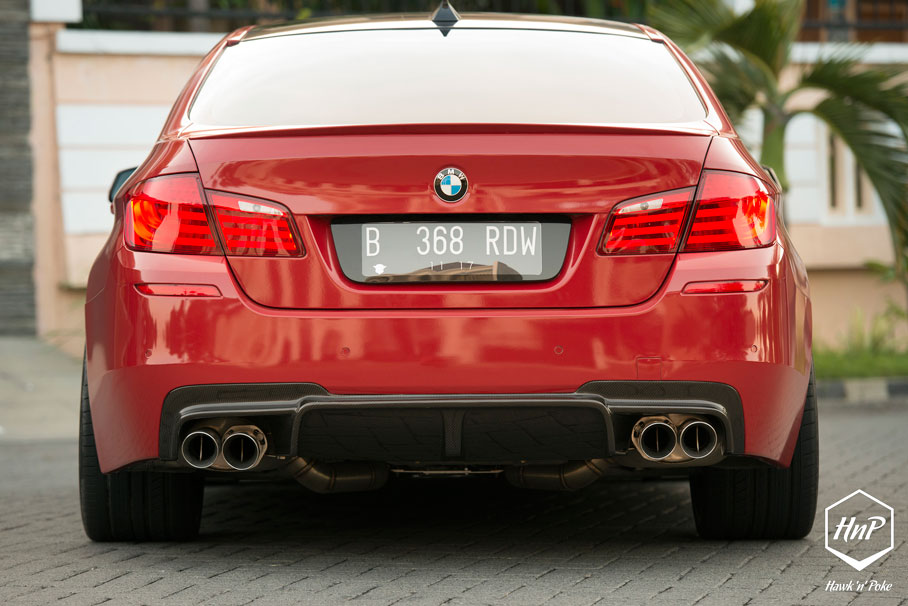 Apart from the wheels-update, David has also wrapped his entire F10 in red color, which goes along very well with the also-new red colored Brembo calipers. At front, the generously sized eight pistons have been paired very well with the 380mm disc, harmoniously filling up the 21″ wheels' spokes.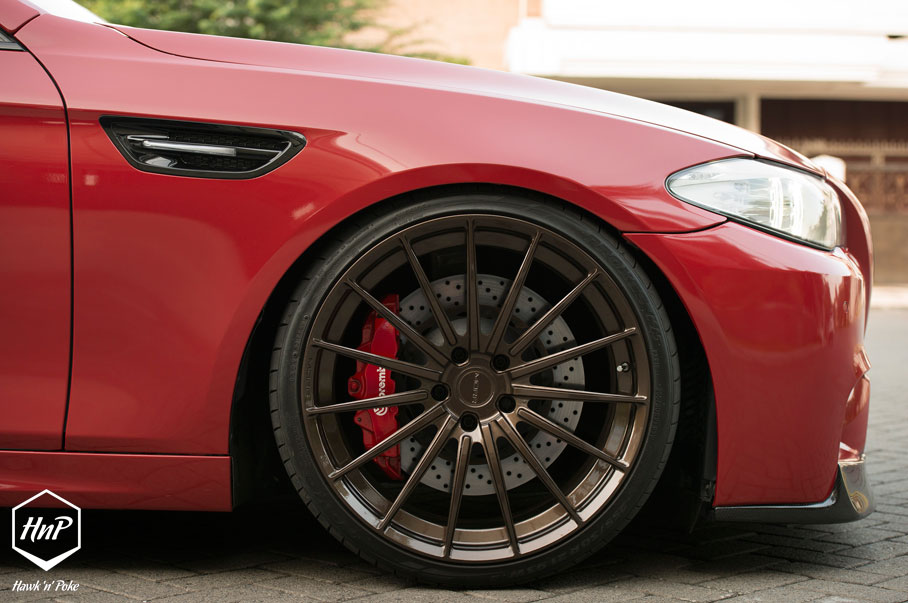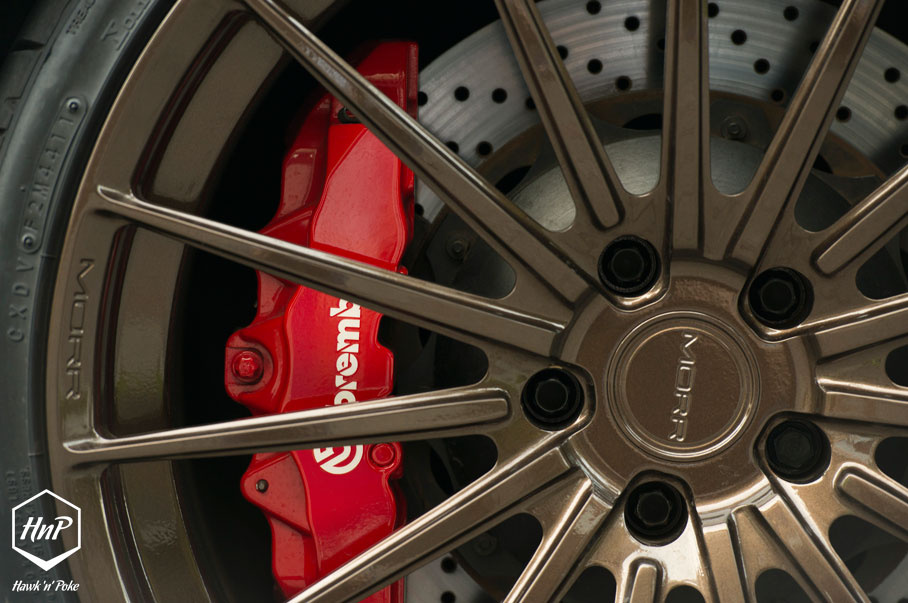 So what do you think, which one is nicer? The monochrome setup he had before or this strikingly fresh update?
Modification Specs
MORR Wheels VS16 21″
Brembo GT 8 Piston 380mm (F) / Brembo GT 4 Piston 380mm (R)
Meisterschaft Full catback exhaust
KW V3 coilover
Vorsteiner front carbon lip
3D Design rear carbon diffuser
RECOMMENDED OIL
TOP 1 Synthetic Oil
Additional Infos
Photography by:
DC Liman