Eccentric Execution // Enril's MINI on RPF1
Popular, enjoyable, classy, and prestigious. What would that be?
A wine that is. A fine traditional wine goes through a very lengthy process. From grapes harvesting to juice extraction to an alcohol fermentation process. The thoroughly controlled process affects every single scent and taste of the end product. On top of it, the longer the fermentation process, the better would the end products be! Especially with some companies fermenting their products from two to forty years,;sometimes one could only imagine the efforts and dedications poured onto a single glass of wine.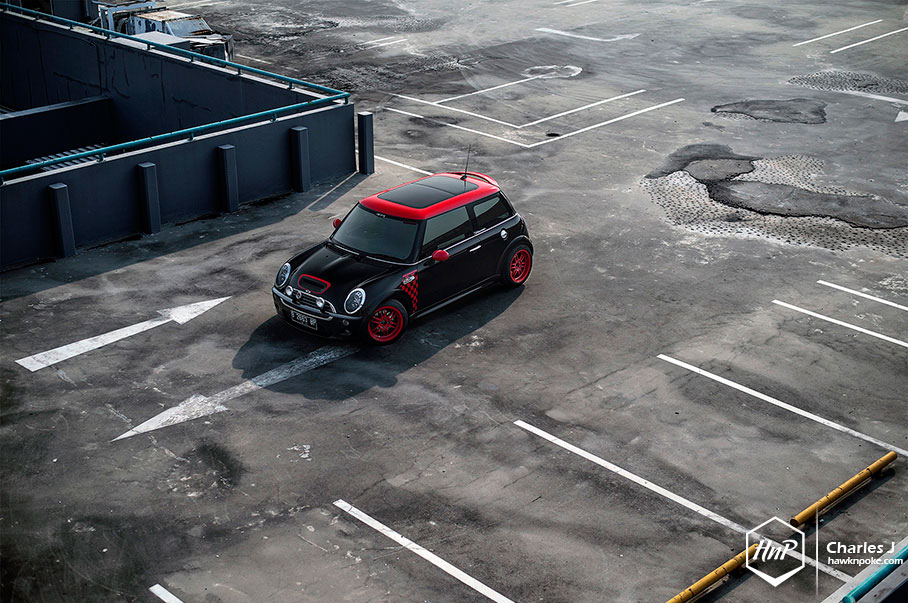 Great wines inherit unique personalities from its processes, and so do cars. Each having it's own characteristics from continuous developments that will entice addiction, almost like wines themselves. A particular example would be this MINI right here.
I've already written about the MINI's legacy in my previous article, which you can check here, and we'll move on to today's guest star.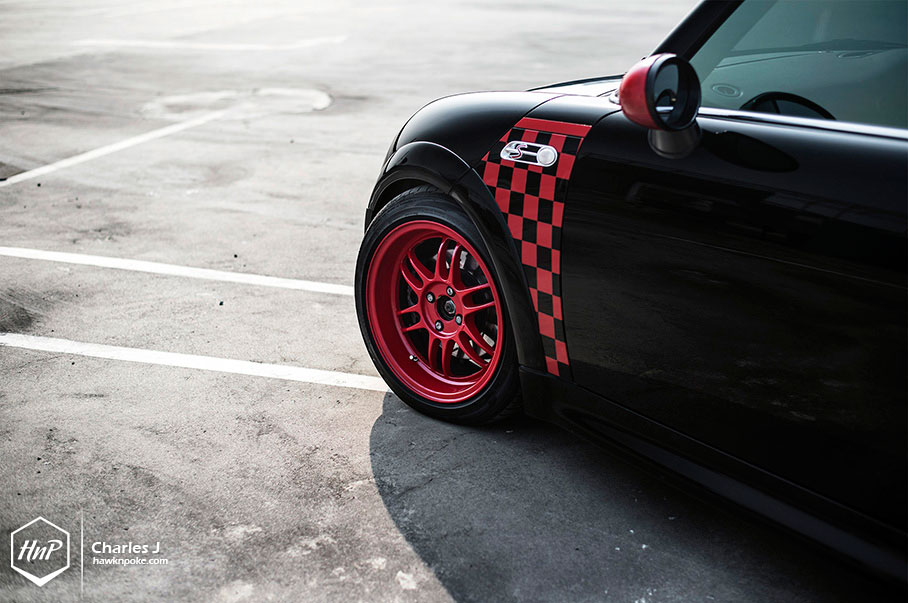 Meet Enril, the famous leader of Indo MINI Club, and this is his eccentric MINI Cooper JCW (R53). The car was bought in 2006 and he's been totally in love with it. Enril's history in the car scene started like a stairway to success. He began the whole journey with a 92′ Honda Civic EG and unfortunately went for what some would call the "riced-out" looks. That only lasted for a while though, as he learned more and more about the proper car scene and left the "riced" Civic for a Toyota Wish. OEM TRD parts became his methods of choice at that time, a total turn around from the Civic's ricey mods. Not too long after, he switched to the Europeans as he managed to get his hands on a Mercedes-Benz CLC and introduced it to the aggressive stance scene. Not stopping there, Enril kept tasting a few different cars with the next specimen being a PT Cruiser. "That was the exact car that got me into the car societies. The 1st car that got me featured in magazines and made a lot of new friends with the same passion from that point," he said. After the PT Cruiser, this MINI stole his heart and he's still driving it until today. Now that's a rather lengthy journey to arrive at this gorgeously eccentric MINI!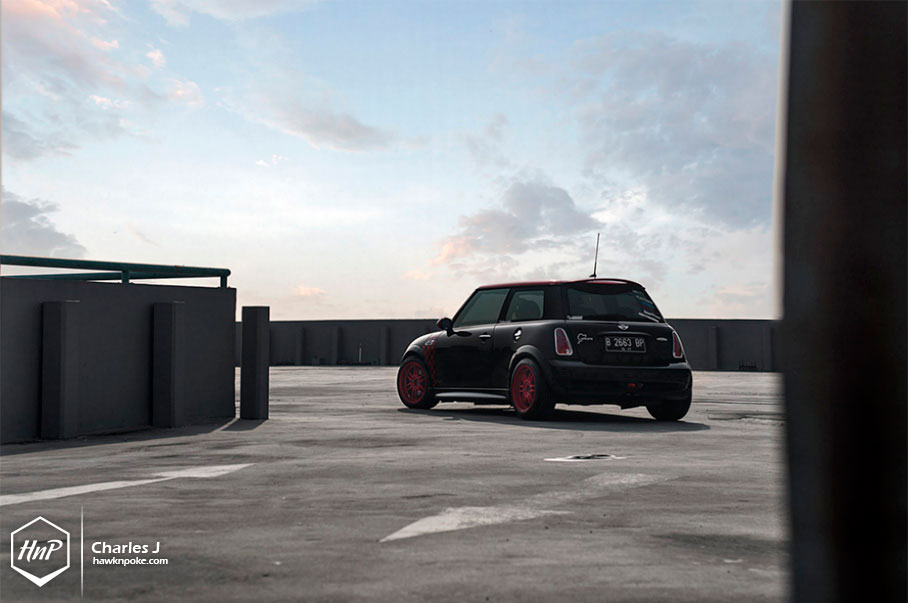 Inheriting JCW's spirit, Enril wanted to extract every single potential that the MINI has to offer. A standard non-JCW MINI has already been packed with quick steering response and fun-to-drive characteristics. So how could MINI improve the formula? By upgrading every single equation in the genes! A go-kart-like swiftness has been achieved thanks to JCW's better brakes, better suspension, better exhaust and a different tune on the engine.
But, as it turned out, Enril's still far from satisfied by JCW's performance upgrades; it's time for mods!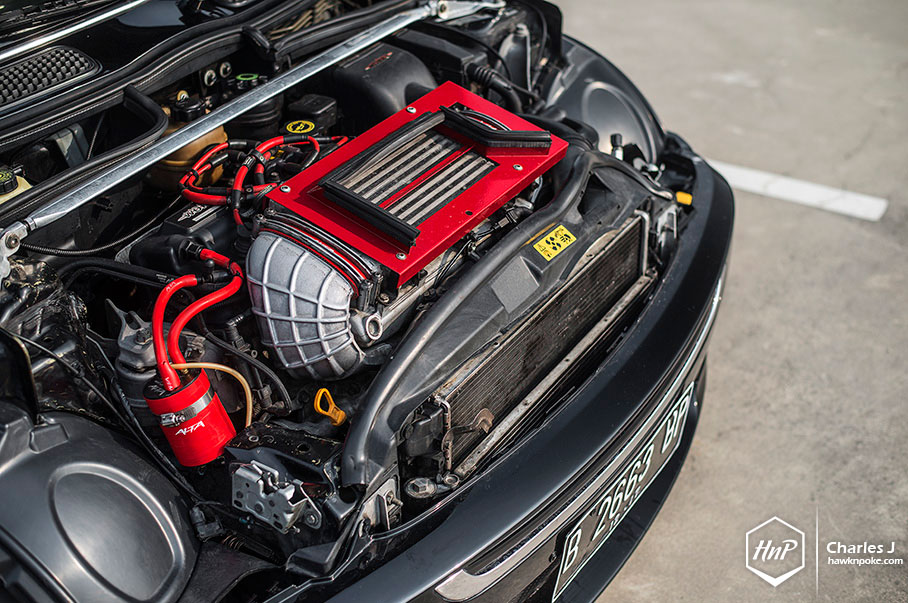 Can't stand having a bone-stock car, the customization soon begins. As you can see, black and red theme has been applied to his car, amplifying the racing atmosphere from JCW's sportiness. After a careful consideration, a red Enkei RPF-1 has been honored to occupy all four corners, wrapped with Toyo DRB tyres. It is with zero doubts that Enril adores RPF-1. He's had quite a few sets of wheels but this is the one he's having a hard time to move on from. Ordered in a very menacing red shade, they've become the perfect compliment to the MINI's body colors.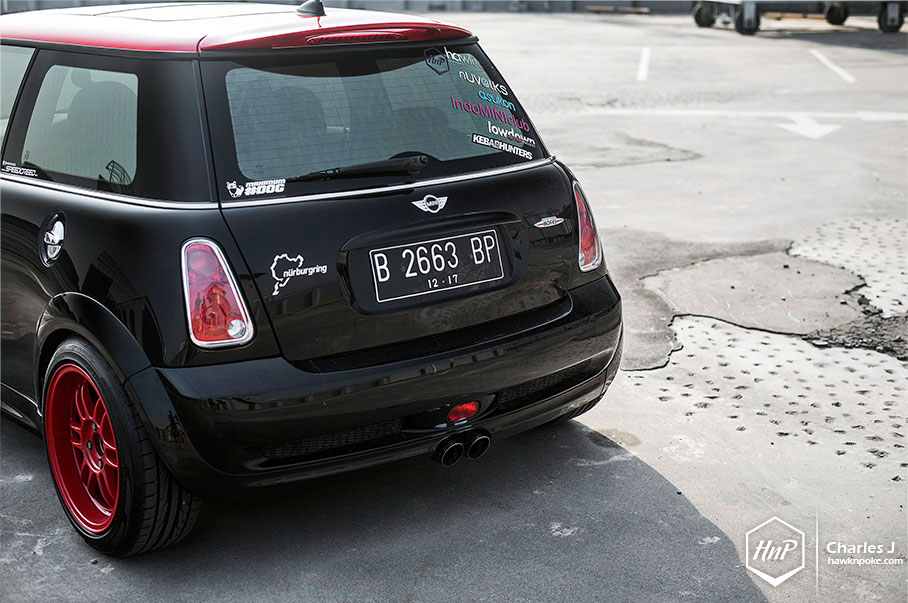 Beefing up the standard 200BHP 1.6L supercharged engine, Enril went wild by picking some unusual setups.
The engine management has been done right by using ALTA's aftermarket front intercooler, crank pulley, supercharger puller, oil catch tank and a custom reflashed ecu.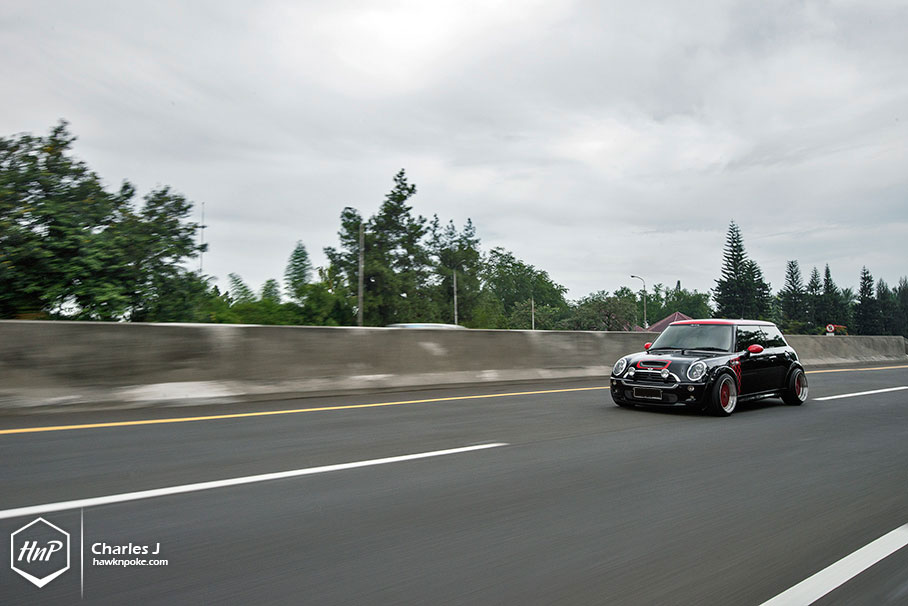 For the undercarriage, EBC brake kit has been selected, further complimented by the suspension setup he chose. Eibach Sportline springs plus a BOGE Turbo shock absorbers and SPC Performance adjustable front camber and rear control arms pushed the MINI's go-kart-like nimbleness even further.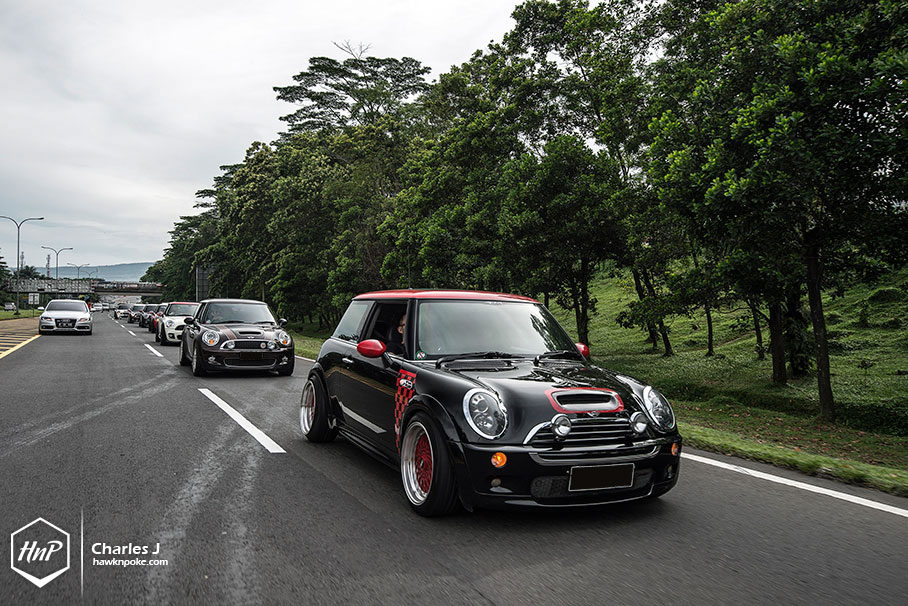 A good performance car should sound as good as the way it looks. A simple setup this time, with cat-back and resonator delete from stock JCW's exhaust. This produces pops and crackles noises like a classic rally car symphony!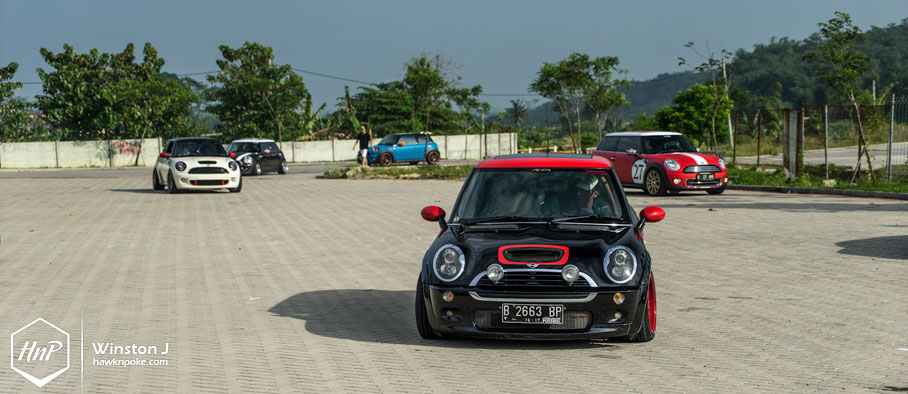 Aesthetically aggressive, historically rich, performance untamed; what a road legal pocket rocket has it become! What's next? "I think I'm pretty satisfied with my car's current look. It's been through several different styles before and at the moment I'm done with the mods. It's already been beefed up. I think right now is the right time for me to beef up my own body too. The car has had a stance nation look but the driver still needs to have a swollen nation look hahahahaha," laughed Enril jokingly.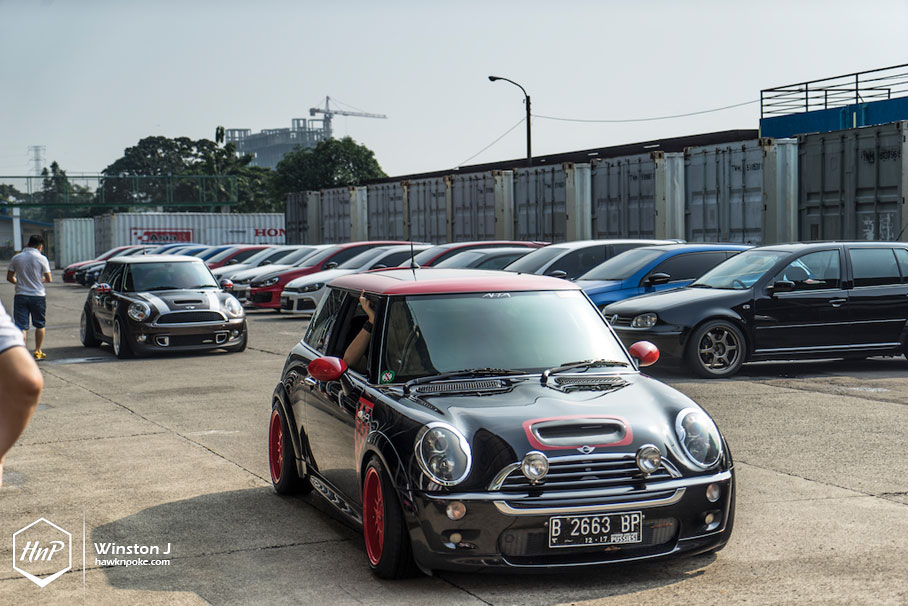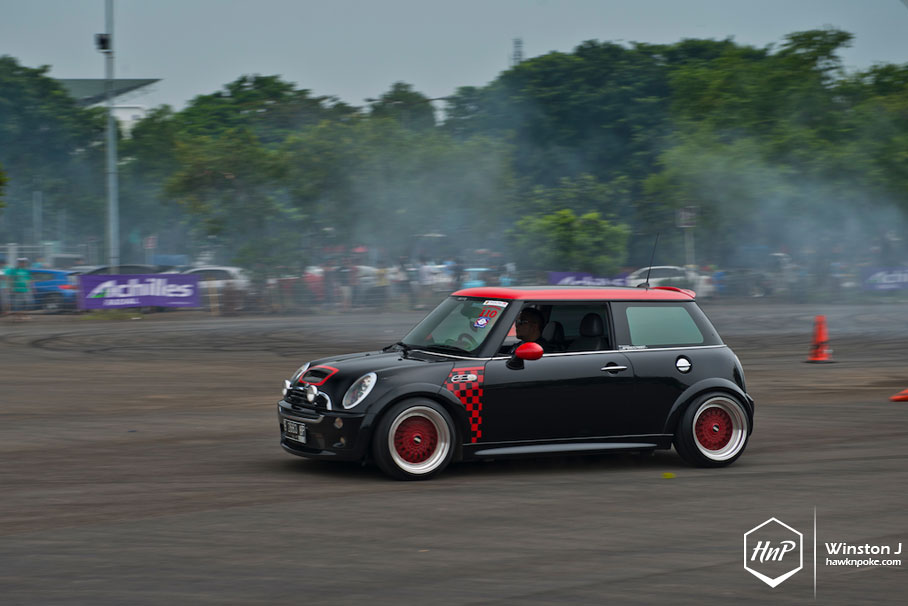 Modification Specs
ENGINE ETC
JCW Tuning Kit no. S9530
ALTA intercooler/air diverter
ALTA 2% oversized lightweight crank pulley
ALTA 17% supercharger pulley
ALTA oil catch tank
MINI MADNESS JCW intake filter kit
JCW exhaust with cat delete
JCW exhaust with deleted resonator
Sprint Booster power converter
Hotwires spark plug cables
Brisk extra turbo racing sparkplugs
Custom ECU tune
WHEELS ETC
Enkei RPF1 16″x8
Toyo DRB 195/50
SPC performance adjustable racing front camber
SPC performance rear control arm
JCW strut bar (comes as standard)
EBC Brakes USR slotted rotors
EBC redstuff brakepads
Eibach sportline springs
BOGE Turbo shock absorbers
INTERIOR
Defi-Link Meter Advance CR
JCW shift light
EXTERIOR
MINI original Driving Lights Retrofit Kit
Carbon fiber hood scoop
Recommended Oil
TOP 1 Synthetic Oil
Additional Infos
Photography by:
Charles J
Mobile: +6287886807762
Email: jhons.charles@gmail.com